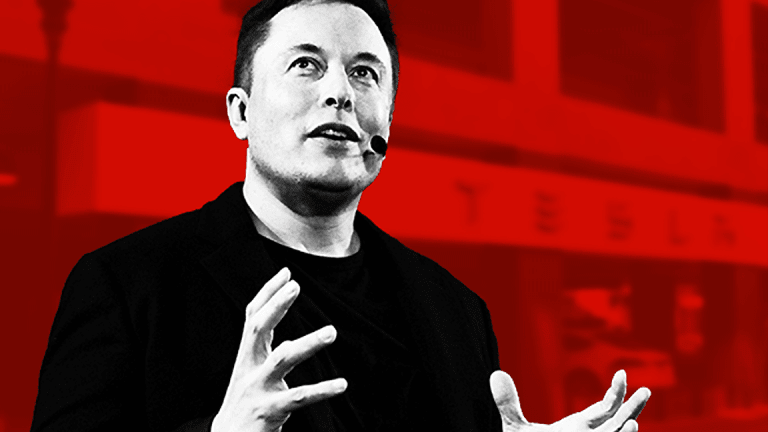 Shares of Tesla (TSLA) - Get Tesla Inc Report fell after hours Wednesday and into Thursday pre-market trading as the company missed on earnings and pushed out some of CEO Elon Musk's ambitious production targets.
For the quarter, Tesla posted an adjusted earnings loss of $2.92 per share, substantially worse than the shortfall of $2.31 that analysts surveyed by FactSet expected. Revenue of $2.98 billion exceeded the consensus call of $2.95 billion.
Tesla shares dropped 5% to $304.75 after the market close on Wednesday and were down a similar amount on Thursday morning pre-market trading. The stock, which declined by 3% during the regular session on Wednesday, is still up about 43% this year.
The company said it burned through more than $1 billion in cash during the quarter.
Musk, who said he had "a bit of a cold," participated in the call from Tesla's Gigafactory in Nevada where he is working to fix production hangups in batteries and other issues that have pushed Model 3 production behind schedule. 
On a positive note, Musk told investors that Tesla has delivered 250,000 cars since its founding -- 100 times more than the 2,500 it had shipped five years ago. The Tesla boss posed a question to his skeptics. "Which one of you predicted that Tesla would go from 2,500 units delivered to 250,000?" he asked. "I suspect the answer is zero."
Musk had already warned investors in early October that Model 3 production would come in well below expectations. The company churned out just 222 Model 3s in the third quarter, in line with Tesla's October guidance but well below the 1,500 the company had previously forecast.
Battery packs are the big hangup, Musk said, after a subcontractor "really dropped the ball."
The company pushed back production targets and now expects to reach production of 5,000 Model 3 vehicles per week by late in the first quarter of 2018. Previously Musk said Tesla would cross the benchmark in the fourth quarter of 2017. By the end of the year, Tesla expects to produce a "few thousand" units per week. The company said it will provide an update on fourth-quarter output in early January.
"This is relatively small shift," he said, explaining that the company has a 10-year plan for the Model 3. "We're talking about a few months out of a 10-year program."
Even with the delays, Musk said that Tesla has "nutty growth rates" that outpace the historic growth of the Ford (F) - Get Ford Motor Company Report Model T.
"In our initial thoughts, after steady positive news for much of the year, the shares and news flow have backtracked recently, but we don't think TSLA has derailed; instead it is just delayed," wrote CFRA analyst Efraim Levy, who reiterated a sell opinion. The third quarter was not "make or break" for Tesla. "Still, we see greater pressure on TSLA to meet its one-quarter delayed weekly run-rate of 5,000 Model 3 vehicles produced per week by the end of Q1."
Tesla also burned through $1.4 billion in cash during the three-month period. Tesla had $3.5 billion in cash at the end of the third quarter, which the company said would carry it through to production of 5,000 Model 3s per week.
Counteracting the cash burn and the Model 3 delays, James Albertine of Consumer Edge Research LLC noted Tesla's 18.3% gross automotive margins were higher than expected.
The mix of news from Tesla's third-quarter report "will keep the bull and bear debate very heated in the immediate term," Albertine wrote.
More of What's Trending on TheStreet: