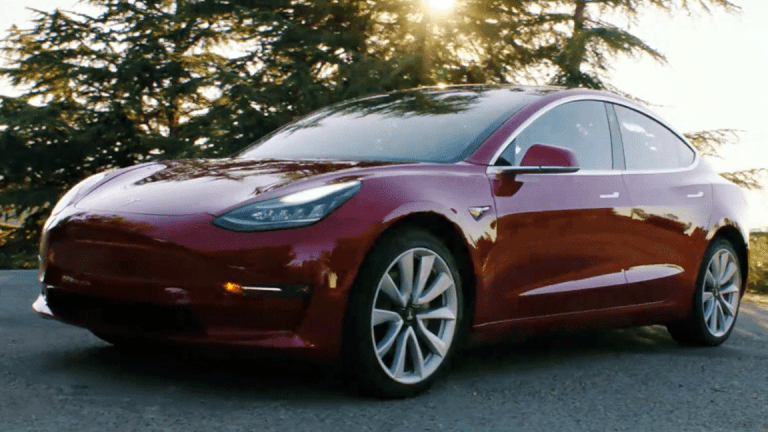 Tesla's Opportunity in China Is So Huge the Stock Deserves to Hit $500
Earlier this month, analysts at Nomura slapped a Street-high $500 price target on Tesla. On Monday, Nomura hashed out the bullish case for Tesla in China.
Shares of Tesla Inc.  (TSLA) - Get Free Report are having troubling finding traction Monday. Instead, shares are stuck solidly in reverse, with Tesla stock down about 1.5% to $350.60 on the day -- and that's off the lows near $348. So what's got Tesla slouching? 
Reports of sluggish Model 3 production certainly isn't helping matters, nor is the report that Tesla canned a bunch of employees over the weekend. Shouldn't they be hiring, not firing employees amid an enormous production ramp? That's what investors are wondering and why, at least in the short-term, investors are shedding shares Monday.
Analysts were expecting 1,500 Model 3 sedans to be built in the quarter ending in September. Instead, less than 300 were built. So that's definitely a disappointment. The only question is how much will investors let it bother them.
Earlier this month, on Oct. 4, analysts at Nomura turned pretty bullish on the automaker. Analyst Romit Shah said in the note that he wasn't too worried about Tesla's production headaches with the Model 3. It is early in the Model 3 lifecycle after all. Ultimately he slapped a whopping $500 price target on the stock.
On Monday, Shah reiterated his $500 price target and buy rating on Tesla, but extrapolated on some new catalysts. Shah reasoned that "China represents Tesla's largest long-term opportunity." The  country sports the largest auto market in the world, one that is "likely to double the volume of the U.S. market by 2025."
That's fairly notable, given that total U.S. auto sales have been hovering above 17 million units per year for several years. Assuming that figure grows, even moderately, the idea that China can double it is hard to fathom. By partnering with a local production outfit in the country (rather than importing the vehicles), Tesla can gain important leverage, protect its intellectual property, remove the stiff tariffs it currently faces and allow it to face reduced tariffs on certain components.
The tradeoff? Tesla wouldn't own 100% of the operation.
Shah points out that China is already Tesla's second-largest country by sales. So expanding in the region could drive sales significantly higher as China's auto market continues to expand. In his Oct. 4 note, Shah said Tesla should benefit from an "unprecedented" surge in sales.
More of What's Trending on TheStreet:
This article is commentary by an independent contributor. At the time of publication, the author had no positions in the stocks mentioned.