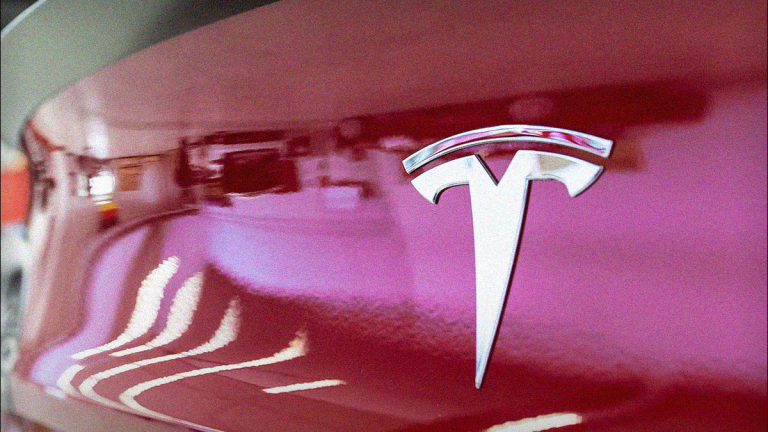 Is the Tesla Stock Beating Over or Just Beginning?
Tesla stock is extra volatile on Thursday, with a leaked email elevating the stock. Here are the must-watch levels now.
Tesla (TSLA) stock has been on a wild ride. Whether investors consider that the last few weeks or the last few hours, it doesn't matter. Shares ended the day higher by 1.43%, to $195.49, in midday trading Thursday.
What a roller coaster this one has been. Tesla stock fell over 4% on Wednesday and was set for a big opening loss on Thursday as well. Analysts have been piling on the stock all week with their worst-case scenario price targets. Some of these targets have been in the double digits, with one as low as $10.
It's no surprise that Tesla is Real Money's stock of the day, with contributor Kevin Curran noting that, "according to FactSet, 16 analysts have cut price targets in the past month, with a smattering of analysts downgrading the stock as well."
With increased volatility in the market and without a lot of individual positive news for Tesla, shares have had trouble catching a bid over the past few weeks. 
Thursday is shaping up to be different, though. The stock was probing even lower lows below $182.50 in Thursday's pre-market trading session, down about 5%. However, shares surged higher and were quickly up almost 3% in pre-market trading as the stock market open approached, following a reportedly leaked email with positive remarks from CEO Elon Musk to his team.
The news now has shares trading higher on the day, although Tesla stock is not yet out of the woods.
Trading Tesla Stock
Above is a nine-month daily chart of Tesla stock, which features a little bit of everything when it comes to time frames. Let's start with the big picture and work our way smaller.
Over the longer term, one can see how Tesla stock has been locked in a brutal downtrend since December. Shares have been putting in a series of lower lows and lower highs, and as we pointed out not so long ago, long-term support has broken down. It doesn't help that the 20-day and 50-day moving averages continue to squeeze shares lower as well.
The stock tried to get back above its prior support range -- around $250 -- but even after its capital raise announcement, it still couldn't get above that mark. A few days later, downtrend support gave way as Tesla stock really began cascading lower. Amid that waterfall of selling, TSLA stock broke below $200.
If not for Thursday's leaked email reports, this stock likely would be under even more pressure. So now what?
Tesla stock put together a nice two-day range on Monday and Tuesday, with range support giving way on Wednesday. That gave bears an "all-clear" signal to keep pushing shares lower, at least in the short term. Now Tesla is trying to reclaim this range. If it can't, it opens up the door to Wednesday's low and possibly much more if those fail to hold. Above the range high gets a potential gap fill up to ~$211. Above that and the underside of prior downtrend support (blue line) is in sight. If Tesla can hurdle that, too, the declining 20-day moving average and possibly the gap fill up to $227 are possible.
This article is commentary by an independent contributor. At the time of publication, the author had no positions in the stocks mentioned.