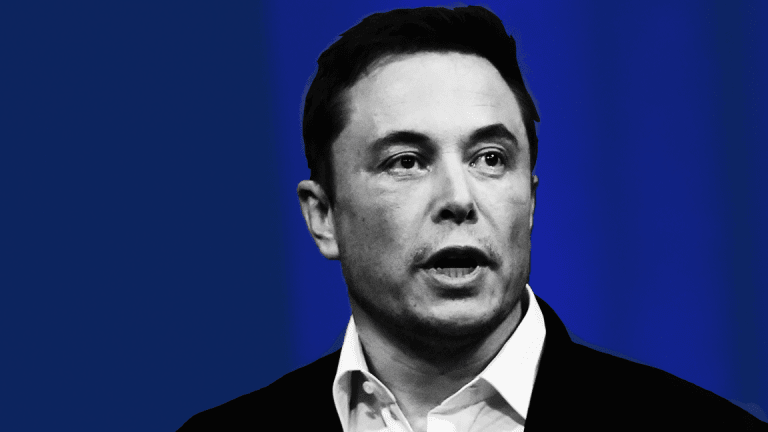 Tesla Still Has Plenty to Prove Following Its Latest Deliveries Report
Elon Musk's company came close to reiterating its prior production guidance for its Model 3 sedan. But investors are now more skeptical about Tesla's ability to make good on its targets.
Though falling short of analyst estimates, Tesla's (TSLA) - Get Tesla Inc Report Q1 vehicle delivery and production data released on Tuesday morning was better than many feared. 
And while the company didn't quite reiterate its Q2 production guidance for its Model 3 sedan, it came close to doing so. As a result, shares were up almost 7% on Tuesday afternoon.
But they're still down about 20% from early-March levels. In addition to a broader tech selloff, this likely has much to do with how faith in Tesla's ability to hit its Model 3 production goals has diminished following a string of guidance misses and target push-outs. It might also have a bit to do with the company's Model 3 commentary about reservations.
On Tuesday, Tesla reported that it delivered 29,980 vehicles in Q1. Though up about 20% annually, this figure fell well short of a FactSet consensus estimate of 38,000. Production numbers were stronger: Tesla assembled 34,494 vehicles, a 36% increase relative to the year-ago period.
Model 3 deliveries rose to 8,180 from a Q4 level of 1,550, with production rising to 9,766 cars from 2,425. However, amid many signs of ongoing production challenges, deliveries were well short of a consensus of 11,600, even though this figure had fallen by 2,200 over the last week.
Tesla says it produced 2,020 Model 3 units over the last seven days, and expects to produce "2,000 Model S and X vehicles and 2,000 Model 3 vehicles" over the next seven. This means the company fell short of prior guidance for a production rate of 2,500 vehicles per week by the end of Q1.
But end-of-quarter production was better than what Bloomberg's Model 3 tracker had signaled. And Tesla says it "continues to target a [Model 3] production rate of approximately 5,000 units per week in about three months." That's not exactly the same as its prior guidance, which called for a 5,000-unit weekly production rate to be hit by the end of Q2, but is at least in the same ballpark.
However, after seeing one target push-out after another, many investors clearly aren't willing to give Tesla the benefit of the doubt regarding its Model 3 guidance. It's worth remembering that back in November, the company was aiming to reach a 5,000-unit weekly production rate by the end of 2017. And that until January, it was predicting it would do so by "late Q1."
Q1 deliveries for the costlier Model S sedan and Model X crossover came in at 11,730 and 10,070, respectively. Those numbers are down moderately relative to year-ago levels, and also short of consensus estimates of 12,800 and 11,200. However, Q1 Model S and X production outpaced deliveries by 13%, and Tesla notes that 4,060 Model S and X vehicles were in transit at quarter's end.
Tesla's deliveries report comes a day after The Information reported that Elon Musk has taken direct control of Model 3 production from engineering SVP Doug Field as problems continue. Musk appeared to confirm the report in a tense Twitter exchange with The Information's Amir Efrati.
In addition, Tesla's remarks about Model 3 net reservations might have put some investors on edge. The company said Model 3 net reservations "remained stable through Q1." But this suggests they declined towards the end of the month, given Tesla stated they had grown in the weeks prior to its Feb. 7 Q4 report as the Model 3 began appearing in Tesla showrooms and saw a flurry of positive reviews arrive.
Tesla previously disclosed having 455,000 Model 3 net reservations as of late July, and later said the number grew "significantly" in Q3 and "remained stable" in Q4. The fact that Model 3 reservations only cost $1,000 and are refundable seems to be keeping a lid on cancellations, as is the fact that no rival automaker can offer for now a sub-$40,000 electric car that can match the Model 3's combination of performance, handling, looks, range and (for an extra $5,000) advanced driver-assistance features. Here, it's worth noting that Tesla says in its report that the Model 3's "initial customer satisfaction score" is above 93%.
Still, Tesla's latest reservation disclosure suggests a growing number of would-be Model 3 buyers are running out of patience. Judging by how the Model 3 ramp is progressing, those with lower spots on Tesla's reservation list are unlikely to see deliveries before late 2019, if not 2020. One can't blame those eager to buy a new car before that time for exploring their options.
Ever since the Model 3 was first
, it has been pretty clear that Tesla had a massive hit on its hands
as long
as
it could execute on a very ambitious production rate, or at least come close. Following months of production woes that are taking a toll on Tesla's balance sheet and cash-flow statement, the company will need more than a moderately encouraging deliveries report to put concerns about its execution to rest.