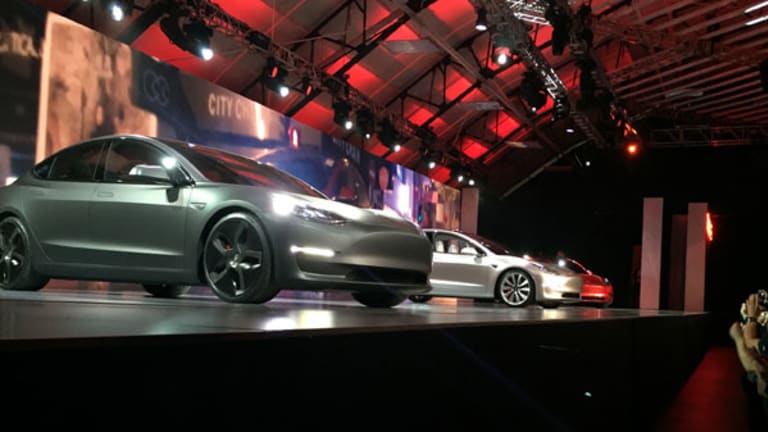 So much for a nasty production miss derailing Wall Street's love affair with Tesla Motors (TSLA) - Get Tesla Inc Report . 
Shares of Tesla rose as much as 3% to $223.55 on Wednesday a day after the company said it delivered about 22,000 vehicles in the fourth quarter and 76,230 for the year, missing both its initial guidance for annual deliveries of 80,000 to 90,000 made in February and its revised 79,000 estimate from the fall.
The company blamed the miss on vehicles in transit but not yet delivered, an explanation that has been used repeatedly in the past, and issues related to its shift to new hardware for its driver-assist technology.
The total deliveries, though a miss, by far surpassed 2015's total of about 50,000.
While the results provided fresh fodder for the bears, they didn't do enough to crush Wall Street's long love affair with Elon Musk's baby. Investors may also be optimistic ahead of a previously-planned analyst tour of the company's Gigafactory battery facility scheduled for Wednesday.
The bigger question for the company is whether it can bring its more-affordable Model 3 to market, and if so when. Tesla's bubblish valuation -- the company boasts a market capitalization twice that of Fiat Chrysler (FCAU) - Get Fiat Chrysler Automobiles N.V. Report despite selling fewer cars in a full year than Fiat does every month -- is dependent on the company hitting CEO Elon Musk's goal of delivering 500,000 vehicles by 2018 and 1 million by 2020, or at least coming close.
The company introduced the Model 3 last year to great fanfare and secured more than 350,000 refundable deposits for the vehicle, and has pledged to begin deliveries by the end of this year. But Wall Street is growing increasingly skeptical about that timeline. Even longtime company bull Adam Jonas of Morgan Stanley now says he does not believe the Model 3 will debut until 2018 at the earliest.
At least for today, Tesla CEO Elon Musk could continue laughing at the bears.
Tesla has attempted to diversify in recent years, adding a line of battery storage products and spending $2.6 billion to acquire SolarCity with a plan to roll out a solar roofing product. But if those Model 3 sales don't materialize as hoped, the company is going to struggle to come up with the capital needed to build those businesses or even repay all of the hundreds of millions in debt that comes due by 2018.
The company has a history of missing internal deadlines, but simply showing progress towards bringing the Model 3 to market should be enough to keep bulls on board and allow Tesla to return to the capital markets to raise more cash if needed. But significant delays could be costly, as traditional automakers are racing to bring their own electric vehicles to market in the years to come.
Even if the Model 3 arrives on time, there are still questions about whether the company can turn a profit on the vehicle. Tesla has targeted a base price of $35,000 for the vehicle, but skeptics including Stanphyl Capital managing member and portfolio manager Mark Spiegel estimate it might cost the company upwards of $48,000 per unit to produce the car.
If Spiegel's estimate is even close to accurate, Tesla will either have to raise the price on the Model 3 significantly, and in doing so potentially lose some of that impressive waiting list it has for the car, or take a loss on each unit sold.
Given that Morgan Stanley's Jonas believes the company's cash balance will fall below $1 billion in 2018 and analysts at Oppenheimer have estimated the company might need upwards of $12.5 billion to fund its full list of projects in the years to come, either option could have significant ramifications for the company.