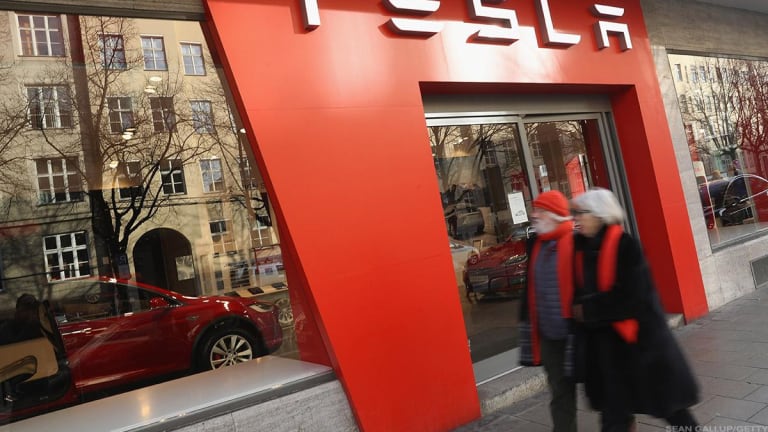 Tesla Shares Slip After Report Says European Head Jan Oehmicke Leaves Company
Tesla shares trade lower Tuesday amid reports that its head of European operations is leaving for a rival carmaker less than a year after being lured away BMW
Tesla  (TSLA) shares traded lower Tuesday amid reports that its head of European operations is leaving for a rival carmaker less than a year after being lured away from BMW (BMWYY) .
Jan Oehmicke, the former CEO of BMW's financing unit in France who was hired by founder and CEO Elon Musk last May, has left the company, according to the tech-focused website Electrek and Germany's WirtschaftsWoche. The departure follows last week's exit of Peter Hochholdinger, Tesla's former head of vehicle production at its Freemont, California facility, who was named Lucid Motors VP of manufacturing late Monday. As many as 60 executives have left the company this year, according to Yale University's Jeffrey Sonnenfeld.
"It is with great pleasure that I join Lucid at such an exciting time in the company's history," Hochholdinger said in a statement published by Lucid. "I look forward to working with the world-class team to deliver Lucid's incredible luxury electric vehicles in production."
Tesla shares were down 1.66% to $223.39. The stock has declined more than 32% this year.
The twin departures could raise fresh questions over the group's second quarter delivery totals, which are expected to be made public this week, after Musk told investors last month that there was a "decent chance" of a record quarter of between 90,000 and 100,000 clean-energy cars delivered over the three months ending in June.
That assessment followed a report from Electrek that noted a massive push to drive end-of-quarter sales could lead to record deliveries, and that Tesla has already shifted 33,000 cars in North America this quarter, with hopes of a similar tally for the month of June as the company incentivises employees with new bonuses. Tesla's quarterly record of 90,700 deliveries was registered over the final three months of last year.
Goldman Sachs analyst David Tamberrino, however, thinks demand forecasts for the clean-energy carmaker are likely too optimistic, and cut his 12-month price target on June 20 to $158.00 from $200 per share.
Tamberrino said that while deliveries in the current quarter are likely to meet market forecasts, volume estimates for the second half of the year look generous "considering there are fewer levers (such as lower prices and leasing options) to pull to stoke demand going forward."
"Further, when coupled with a lack of direct impetus to open up new demand pockets (other than introducing incentives or more attractive financing rates) and another step-down in the US Federal Tax Credit for Telsa vehicles beginning on July 1, we believe 2Q19 was a better environment for demand and thus deliveries, but to a level that is likely not sustainable," Tamberrion said in a client note.