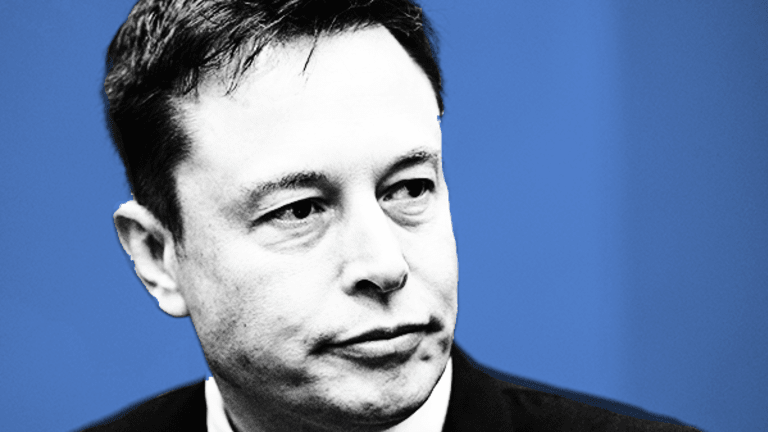 Tesla Shares Fall on Model 3 Production Shortfall, But Not Everyone Is Worried
Manufacturing for the mass-market sedan got off to a slow start, but Elon Musk still has time and opportunity to restore confidence in Tesla.
While Tesla (TSLA) - Get Tesla Inc Report  aims to produce 5,000 of its Model 3 electric vehicles per week by the end of the year, the company said late Monday that deliveries came to a disappointing 220 in the third quarter. 
As Model 3 production kicks into gear, Wall Street had expected Elon Musk's automaker to ship 1,260 of the vehicles in the quarter, according to analysts surveyed by FactSet.  Shares dipped 2.7% to $332.31 in early morning trading Tuesday. By midday, Tesla stock was up 0.23% to $342.43.
"The real problem is that tonight's results chip away at investor Model 3 production confidence," Loup Ventures analyst Gene Munster suggested in a report on Monday.
While the impact of the slow start is "immaterial" to Tesla's longer-term model, he suggested, the psychological effects could be significant. "What is material is this production miss will fuel investor concerns about the slope of the Model 3 ramp," he added. "While we believe Model 3 production will largely be a guessing game over the next few quarters, and could produce future disappointments, it's important to note Tesla has over 500k net reservations for the Model 3, and we remain confident that Model 3's value will stoke demand for the next several years." The analyst predicts a "breakout" 2019 with 359,000 Model 3 deliveries.
Tesla attributed the miss to "production bottlenecks" in a Monday statement. "It is important to emphasize that there are no fundamental issues with the Model 3 production or supply chain," Tesla assured investors. "We understand what needs to be fixed and we are confident of addressing the manufacturing bottleneck issues in the near-term."
Musk stoked expectations for the Model 3 over the summer when he announced that the company had more than 500,000 reservations for the vehicle--or 455,000 after netting out cancellations. The Tesla founder aims to produce 10,000 Model 3 vehicles per week by the end of next year. 
If Tesla's third-quarter production figures rattled some investors, KeyBanc Capital Markets analyst Brad Erickson suggested in a note, Musk can win them back by reporting some progress before its early-November earnings call. "Net net, we think a Model 3 miss was somewhat priced in, and the company would likely need to see more substantive near-term production or vehicle quality issues before the stock would take another leg down," Erickson wrote.
More of What's Trending on TheStreet: