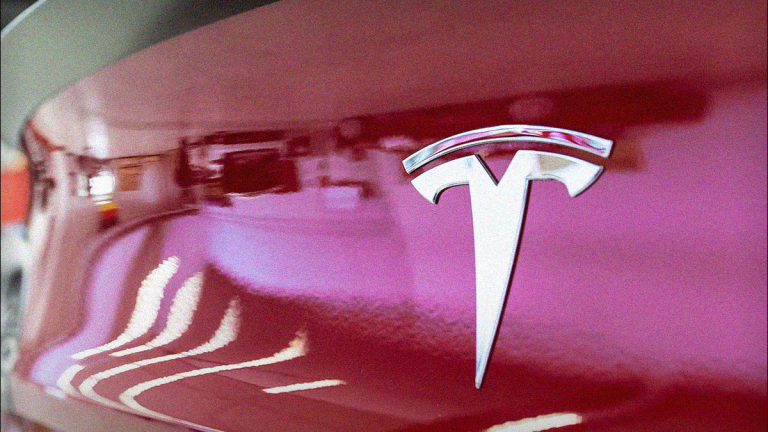 Tesla Shares Fall on Conflicting Reports Over Japanese Battery Production
Shares of Tesla trade lower on reports that Panasonic is first freezing - then reviewing and possibly expanding - its joint battery production investment in Japan.
Shares of electric car and battery maker Tesla (TSLA)  skidded some 3% Thursday following conflicting reports that Panasonic is reviewing its investment in battery production in Japan with the company.
Japanese financial daily Nikkei reported on Thursday that financial issues spurred by slowing demand and sales have led Tesla and Panasonic to re-examine their plans to expand the capacity of Gigafactory 1 by another 50% next year. 
However, Panasonic shortly after released a statement saying it was studying further investment in its joint battery production venture with Tesla. "Watching the demand situation, Panasonic will study additional investments over 35GWh in collaboration with Tesla," the company said.
"We will of course continue to make new investments in Gigafactory 1, as needed," a Tesla spokesman said in an emailed statement to Bloomberg News on Thursday. "However, we think there is far more output to be gained from improving existing production equipment than was previously estimated."
That didn't stop investors from pushing Tesla shares lower Thursday. The stock was down just shy of 3%, or $7.35, at $268.71 shortly before noon ET. All told, TSLA has fallen roughly 20% year to date.
Panasonic is the exclusive battery cell supplier for Tesla, which in turn is Panasonic's biggest EV battery client. Tesla is also close to completing another battery production facility in China -- Gigafactory 3 -- which also would fuel the company's car production in Asia.
Lower-than-expected car deliveries by the California-based manufacturer in the first quarter spooked both stock and bond investors earlier this month, adding to Wall Street's concern about its future cash flow and ability to continue expanding.
Tesla is expected to report first-quarter earnings on April 24.