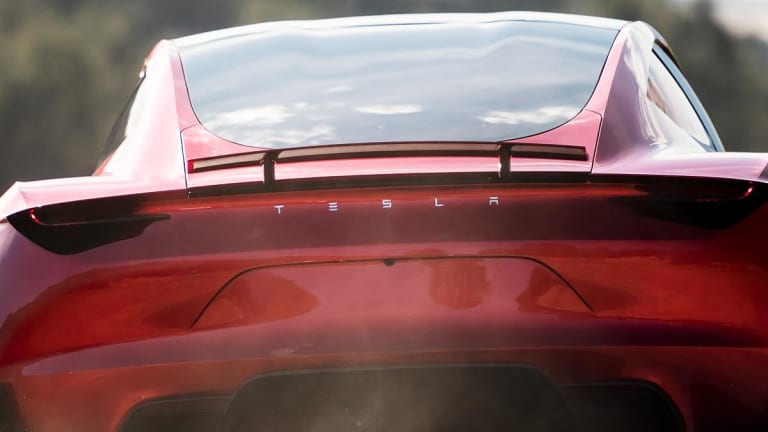 Tesla Shares Drop as Morgan Stanley Cuts Its Price Target
Shares of the electric carmaker decline after Morgan Stanley analysts lower their price target to $260 from $283 amid concerns over free-cash-flow burn and lower sales.
Shares of Tesla (TSLA) - Get Tesla Inc. Report downshifted on Tuesday after analysts at Morgan Stanley cut their price target on shares of the electric carmaker, citing ongoing concerns about its ability to continue to generate sales momentum.
Tesla shares were down 2.8% to $282.74 after Morgan Stanley analyst Adam Jonas reduced his price target on the shares to $260 from $283 "to reflect higher free-cash-flow burn and a modestly lower long-term trajectory of volume."
In a note to clients, Jonas and his team said that while Tesla has made "notable moves to cut costs/prices and stimulate orders, they see the electric car and battery company "hitting an air pocket in demand that is coming earlier than we expected."
Other key changes to their forecast include a 23% cut in expected first-quarter deliveries, to 48,000 units, and a reduction in average transaction prices of between $1,000 to $2,000 per unit, mostly via price reductions of the Model S and X.
The team revised its expected first-quarter loss to $31.1 million from $32 million.
The price target cut came a day after CEO Elon Musk formally countered the Securities and Exchange Commission over its allegations that he violated his previous settlement and should be held in contempt for a questionable February tweet.
In the filing with a federal court in New York, Musk argued that the Feb. 19 tweet "only repeated publicly-disclosed information, and was a reflection of my pride in Tesla's success and its future. I did not believe that it contained, or reasonably could contain, any information material to Tesla or its shareholders."
Tesla plans to unveil its fourth production car, called the Model Y, on March 14.
The latest model will complete Musk's personal ambition of naming four different lines of vehicles that (almost) collectively spell out the word "sexy": 3 - E - X - Y.