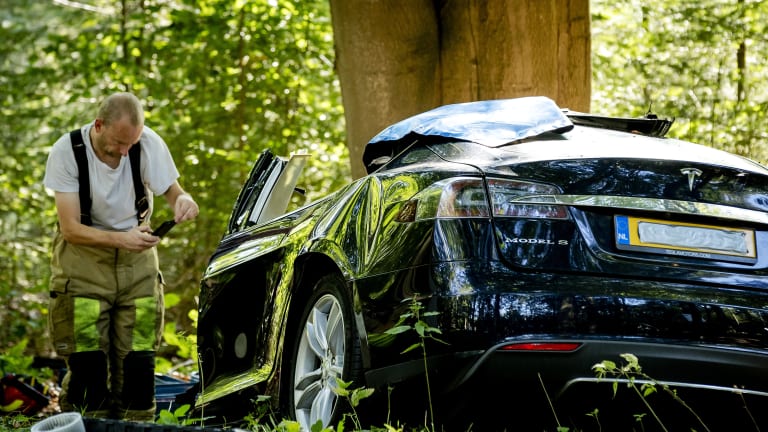 Tesla Shares Are Nothing More Than a Day Trade for Ex-Boiler Room Workers
Tesla is a mess; a bad second-quarter earnings report from FedEx continues to loom large; the bulls still have a good argument, however.
Tesla shares are nothing more than a trade for an inexperienced day-trader hoping to be on the right side of the call over the course of the market open. To invest in a company with confidence, you have to have confidence in the management team, the product or service at hand and the ability of those factors to drive X amount of profits/cash flow in the future. You have none of that with Tesla.
What you do have is an unpredictable billionaire CEO, a cash-burning operation and a stock that is hooked on news headlines like a junkie enjoys his pipe. And now you can add to the list news that Tesla handed over documents to the Department of Justice in connection with Elon Musk's tweets about taking the company private last month. No subpoena from the DOJ ... yet. Who knows what the Justice Department will find in its fact-finding mission?
But real investors should't even be emotionally -- or financially -- invested in finding out what's really going down at Tesla. Leave that to the former boiler-room stock pumpers turned day-traders or the short-sellers who enjoy writing blogs and thumping their chests on Twitter in the hopes of being on TV. 
Wait, What?
Oftentimes in the heat of an earnings report, you miss things. I can't tell how often I've seen overlooking one sentence from a CEO making $20 million a year on an earnings call could prove costly three months down the line.
With FedEx's  (FDX) - Get Free Report earnings on Monday, I became so fixated with the massive earnings miss and founder and Chairman Fred Smith oddly reading analysts' questions on the call instead of letting them speak that I missed one key line. That line: "These forecasts [margin forecasts for the year] assume moderate economic growth and stability in global trade."
You kidding FedEx? You are baking in "stability in global trade" into your forward guidance? Are you watching the news? I get direct trade with China doesn't represent 50% of your business (in the single digits FedEx estimates), but come on guys. Investors should already be worrying if FedEx has set the stage for another earnings miss in the third quarter and downward revision to its full-year outlook.
The upside to this possibility: The 2018 holiday season is mind-blowing, which apparently FedEx is banking on (the company shouted out strong growth potential for the first four Mondays in December on the call). 
Around TheStreet
Keep ignoring those trade war headlines at your own risk, bulls. Here's what TE Connectivity's (TEL) - Get Free Report CEO Terrence Curtin told TheStreet's @KatherineRoss on the trade war: The tariffs "create uncertainty," Curtin said, adding "We are a global free trader -- we're based a third in China, a third in Europe and a third in U.S."
At the same time, the bulls have a good argument right now.
Pointed out TheStreet's Jim Cramer following Tuesday's solid session (when you thought down 300 on the Dow Jones Industrial Average (I:DJI) was coming): "As much as FANG was pronounced dead yesterday, we are now seeing good news from Amazon (AMZN) - Get Free Report about new Alexa products, we are seeing Netflix (NFLX) - Get Free Report winning a ton of Emmy's and we are seeing Alphabet (GOOGL) - Get Free Report get involved with autonomous vehicles. There's corporate news galore: Union Pacific (UNP) - Get Free Report is rationalizing its network. Oracle (ORCL) - Get Free Report reported a quarter that looked light but the analysts took it higher anyway. Apple (AAPL) - Get Free Report got a break from the president on some of its accessories that it makes in China that it exports here. That's a ton of good news for one day and it explains a ton how you can rally on a day you would expect to be down," Cramer said on Real Money.