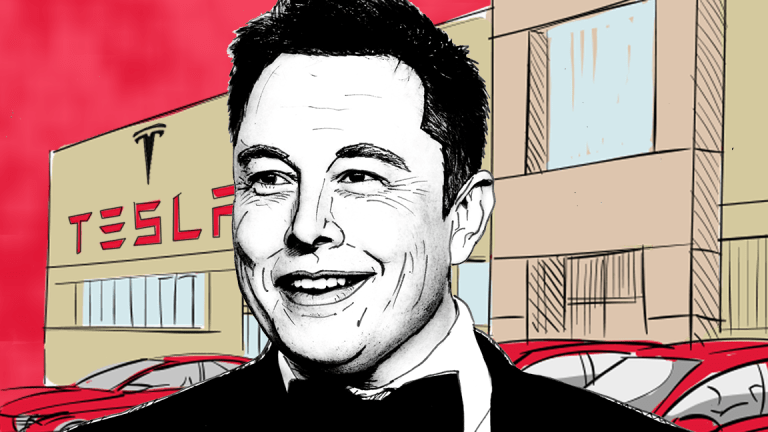 Tesla Shareholders OK Elon Musk's $2.6 Billion Incentive-Laden Pay Package
Elon Musk's pay will be tied to the company's market cap over the next 10 years.
Elon Musk has $2.6 billion reasons to make sure Tesla Inc. (TSLA) - Get Tesla Inc Report reaches its full potential after shareholders voted to approve his incentive-laden pay package on Wednesday, March 21, CNBC reported, citing a source at the meeting.
The incentives start once Tesla hits a market cap of $100 billion and increase incrementally for every $50 billion in value the company adds over the next 10 years. 
Tesla currently has a market cap just north of $50 billion. Shares were up 3.5% to $321.17 on Wednesday. 
Large institutional investors like T. Rowe Price, which holds a 6.4% stake, had previously expressed support for the compensation plan. 
Musk owns about 20% of Tesla. 
Proxy advisory firms Institutional Shareholder Services and Glass Lewis & Co. came out against the plan, calling the unprecedented deal too rich. ISS calculated the total compensation at $3.7 billion instead of Tesla's projection of $2.7 billion. 
The award "locks in unprecedented high pay opportunities for the next decade, and seemingly limits the board's ability to meaningfully adjust future pay levels in the event of unforeseen events or changes in either performance or strategic focus," ISS said.
The firm also noted that Musk's financial interests are already strongly tied to Tesla's performance, so the new package is unnecessary. 
"It is questionable whether an additional $2.6 billion grant is necessary or appropriate to further align his interests when he already owns a 22 percent stake in the company," ISS said. 
James Albertine and Derek Glynn of ConsumerEdge Research were bullish on the contract in January when the plan was first announced. 
"Musk's goal is not to just electrify Silicon Valley, or CA, or the U.S. He wants to electrify the world," the analysts wrote. "The greatest risk, in our view, looking ahead to the next 10 years is whether Tesla can continue to innovate and provide compelling products for consumers (retail and commercial alike), thereby furthering Musk's mission toward electrifying the market