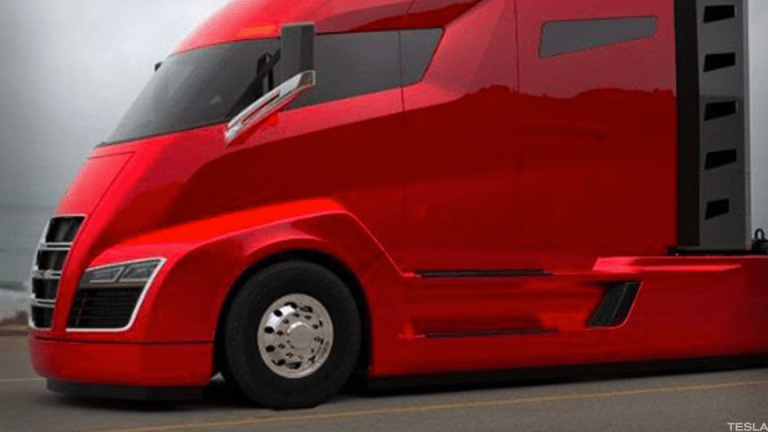 Tesla's New Semi a Distraction From Model 3 Issues?: What Wall Street's Saying
Elon Musk and other Tesla executives shouldn't forget their ongoing Model 3 production problems, analysts warned.
Tesla Inc. (TSLA) - Get Free Report  finally lifted the veil on its long-awaited, all-electric semi truck on Thursday evening, while surprising investors with an unexpected refresh of its original Roadster sports car. 
CEO Elon Musk introduced the new products at Tesla's design studio in Hawthorne, Calif. The company is expected to begin production on the Semi in 2019 and is now accepting $5,000 down payments to reserve one of the vehicles. Musk didn't say how much the Semi would cost, but claimed that the truck has a range of 500 miles and can recharge for up to 400 miles in 30 minutes. 
Meanwhile, the Roadster, which starts at $200,000, is expected to become available in 2020. Musk said the Roadster will be the longest range car that Tesla produces, with a 620 mile range. 
Shares of Tesla were climbing 2.8% to $321.59 on Friday morning. Tesla's stock has surged 46% so far this year vs. the Nasdaq's climb of 26% and the S&P 500's gain of 15%. 
Analysts said the semi truck exceeded expectations on several fronts, but some remain skeptical about what it means for Model 3 production. Here's what Wall Street had to say about the announcements: 
Toni Sacconaghi, Bernstein (Market Perform, $265 Price Target) 
"Tesla's addressable market for Semi Trucks may be considerably larger than we had estimated-and could potentially amount to 15% -20% of our total projected company revenues in 2025. Charging fees for Tesla semis could be a revenue line item going forward...Perhaps most importantly, we can't help worrying that Tesla may be taking on too much organizationally -which could distract it from ensuring Model 3's commercial success, which we believe is the critical driver of the company's fortunes."
Brad Erickson, KeyBanc Capital Markets (Sector Weight)
"That the Company is announcing a foray into an entirely new market outside of passenger vehicles seems to be just distracting from what its primary focus should be, which is building the Model 3. If TSLA's heavily concentrated shareholder base chooses to underwrite the project (it hasn't said no yet), shares should hold up, though we think the semi-truck's ultimate impact to both revenue or profit should be minimal, if not immaterial. The primary near-term driver of the stock remains Model 3 production, for which expectations have come down meaningfully; our primary concerns on the stock remain that overall demand for half the Company's long-term profit is no longer growing (Model S/X) and we think the Model 3 will not meet investors' long-term profitability expectations."
Philippe Houchois, Jefferies (Underperform, $240 PT) 
"Tesla presented its long awaited electric Semi concept, expected in production by 2019. Slightly more specific on details than peers but still missing key parameters, particularly on battery longevity which will determine depreciation to reliably work out TCO vs diesel. We expect limited impact on the shares although raising working capital through the new Roadster is clever. Truck competitors appear well advanced on electric trucks."
George Galliers, Evercore ISI (In Line, $307 PT) 
"From a purely economic perspective, if Tesla's cost of ownership stats prove accurate in practice, Tesla's Semi has a strong chance of taking significant share given its claimed about 17% improvement in running costs...Long-term detractors have ridden out similar eye-catching reveals in the past. Bears will be cognizant of the capex requirements to bring both products to market and their respective margins (note, no mention of gross margins so far). There is also risk that the products distract management from the all-important Model 3. Bears will also question Tesla's ability to build both products and bring them to market on-time, given on-going Model 3 problems." 
Jeffrey Osborne, Cowen (Underperform, $170 PT)
"Tesla's glitzy reveal of the Semi truck was impressive, but didn't answer many questions we had heading into the event. The Roadster 2.0 (available 2020) reveal stole the show in our view. No update on Model 3 "production hell" was offered. Basics such as battery pack size, cost, and where the truck (available in 2019) will be sold and serviced were not offered."
James Albertine, Consumer Edge Research (Overweight, $385 PT) 
"We believe the TSLA semi-truck and second-generation roadster are two of the most innovative products in their respective segments. There are still questions with respect to cost and best use case for an electric-powered semi-truck, but ultimately, it's important to consider that Tesla likely sought fleet operator input while developing its truck...Taken together, we believe it is logical to assume that Tesla will play a key role (along with peer manufacturers) in bridging the performance gap to diesel-engines in a relatively short period of time (next 3-5 years). However, we also believe Tesla may have advantages relative to peer manufacturers in the areas of battery development and manufacturing and exploration and testing of advanced safety and autonomous technologies."
Colin Rusch, Oppenheimer (Perform)
"While the specs for the semi exceeded our expectations, given the current difficulty TSLA is having with Model 3 production and recent pricing dynamics on the models S and X, we remain on the sidelines looking for acceleration on Model 3 production and proof of Model S and X sales growth in 2018."
More of What's Trending on TheStreet: