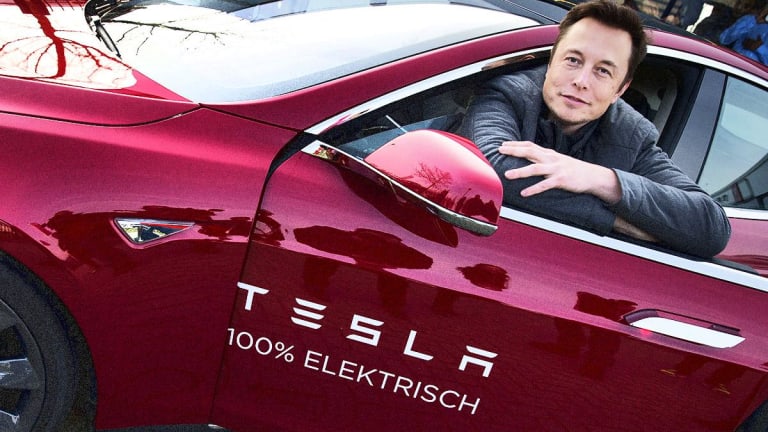 If Everything's Fine With Tesla, Why Isn't It Doing a Secondary Stock Offering?
Wouldn't it be easier for Tesla to sell more stock than close retail outlets and lay off staff?
Morgan Stanley (MS) - Get Morgan Stanley Report issued a report on Tesla (TSLA) - Get Tesla Inc. Report this week that might be the shortest research note ever. It basically consisted of just a single sentence: "In response to many investors asking if Tesla had been sent a Wells Notice by the SEC, we called [investor relations], whose response was that Tesla is not under a Wells notice and is not legally preventing from issuing equity."
Well, at least Morgan Stanley got right to the point. It's like General Dwight D. Eisenhower's letter to President Harry Truman in May 1945 announcing victory in Europe in World War II: "The mission of this Allied Force was fulfilled at 0241, local time, May 7th, 1945." Short and sweet for a war that cost America nearly four years of bloodshed.
If the U.S. Securities and Exchange Commission hasn't sent Tesla a Wells notice -- official notification that the agency plans to bring enforcement action against a company -- then one wonders why Tesla hasn't raised capital in the past 18 months. I mean, wouldn't that be preferable to having layoffs and announcing plans to close many of its retail locations?
If TSLA could have raised perhaps $500 million through a plain-vanilla secondary equity offering, that would have been preferable to letting the company bleed over the past nine months, right?
Sure, Tesla will say that it doesn't need or want to raise money. After all, the company had $3.7 billion in cash on hand as of Dec. 31. But Tesla still wasn't profitable for 2018 as a whole, and it's done secondary offerings in the past to provide enough cash to keep going.
So if it's not a Wells notice that's holding Tesla back from doing a secondary, it seems to me that something must be doing so. (Full disclosure: I'm shorting TSLA stock.)
Here are some possibilities that I see:
Lesser SEC Problems
Yes, the SEC might not have issued Tesla a Wells notice, but the agency still might have questions for the company that it feels aren't being answered. Perhaps there's even a lot of "ping-pong" going on -- the SEC and Tesla going forth and back, but still short of a Wells notice.
Underwriter Woes
Maybe Tesla's previous underwriters (Morgan Stanley and Goldman Sachs (GS) - Get Goldman Sachs Group Inc. (The) Report ) have questions that Tesla isn't answering in a satisfactory manner. In that instance, we could foresee that Morgan and Goldman don't want the legal risk of underwriting a Tesla secondary offering without clearing such issues up first.
Meanwhile, Tesla couldn't just go to some second-rate firm to underwrite a secondary offering without people rightly drawing the conclusion that without MS or GS on the ticket, something very bad is going on.
The Bottom Line
We keep hearing that there are willing buyers for a Tesla follow-on equity offering, but the company is cutting back while somehow refusing to take money that investors are supposedly standing in line to give it.
Frankly, that makes no sense. Instead, I firmly believe that there's some sort of obstacle to a secondary offering here ... but that the company just isn't being forthcoming about what it is.
At the time of publication, Wahlman was short TSLA although positions may change at any time.