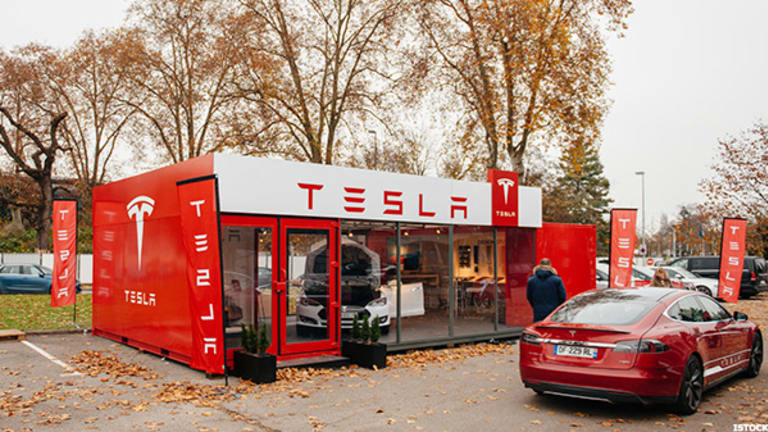 Tesla's Stunning Quarterly Profit Doesn't Negate the Stock's Risk
The electric car maker and energy storage company reported its second-ever profit, but it still may be best to avoid buying shares.
Tesla Motors (TSLA) - Get Tesla Inc Report  surprised analysts and investors Wednesday but not with dodgy deals or exploding cars.
Instead, the electric car maker and energy storage company said that it turned a third-quarter profit, only the second time it has done so.
Tesla Motors has long been controversial, drawing as much ire from analysts as it causes excitement among its fans. So does the third-quarter earnings announcement mark a turning point for the stock?
The company posted a quarterly profit of nearly $22 million due to improved sales of the Model X sport-utility vehicle and Model S sedan, as well as the benefits of selling carbon pollution tax credits to other companies.
Indeed, the sale of these transferable credits has been a lifeline for Tesla Motors, which reportedly sold about $20 million worth to MGM Resorts, which helped the company fund the construction of its Nevada Gigafactory.
During the third quarter, gross profit from these credit sales came in at $139 million, versus $39 million a year earlier.
Quarterly revenue, meanwhile, rose to $2.3 billion from $936.8 million a year earlier, as the company sold more than double the number of Model S and Model X vehicles than it did a year earlier.
Tesla Motors also said that it generated free cash flow and paid off $600 million in debt.
The company needs about $2.5 billion in cash through the end of next year to fund the completion of the Gigafactory, as well as the roll-out of the upcoming Model 3, according to Barclays analyst Brian Johnson.
Tesla Motors has $3.1 billion in cash.
Bullish analysts point out that the quarterly results could help Chief Executive Elon Musk show that he can manage the proposed yet controversial merger of Tesla Motors with his other company, SolarCity, on which shareholders vote on Nov. 17.
However, investors should continue to be wary of Tesla Motors and not jump on the bandwagon just yet.
Yes, the third quarter was a smashing success, but don't forget that prior to this one the company reported 12 consecutive quarters of losses. Tesla Motors still has a lot to prove, at least where stability comes into play.
And the SolarCity deal is still a wild card.
Analysts warn that the purchase of the solar company could mean a huge cash drain for Tesla Motors.
Recently, Musk and SolarCity Chief Executive Lyndon Rive -- the founders of that company -- bought about $100 million of a $124 million bond offering at the highest rate at which the company has ever sold bonds.
Some analysts are skeptical about whether the deal will even eventually go through.
Although Tesla Motors is certainly a sexy company when it comes to the auto industry, it remains dangerous for investors with a modicum of aversion to risk. Those who prefer to play it safe should stay away from the controversial car maker.
---
A blistering financial storm is about to hit our shores. When it hits, weak companies and their investors will be washed away. You need to put yourself on solid ground. And that doesn't just mean changing your investment allocations or loading up on cash. I'll show you how to protect yourself and prosper when you click here.
The author is an independent contributor who at the time of publication owned none of the stocks mentioned.