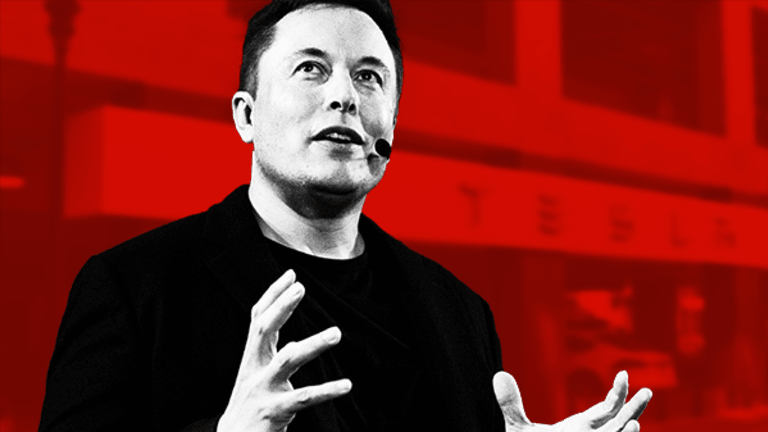 Tesla's Autonomous Tractor Trailer Could Rock the Trucking Industry's Foundation
A $100,000 all-electric semi-trailer truck could be coming at the end of September, according to Morgan Stanley analyst Ravi Shanker.
One Wall Street analyst believes Tesla Inc.'s (TSLA) autonomous semi-trailer truck, due out later this month, could be a huge disruptor to the trucking industry -- perhaps the biggest it's seen in decades. 
Tesla CEO Elon Musk teased the electric tractor-trailer at the 2017 TED Conference in April with a rendering that shows a mysterious, glowing vehicle. Its design appears similar to other Tesla vehicles, with clean lines and headlights that resemble the Model S and Model 3. Musk introduced the idea of creating all-electric heavy-duty trucks and urban transport vehicles in a July 2016 blog post. At the time, Musk said the Tesla Semi would reduce the cost of cargo transport and increase safety, while being "really fun to operate." 
In a note to clients late on Wednesday, Sept. 6, Morgan Stanley analyst Ravi Shanker said the Tesla Semi could potentially "set off separation" between leaders and laggards among carriers and shippers, truck original equipment manufacturers and suppliers. Musk didn't give a specific date for when the Semi will drop, but Shanker anticipated the release could be timed alongside the North American Commercial Vehicle Show in Atlanta, which is set for Sept. 25.
While Tesla likely has been testing the truck on public roads for several months, Shanker said he thinks the September announcement still will involve a prototype and not a final vehicle for sale.
Shares of Tesla were up 1.7%, to $350.40, early Thursday afternoon. The stock is up more than 63% so far this year. 
Shanker predicted that Tesla will price the Semi at about $100,000 (about 70% cheaper to operate than a regular truck, he noted) and start taking orders for the truck at the NACV event, with the vehicle shipping by 2020. Tesla might also announce partners at the NACV event this month, ranging from large truck carriers to shippers. A few names that might be a good fit are freight company Schneider National Inc. (SNDR) , FedEx Corp. (FDX) , truckload carrier US Xpress Inc. and transportation and supply chain management provider Ryder System Inc. (R) , Shanker said. 
"We believe this could set off competition for intelligent trucks in the industry," Shanker explained. "If the order books fill up quickly, any carrier that holds back placing its order could potentially have to wait several years to get its hands on a Tesla truck -- years during which its competitors could be running with up to a ~70% cost advantage." 
He added, "A rush by truck carriers to place Tesla truck orders and other OEMs to launch similar trucks could also be viewed by the market/investors as a key catalyst to the intelligent trucking thesis becoming 'real.'"
The Semi release could mean big things for the trucking industry and will undoubtedly benefit Tesla -- it's likely to be a business worth about $5.1 billion. That figure, though, is just 8% of the electric vehicle giant's market cap, he noted. In this view, the electric semi truck opportunity will be a "modest boost" to Tesla's equity, Shanker said. 
Musk, meanwhile, also has said that Tesla is prepping an electric pickup truck for 2018 or soon after that.
More of What's Trending on TheStreet: