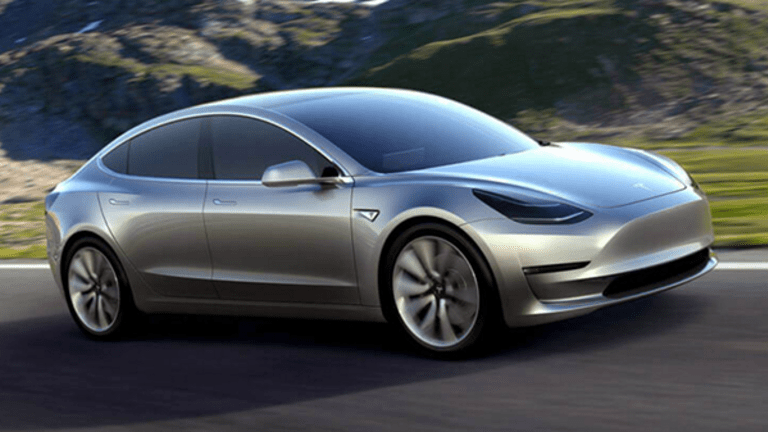 Tesla's Many Would-Be Electric Car Rivals Are Chasing a Speeding Target
The feature set delivered by Tesla's Model 3 sedan isn't easy to match, despite efforts from BMW, Nissan, Hyundai, Toyota, GM and others.
This column has been updated from Aug. 18 to include details about BMW's Frankfurt Motor Show announcements and Nissan's unveiling of a second-gen Leaf electric car.
No matter how one feels about Tesla Inc. (TSLA) - Get Tesla Inc Report as an investment, the company deserves a lot of credit for how much it has motivated one auto giant after another to get serious about bringing reasonably-priced electric cars with acceptable performance and range to market. As Tesla's recently-launched Model 3 sedan has moved closer to mass production, the drumbeat of automakers unveiling plans to challenge Tesla has grown with it.
Some of these would-be rivals are much closer to launching credible challengers to the Model 3 than others. But all of them have to contend with the fact that Elon Musk's company won't be standing still while they act, and that some of the selling points for its EV lineup could be much stronger in 2 or 3 years.
On Sept. 7, BMW announced at the Frankfurt Motor Show it will start mass-producing electric cars in 2020, and that it plans to offer a dozen electric models by 2025. The company is also sharing some details about a concept car for its electric i-series line that aims to take on the Model 3; a launch date and pricing info haven't been given yet.
In addition, BMW's Mini unit plans to launch a small electric hatchback in 2019, and an electric version of the BMW X3 crossover is due in 2020. The company's small i3 electric car (114-mile range) has been around since 2013, and its i8 plug-in hybrid sports coupe since 2014.
BMW's announcement came just after Nissan announced a second-gen version of its Leaf electric hatchback. The new Leaf's 150-mile range tops the 107-mile range of its predecessor, but is still much lower than the 220-mile range of the base version of the Model 3. Nissan is eager to tout the new Leaf's regenerative braking abilities, which eliminate the need for a brake pedal, and an advanced driver-assistance system called ProPilot.
Hyundai is also among the big-name automakers to recently announce it's going after Tesla: The South Korean firm says it plans to launch an electric version of its small Kona SUV that has a range of 390km (242 miles), well above the modest 124 miles of Hyundai's recently-launched Ioniq Electric. Pricing hasn't been disclosed, but one report pegs the electric Kona's price at 35,000 euros ($39,000) -- about $4,000 more than the Model 3's base price.
What a Nissan exec just told TheStreet about the 2018 Leaf. 
Hyundai also wants to launch an electric car for its premium Genesis brand in 2021 that has a 500km (310-mile) range. And affiliate Kia, which launched a subcompact electric SUV (the Soul) with a 105-mile range in 2014, plans to bring an electric version of its Niro crossover to market in 2018.
Toyota Motor Co. (TM) - Get Toyota Motor Corp. Sponsored ADR Report reportedly wants to mass-produce an electric car based on its C-HR subcompact SUV in China in 2019. And in 2022, the company reportedly wants to field an EV with a new kind of battery that both improves range and cuts charging times. 
General Motors Co. (GM) - Get General Motors Company (GM) Report , whose Chevy Bolt hatchback is the closest thing the Model 3 currently has to a direct rival, has said it wants to launch an EV based on a brand-new architecture before 2020, as well as launch a slew of EVs and hybrid cars in China by 2020. Ford Motor Co. (F) - Get Ford Motor Company Report , which has sold an electric version of its Focus hatchback since 2011 -- the latest model has just a 115-mile range -- says it wants to launch an electric crossover with a 300-plus mile range by 2020.
NXP is a holding in Jim Cramer'sAction Alerts PLUS Charitable Trust Portfolio. Want to be alerted before Cramer buys or sells NXPI? Learn more now.
More of What's Trending on TheStreet:
How will Hurricane Irma move the market? Follow @TheStreet on Twitter for updated storm coverage:
Hurricane Irma: How Floridians Are Using Tech, Apps to Prepare for the Big Storm
Audi, for its part, has begun taking reservations for the E-tron Quattro, a luxury electric crossover due in 2018 that appears to have about a 275-mile real-world range; pricing hasn't been announced yet. The company is also working on all-electric version of its E-tron Sportback crossover said to have similar range and a 0-60 mph time of 4.5 seconds.
Volkswagen plans to launch a line of EVs between 2019 and 2022 with ranges that it promises will match or beat those of Tesla's cars. The first car to arrive, a small hatchback called the I.D., will only sell in Europe; a crossover called the I.D. Lounge is due in the U.S. around 2020. Mercedes, which had been a little slow to embrace EVs, said earlier this year it wants to launch its EQ electric SUV in 2019, and field 10 EV models by 2022.
As an aside, all of these EV launches are good news for major auto chip suppliers such as NXP Semiconductors (NXPI) - Get NXP Semiconductors NV Report  (due to be acquired by Qualcomm Inc. (QCOM) - Get QUALCOMM Incorporated Report ), Texas Instruments Inc.  (TXN) - Get Texas Instruments Incorporated Report and Microchip Technology Inc. (MCHP) - Get Microchip Technology Incorporated (MCHP) Report . Infineon estimates both hybrid and fully electric cars require over $700 in chip content, well above what the average mid-range car with a gasoline engine needs. And that's before accounting for the hundreds of dollars worth of chips that will be needed for the autonomous driving systems some of these vehicles will have.
How much does Tesla have to worry about Big Auto's pending EV launches? I think it should be a little concerned about BMW and Audi, but probably doesn't need to worry about the others a ton in the short-to-intermediate term,
To be clear, many incumbent automakers seem perfectly capable of launching EVs priced between $30,000 and $40,000 and with ranges comparable to the 220 miles delivered by the Model 3's $35,000 base model. And in time, some should match the 310 miles provided by the $44,000 version. But that doesn't mean they can match the Model 3's performance, handling, space and -- if a $5,000 "premium package" is bought -- luxury-car interior.
Many of the EVs being prepped by incumbents, such as Hyundai's Kona and Volkswagen's I.D., are effectively electric alternatives to mid-market and low-end hatchbacks and crossovers on the market today. In addition to having limited interior space, their 0-60 times likely won't come near the 5.6 seconds claimed by the base Model 3, and chances are that reviewers won't be gushing about their "scalpel-like" handling the way that Motor Trend did for the Model 3 after a test drive. These are advantages made possible by the decade-plus of R&D work Tesla's top-notch engineering teams have done to bring costlier, high-performance EVs to market.
On the other hand, BMW and Audi, which have been making substantial EV R&D investments of their, might ship cars that are competitive with the Model 3 in such areas, as well as in their range and interiors, in a reasonable amount of time. But there are still a lot of question marks. Especially for pricing, an area where Tesla's battery Gigafactory investments have helped the company move downmarket.
There are also several other advantages Tesla can claim. Its in-dash touchscreen is arguably best-in-class in terms of both software quality and functionality. Its second-gen Autopilot system (fully activating it costs $5,000) is ahead of the pack in terms of the number of situations where it can take over for drivers. And its Supercharger network, which now has over 900 stations globally, has no peer for now.
Fast-forward a few years, and it's possible that Mercedes, Toyota, GM and others will have joined BMW and Audi in fielding cars that in some core respects at least are competitive with the Model 3. And with most big automakers now making autonomous driving investments, some might be able to match or exceed what Autopilot does today. And just maybe some of them will have teamed to support a common high-speed charging network.
But by then, Tesla will presumably have made battery and powertrain investments to improve the range and performance its mass-market models can provide. It will also have better economies of scale for vehicle and battery production, and (though it's not a given that full autonomy will be achieved) Autopilot should be much more advanced than it is right now. And the Supercharger network should have well over 2,000 stations. The mass-market Model Y crossover will also have launched by then.
That's the challenge Big Auto is facing. Not just simply taking the Model 3 and its value-added features head-on, but contending with what the Tesla of 2020 or 2021 will look like. Maybe some incumbents will be up to the challenge, but they all still have a lot to prove.