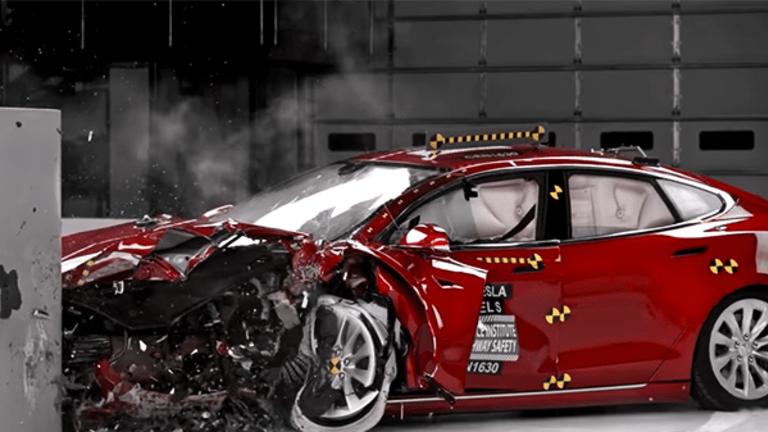 Tesla Shares Risk Getting Walloped if Elon Musk Doesn't Deliver on His Promises
The company's still sky-high valuation demands it come close to hitting its aggressive production targets.
Tesla Inc.'s (TSLA) - Get Tesla Inc Report shares may be down 16% from their late-June peak, but the EV pioneer is still worth more than the 114-year-old Ford Motor Co.  (F) - Get Ford Motor Company Report , and sports multiples that demand Tesla make good on its promises of explosive production and delivery growth in the coming years.
As a rule, it's a good idea to be skeptical of any claim that Tesla is worth one exact amount or another, whether it's $100 or $800 per share. We're talking about a company that (officially at least) aims to ramp its annual vehicle production from about 84,000 in 2016 to one million in 2020, all while significantly growing its energy storage and solar installation businesses.
Merely coming up with a range for what Tesla's sales and profits will look like in a few years is no mean feat. It requires making difficult guesses about how close the company -- no stranger to missing production and delivery targets -- will get to achieving its very ambitious manufacturing goals -- not to mention about what consumer demand for upcoming Tesla products will be like, or what kind of margins Tesla will reap on sales.
On thing is clear, though: Following a 52% 2017 run-up that has left the company valued at nearly $53 billion, Tesla needs to at least come close to reaching Elon Musk's ambitious targets to keep investors happy. The selloff that Tesla saw on July 5th after just slightly missing Q2 delivery estimates drives this point home.
Though Musk has talked about reaching a one million-car production run rate in 2020 -- Tesla's delivery goals for the year are likely a little lower -- analysts are more conservative in their modeling. On average, they see Tesla delivering 683,000 vehicles in 2020 -- still up nearly sixfold from expected 2017 deliveries of 116,000.
Those 2020 deliveries, together with battery, solar and services revenue, are expected to yield adjusted EPS of $11.90, via net income of $2.16 billion.
Thus, even if one assumes Tesla precisely hits those estimates, shares are now trading at 27 times what the company will earn three years from now. For comparison, Alphabet (GOOGL) - Get Alphabet Inc. Class A Report and Facebook (FB) - Get Meta Platforms Inc. Class A Report , respectively, trade at 14 and 16 times their consensus 2020 adjusted EPS estimates. For Tesla to currently trade at around 20 times its 2020 EPS consensus rather than 27, it might need to deliver about 800,000 vehicles.
Facebook and Alphabet are holdings in Jim Cramer'sAction Alerts PLUS Charitable Trust Portfolio. Want to be alerted before Cramer buys or sells FB or GOOGL? Learn more now.
Moreover, Tesla's 2020 analyst estimates involve some financial assumptions that are hardly a given. For example, analysts generally expect the company's vehicle average selling price (ASP) to remain north of $50,000. Though this may seem reasonable given that Tesla is expected to record a $95,000 ASP this year, it might ultimately be aggressive considering how much sales are expected to skew toward the upcoming Model 3 sedan and Model Y crossover. The Model 3 has a $35,000 starting price, and the Model Y, relying on the same platform as the Model 3, should also be priced well below the currently available Model S sedan and Model X crossover.
Analysts are also generally betting that Tesla's 2020 automotive gross margin (excluding zero-emission vehicle credits) will be close to 25%. Despite a giant expected ASP decline, automotive GM is forecast to be above 2016's 23.1% level, and close to an expected 2017 GM of 25.1%. Greater economies of scale will help Tesla's cause, as will the Model 3 and Y's lower manufacturing costs relative to the Model S and X. Still, expecting margins to roughly hold steady while ASP drops by over 40% is asking a lot.
A lot is also being asked of Tesla's Energy Generation & Storage (battery/solar) operations, which are expected to see revenue grow to $3.13 billion in 2020 from $1.19 billion in 2017. This heady outlook comes even though Tesla's SolarCity unit (acquired last November) has slowed down its spending and installation pace in recent quarters as part of a push to become cash-flow positive. SolarCity's deployed megawatts fell 30% annually in Q1 to 150MW, as the business focused on "selectively deploying projects that have higher [margins] and generate cash up front."
SolarCity could return to solid deployment growth in time, particularly if its solar roof solution and the cheaper panels it's set to begin manufacturing at a Buffalo plant help it cost-effectively take share. But current estimates clearly assume a major expansion of Tesla's solar operations, as well as of its energy storage business, which was responsible for a modest 60MWh of installations in Q1, 52MWh of which came from a single Hawaiian project.
Tesla has certainly silenced many doubters since 2012, when the Model S first arrived. Those questioning the company's ability to become a luxury EV maker able to successfully win and retain well-heeled customers have had to eat their words.
But make no mistake: Tesla's valuation now assumes the company will become a high-volume automaker in a relatively short amount of time, and do so while maintaining a strong margin profile and growing ancillary businesses. If Tesla falls short, markets will likely be much less forgiving than they would be if the stock was still trading at late-2016 levels.
This column has been updated from June 7 to account for recent changes in Tesla's stock price and analyst estimates.
Click here for the latest business headlines.