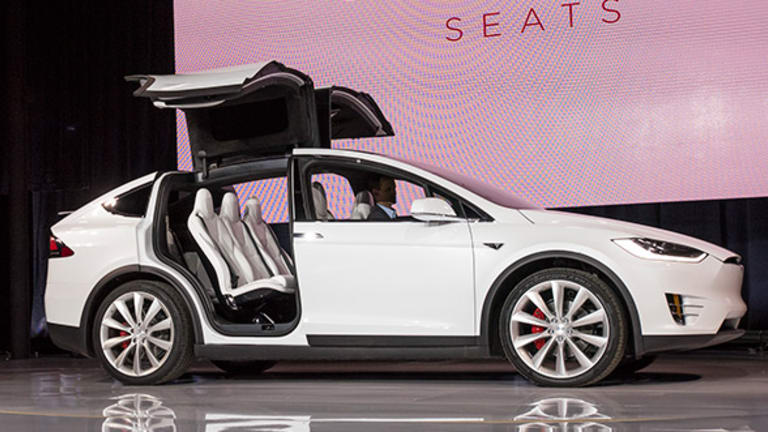 Tesla's Elon Musk Could Kick Back and Chill While Watching Sales Plunges at Ford and General Motors
Tesla's Elon Musk may be the only automaker CEO smiling in a few days.
It's all smiles for Tesla's (TSLA) - Get Tesla Inc Report Elon Musk, but maybe not for some of his peers in the auto sector.
Auto sales are projected to have slid in April, which will mark four straight months of declines, affecting nearly every major automaker except probably Tesla.
Research firm ALG predicted on Monday that total new vehicle sales, including fleet deliveries, reached 1.42 million units in April, a 3.9 percent decline from the same time last year. Excluding fleet sales, U.S. retail deliveries of new vehicles are expected to have fallen 4.8 percent to 1.27 million units, ALG said.
Automakers, too, may have spent an estimated $3,465 per vehicle in April on incentive spending, a 13.9 percent rise from a year ago, according to ALG.
"Despite higher incentives and nearly flat sales (on a daily sales rate basis), there is positivity in the April sales numbers," Eric Lyman, ALG chief industry analyst, said in a statement. "Historical ALG data indicate Easter weekend sales are typically 2 percent lower than average, putting April at a disadvantage since the holiday fell in March last year."
Still, some of the largest automakers including BMW, Ford (F) - Get Ford Motor Company Report , Fiat Chrysler (FCAU) - Get Stellantis N.V. Report and General Motors (GM) - Get General Motors Company Report are expected to have seen sales weakness in April. ALG predicted that BMW's April retail sales slumped 1.7 percent, Ford's a whopping 15.3 percent, Fiat's 4.7 percent and GM's 2 percent.
Tesla, on the other hand, is on track to deliver record auto deliveries in the first half of 2017 and record revenue of $2.6 billion for its first quarter. The company is set to post results on Wednesday.
READ MORE: Tesla's Elon Musk Thinks You'll Travel to Work Like This in the Future and It's Nuts
Early in April, Tesla reported that deliveries skyrocketed 69% year over year to 25,000 vehicles in its first quarter, comprised primarily of its Model S and Model X cars. The company is expected to deliver a record 47,000 to 50,000 vehicles in the first half of 2017, according to Electrek.
Meanwhile, in a TED talk in Vancouver on Friday, Musk revealed a partial photo of a self-driving semi truck to be unveiled in September. Musk also confirmed that he has been devising a plan to create underground tunnels for cars to travel through in busy cities to avoid traffic, something surely everyone, even the most patient of people, hopes he pulls off.
The mystique around Musk is one of the main reasons Tesla's market cap stands at a lofty $54.11 billion after the company's stock price hit an all-time high early Monday. Three weeks ago, Tesla became the most valuable automaker in the U.S., edging out long-time top gun General Motors (GM) - Get General Motors Company Report , which has a market cap of $51.41 billion.
Don't miss these trending stories on TheStreet:
Why You Should Hope United Airlines CEO Gets Ripped to Shreds and Embarrassed in Front of Lawmakers
These 5 Major Fast Food Restaurants Are About to Be Whacked by Soaring Chicken Prices