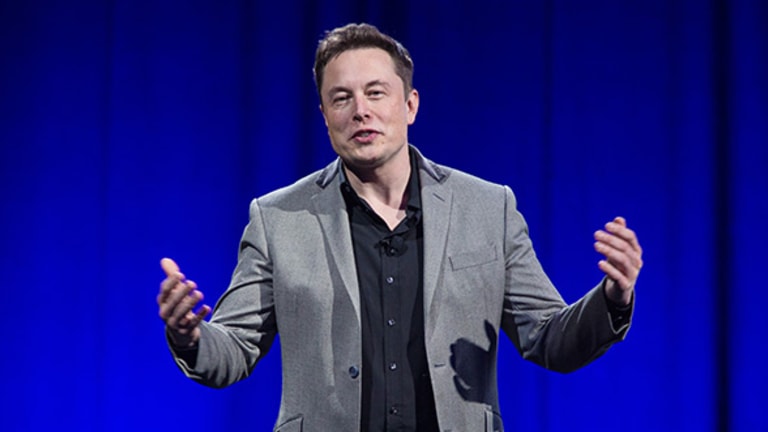 Tesla's Earnings Report Was Good Enough to Keep the Believers Believing
The company provided acceptable delivery guidance, announced a CFO change and unveiled plans to build new Gigafactories and curb SolarCity's losses. But all eyes are on the Model 3 ramp.
With the company's market cap now around $45 billion and the production ramp for its much-anticipated Model 3 sedan still a few months away from beginning, Tesla Motors (TSLA) - Get Tesla Inc Reportremains as much of a bet/gamble on the future as it ever was. And until the company either makes good or fails in its ambitions to be a mass-market electric car maker selling several hundreds thousand or more vehicles per year, its earnings reports are only likely to cause a big move in the stock if they generate a big change in long-term expectations.
Tesla's fourth-quarter results certainly didn't do that for either bulls or bears. Neither did the company's vehicle delivery guidance, though its short duration may have given some investors pause, or its spending outlook.
And along the way, Tesla provided a reason or two to think its oft-criticized acquisition of fellow Elon Musk company SolarCity may not be as much of a cash sinkhole as once feared.
With the November closing of the SolarCity deal lifting sales and depressing earnings, Tesla reported Q4 revenue of $2.28 billion (up 103% annually) and adjusted EPS of negative $0.69. The former beat a $2.16 billion FactSet consensus analyst estimate, while the latter missed a negative $0.53 consensus; some analyst estimates may have not accounted for SolarCity.
The company also announced at the start of its earnings call CFO Jason Wheeler will be stepping down soon to pursue an unnamed public policy role. Former CFO Deepak Ahuja, who stepped down in 2015 to make way for Wheeler, will replace him.
Shares finished after-hours trading up 1.5% to $277.67 following the news but fell about 4.6% to $260.95 in early morning trading on Thursday. They're still up about 30% from where they traded prior to the Q3 report, though.
In line with Tesla's January pre-announcement, the company delivered 22,252 Model S sedans and Model X SUVs in Q4. That's down 10% sequentially -- Tesla blames "short-term production challenges" related to the launch of its Autopilot 2.0 hardware -- but up 27% annually. Average transaction price grew 1% sequentially, with a mix shift towards the Model X offsetting forex pressures.
TheStreet's Eric Jhonsa and Tom Terrarosa previously covered Tesla's earnings report and conference call through a live blog.
Ahead of the Model 3 ramp -- it's expected to start in July, and reach "volume production" in September -- Tesla is guiding for 47,000 to 50,000 first-half deliveries. That's slightly below a pre-earnings consensus of 51,000. Notably, Tesla is declining to give a full-year outlook, citing the potential of slight shifts in the timing of the Model 3 ramp to have a big impact on deliveries.
On the call, Musk added Tesla wants to ramp Model 3 production to 5,000 vehicles per week in Q4, on its way to reaching 10,000 per week in 2018. And though he hesitated before doing so, Musk is for now saying Tesla's prior goals to produce 500,000 vehicles in 2018 and one million in 2019 are achievable.
With Model 3 reservations estimated to be above 400,000 as of mid-2016, Tesla will definitely have its hands full satisfying early demand and going through with what's by far the biggest production ramp in its history. Musk tried to soothe concerns about this by stating the Model 3 is simpler to make than the Model S or X -- among other things, it requires fewer screens and less wiring -- that the company has learned a lot from its prior ramps and that the Model 3's volumes have given Tesla a level of support from major parts suppliers that it never previously had.
Either way, the Model 3 ramp is going to cost a lot, which is a big reason Tesla expects to spend $2 billion to $2.5 billion in capital expenditures this year before the Model 3 enters production. A smaller (but still substantial) amount of capex is expected afterwards. The heavy first-half capex also partly stems from the fact 2016 capex only totaled $1.3 billion, less than prior guidance of $1.8 billion thanks to Tesla's success at negotiating "more favorable payment terms" for capital equipment.
Tesla, which had $3.4 billion in cash and $7.1 billion in debt at the end of 2016, still insists it can finance the Model 3 ramp without raising fresh debt. But it reiterates a capital raise is "likely" for financial security's sake.
In addition to the Model 3 ramp, capex will be directed towards the expansion of Tesla's Nevada battery Gigafactory and New York solar plant, and the expansion of its Supercharger network and service infrastructure. And though Tesla claims its current Gigafactory is good enough to handle Model 3 battery needs with energy storage capacity to spare, the company plans to finalize locations for 2 or 3 new Gigafactories this year. No details yet on when they'll enter construction, how much they'll cost or whether current Gigafactory partner Panasonic will be involved.
Operating expenses are also growing rapidly, thanks to both Tesla's internal spending and SolarCity. Adjusted opex grew 41% annually last quarter to $607 million, with SG&A spend growing 52% to $402 million and R&D 24% to $205 million.
But amid all these bottom-line pressures, Tesla did lay out a multi-part plan to lower cash burn at SolarCity. The company aims to lower SolarCity's high customer acquisition costs (CAC) by cutting ad spend, using Tesla's own stores to sell SolarCity systems and directly sell rather than lease a greater portion of systems. And it plans to lower SolarCity's manufacturing costs with the help of the low-cost solar modules being made at its New York plant. 28% of solar capacity deployed in Q4 was sold rather than leased, up from just 4% a year earlier.
Tesla's efforts to curb SolarCity's CAC are certainly coming at a price: SolarCity's deployments fell by 21% annually in Q4 to 201MW, after having dropped 8% in Q3. Tesla insists SolarCity will return to deployment growth later this year. Regardless, considering how much Tesla's shares were pressured before by worries about SolarCity's impact on its balance sheet, markets seem quite comfortable with Tesla's decision to sacrifice growth for (one hopes) a quicker path to profitability.
But given the stock's current lofty heights, this will all be moot if the Model 3's production and consumer reception don't meet expectations or at least come close. And Tesla's earnings report did little to change perceptions on that front.