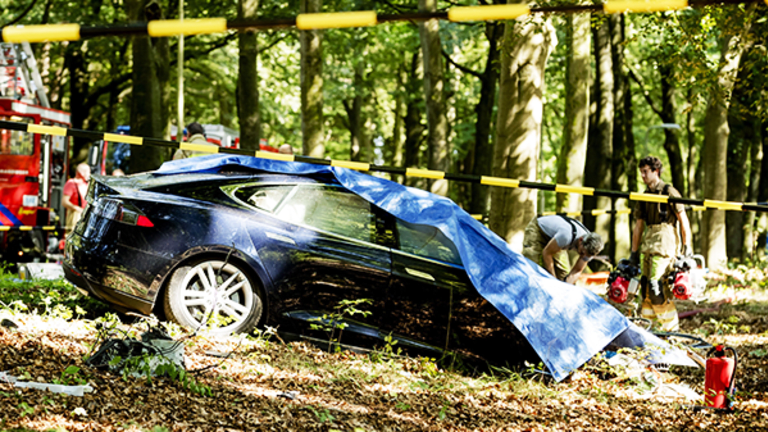 Publish date:
Tesla's $90,000 Cars Are So Expensive to Repair That One Insurer Says Premiums Need to Rise 30%
Tesla rejected the claim, saying it's "not reflective of reality."
Tesla rejected the claim, saying it's "not reflective of reality."
Your new Tesla (TSLA) - Get Tesla Inc Report may take another bite out of your wallet.
National insurer AAA said the iconic carmaker's vehicles, particularly the Model S and the Model X are so costly to repair, and so easy to total that it's raising rates for Tesla Model S and X vehicles, according to Automotive News' website.
The insure said the vehicles' premiums need to rise as much as 30%.
Tesla rejected the claim, telling the publication that it was, "not reflective of reality," adding, "Among other things, it compares Model S and X to cars that are not remotely peers, including even a Volvo station wagon."
The report explained that The Model S is classified as a large luxury vehicle the same as Volvo XC70, Audi A6, Mercedes-Benz E-class and BMW 5 series, all vehicles with high safety ratings.
Tesla says if it were classified to cars more similar, in its opinion to the Model S, its data would not look so bad.
Citing the Highway Loss Institute, the report said, "The rear-wheel-drive Tesla Model S is involved in 46 percent more claims than average, and those claims cost more than twice the average."
Toyota Motor Corp. (TM) - Get Toyota Motor Corp. Sponsored ADR Reportrevealed over the weekend that it had sold the last of its remaining stake in Tesla.
The sale, which had occurred before the end of 2016 but only made public in a statement from the company Saturday, could signal a new urgency in its push into electric and autonomous vehicles. Nonetheless, the move marks the end of a collaboration the two groups began in 2010 when Toyota bought a $50 million stake in Elon Musk's group that eventually led to the development and sale of the RAV4 in both Canada and Japan a few years latter.
Toyota unveiled its own electric car unit last November that it said would mass produce long-range vehicles that it hoped would be ready for commercial use by 2020, reversing its long-standing view that batteries needed for such cars would be too expensive. Toyota has also said it wants its entire fleet of cars sold to be emissions-free by 2050.
Tony Owusu contributed to this report.
Click here for the latest business headlines.
Read More Trending Articles: