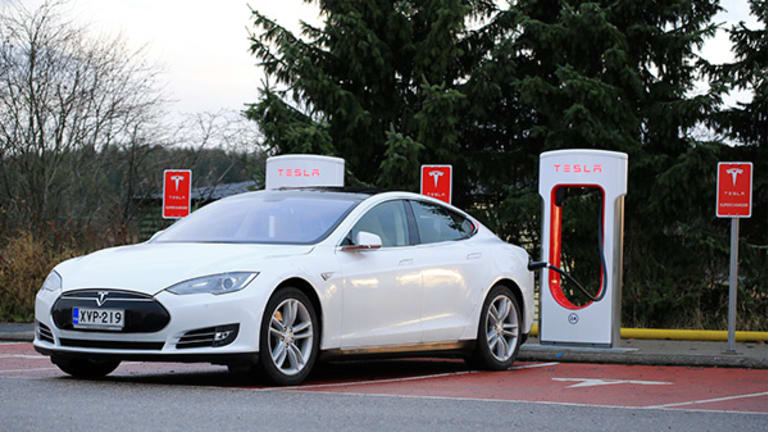 Publish date:
Tesla's Earnings Report Provides Ammo for Both Bulls and Bears
The EV maker missed estimates and hiked its spending guidance, but reiterated its delivery guidance and once more made big promises.
The EV maker missed estimates and hiked its spending guidance, but reiterated its delivery guidance and once more made big promises.
With its market cap now above $33 billion, Tesla Motors (TSLA) - Get Tesla Inc Reportis very much a company that isn't valued based on what it accomplished in its last quarter or the upcoming one, but on what it's expected to do in the years to come. On this count, Tesla's second-quarter report didn't contain any massive surprises, and thus markets have responded with a shrug of the shoulders.
With strong spending weighing on its bottom line -- adjusted operating expenses rose 31% annually to $452 million, largely due to SG&A spending growth -- Tesla reported second-quarter adjusted EPS of -$1.06, down from a 48-cent loss a year ago and below a 52-cent loss consensus estimate. Adjusted revenue rose 31% to $1.56 billion, falling short of a $1.62 billion consensus.
As pre-announced a month ago, second-quarter car deliveries fell short of original guidance of 17,000 -- Tesla blames production challenges early in the quarter -- and officially totaled 14,402. However, Tesla declares production improved to nearly 2,000 vehicles per week by the end of the second quarter, and -- though there's skepticism about its ability to hit this target -- is reiterating guidance for 50,000 deliveries in the second half of 2016.
On the other hand, Tesla has hiked its full-year operating expense growth guidance to 30% from the 20% to 25% it guided for in its first-quarter report. The company's retail expansion efforts are playing a role here: Tesla aims to launch a new retail location every four days on average through year's end. The company's 2016 capital expenditure budget is still at $2.25 billion; only $295 million was spent on capex in the second quarter, and on its earnings call, Tesla insisted it's taking a disciplined capex approach.
Margin figures and guidance were a mixed bag. Total adjusted gross margin fell to 20.8% from 21.7% in the first quarter and 23.4% a year ago. Automotive gross margin (excluding zero emission vehicle credits) was 21.9%, up from 20% in the first quarter but down from 23.9% a year ago. Tesla forecasts automotive GM will rise by 2 to 3 percentage points by year's end, but admitted on its call it might not hit prior targets for Model S sedan and Model X SUV GMs to respectively be near 30% and around 25% by the end of 2016. Manufacturing efficiencies and cost reductions are expected to boost margins, but this will be partly offset by a sales mix shift toward less costly 60kWH cars.
Pricing trends were also mixed. Model S average sales price (ASP) rose 3% sequentially a quarter after rising 1.4%. But Model X ASP is only said to be "more than 15% higher" than Model S ASP, after being roughly 30% higher in the first quarter. A mix shift away from more costly Signature Series Model X units is blamed.
On the call, Elon Musk was his usual ultra-optimistic self. He asserted Tesla's supply chain is now clicking, following first-half problems; that energy storage product sales will eventually "go ballistic" (no specific sales forecast was given); and that productivity at manufacturing plants for its upcoming Model 3 sedan will be "extraordinarily high" thanks to high levels of automation.
He also claimed Tesla is working on a fully autonomous driving solution that will "blow people's minds," and -- in the wake of Tesla's deal to buy fellow Musk company SolarCity (SCTY) -- that it's developing inverter technology for both solar systems and cars that's "twice as good" as existing offerings. SolarEdge (SEDG) - Get SolarEdge Technologies, Inc. Report currently supplies inverters to SolarCity.
Tesla was down fractionally in after-hours trading and trading flat in pre-market trading on Thursday. There's plenty within the second-quarter report and earnings call to reinforce the views of both bulls and bears. The former can take heart in the delivery guidance reiteration, Tesla's efforts to become more efficient and Musk's big promises regarding upcoming technologies and production ramps. The latter can make note of the big EPS miss and the heavy spending that caused it, as well as the margin guidance revision and the question marks that still surround its delivery and production targets.
Ultimately, a bet on Tesla is a bet that the company can achieve its very ambitious goals -- especially for the Model 3, but also for autonomous driving, energy storage, SolarCity and other initiatives -- or at least most of them. The second-quarter report probably won't change many minds, in one direction or another, on whether Tesla can pull it off.