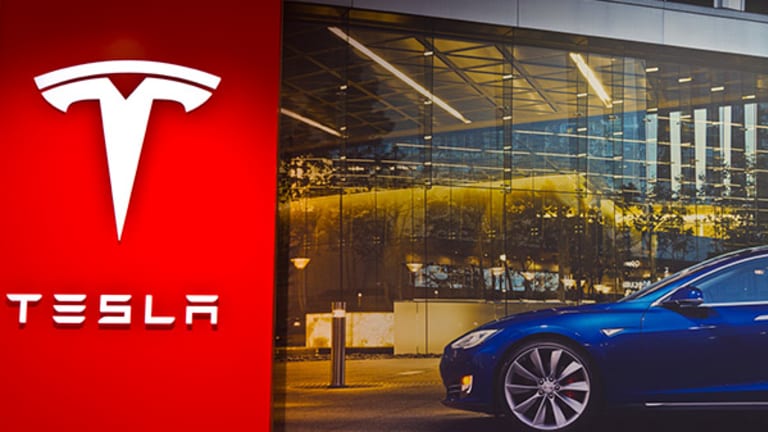 Tesla Receives a Post-Holiday Boost, but Faces an Uncertain Future
Panasonic will invest more than $256 million into a Tesla production facility.
Investors in Tesla (TSLA) - Get Report received a nice post-Christmas present on Tuesday morning. Shares of the electric carmaker rose nearly 3% following an announcement that the company will receive a hearty investment.
Japanese electronics company Panasonic is poised to sink more than $256 million into Tesla's Buffalo, N.Y., production facility to produce photovoltaic (PV) solar cells and modules. While the deal was initially formed in October, the final terms were announced on Tuesday morning.
Still, Tesla remains a stock to avoid. That's mainly because of the uncertainty surrounding the company's future. The incoming presidential administration has clearly signaled its preference for traditional, fossil fuels. Moreover, Tesla faces questions about its 
Tesla acquired the facility with its controversial purchase of alternative energy company SolarCity. The new Panasonic deal is a boon to Tesla: One of the major criticisms of the SolarCity purchase was that the solar company would pile debt onto Tesla's balance sheet. However, the deal, combined with SolarCity's recent sale of $241 million in equity, has handed Tesla significant capital.
The deal also has benefits for Panasonic. Long a leader in the consumer electronics space, Panasonic has been refocusing its business on more lucrative opportunities, such as automotive components.
The company is also rumored to be considering purchasing ZKW, a European company that manufactures lights for automobiles. That deal could be worth as much as $1 billion. In total, the Japanese firm has earmarked more than $8 billion for strategic investments through March 2019.
Unfortunately, Tesla has a good deal of risk inherent in its stock. And with Donald Trump moving into the White House, the financial picture for alternative energy looks bleak.
Trump has remained an outspoken proponent of oil, gas and coal -- the antithesis of Elon Musk's dream of a future powered by the sun. The president-elect has also already promised to repeal Obama's Clean Power Plan, which set a goal to reduce power-plant carbon emissions by 32% over the course of 25 years.
In addition, it's unlikely that Trump, combined with a Republican-controlled Congress will renew the Obama administration's tax credits and subsidies for consumers who purchase electric vehicles and solar panel systems. Americans will be losing a big incentive to make the often-costly switch to clean energy.
Not only does this make Tesla a risky investment for the short and medium terms, but it threatens other businesses in the alternative energy space, including First Solar and electric energy company Exelon.
Tesla's stock is already down by more than 8% year to date. Investors wary of risk should continue to stay away. 
---
Savvy investors should continue to be wary of Tesla. But there's good reason. A blistering financial storm is about to hit our shores. When it hits, weak companies and their investors will be washed away. You need to put yourself on solid ground. And that doesn't just mean changing your investment allocations or loading up on cash. I'll show you how to protect yourself and prosper when you click here.
The author is an independent contributor who at the time of publication owned none of the stocks mentioned.