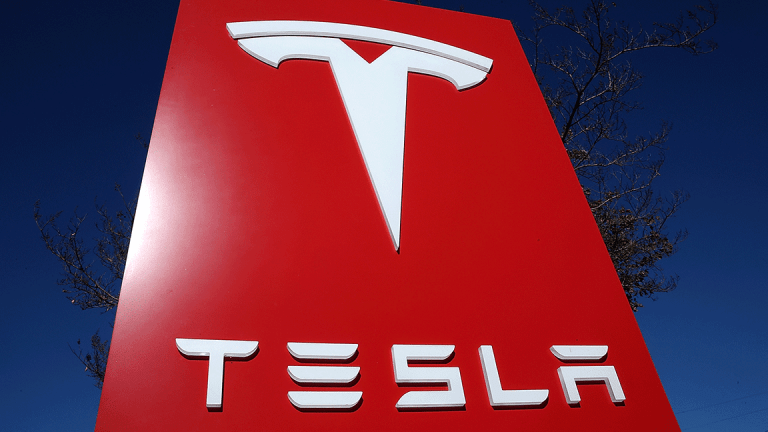 Tesla Production Update: 3 Key Numbers to Keep in Mind
Tesla's production in the first-quarter increased 40% sequentially. Here's what you need to know.
Tesla Inc. (TSLA) - Get Tesla Inc Report just reported what it called "by far the most productive quarter in Tesla history," and investors took note.
Shares were higher 1.1% in morning trading Tuesday, April 3, after the electric carmaker reported production statistics for the first-quarter. Tesla stock had surged as much as nearly 7% just after the opening bell Tuesday. Here are three key figures to keep in mind.
Total Production
Tesla announced that first-quarter production totaled 34,494 vehicles in all, a 40% increase from the fourth-quarter of 2017. Tesla produced 24,728 Model S and Model X units in the first-quarter. Deliveries totaled 29,980 vehicles, of which 11,730 were Model S, 10,070 were Model X and 8,180 were Model 3.
"Net orders for Model S and X were at an all-time Q1 record, and demand remains very strong," Tesla said. "Model S and X customer vehicles in transit were high. 4,060 Model S and X vehicles were in transit to customers at the end of Q1, which was 68% higher than at the end of Q4 2017." There are 2,040 Model 3 units in transit to customers at present.
Tesla said the units in transit will be delivered early in the second-quarter, which "keeps [Tesla] on track for [its] full-year 2018 Model S and X delivery guidance."
Model 3 Gains & Bold Claims
Tesla produced 9,766 Model 3 units in the first-quarter. "The Model 3 output increased exponentially, representing a fourfold increase over last quarter," Tesla wrote in a statement. "This is the fastest growth of any automotive company in the modern era. If this rate of growth continues, it will exceed even that of Ford Motor Co. (F) - Get Ford Motor Company Report and the Model T."
Tesla said it doubled the weekly Model 3 production rate during the quarter by "rapidly addressing production and supply chain bottlenecks, including several shorty factory shutdowns to upgrade equipment."
"In the past seven days, Tesla produced 2,020 Model 3 vehicles. In the next seven days, we expect to produce 2,000 Model S and X vehicles and 2,000 Model 3 vehicles. It is a testament to the ability of the Tesla production team that Model 3 volume now exceeds Model S and Model X combined. What took our team five years for S/X, took only nine months for Model 3," Tesla wrote.
The Model 3 production gains follow a number of instances in which Tesla has whiffed on delivery goals for the vehicle. Investors have also questioned the company's ability to create a high-quality Model 3 amid the myirad production issues, but Tesla offered a direct response Tuesday.
"Our initial customer satisfaction score for Model 3 quality is above 93%, which is the highest score in Tesla's history," the statement read.
TheStreet's Executive Editor Brian Sozzi isn't convinced. Watch his instant analysis of the results below.
Looking Ahead
Tesla said it continues to target a production rate of about 5,000 units per week in three months, "laying the groundwork for Q3 to have the long-sought ideal combination of high volume, good gross margin and strong positive operating cash flow."
Tesla said that as a result, it will not require an equity or debt raise this year outside of standard credit lines. A bold promise to be sure, as TheStreet's Chris Nolter suggests. 
The company said the Model 3 orders "remained stable" throughout the first quarter. But Tesla added that "the reasons for order cancellation are almost entirely due to delays in production in general and delays in availability of certain planned options, particularly dual motor AWD and the smaller battery pack. As described above, owner happiness with the product is extremely high."
Tesla stock has fallen about 17% in the last 12 months. 
Watch below on why Tesla CEO Elon Musk is making a mockery of his position.