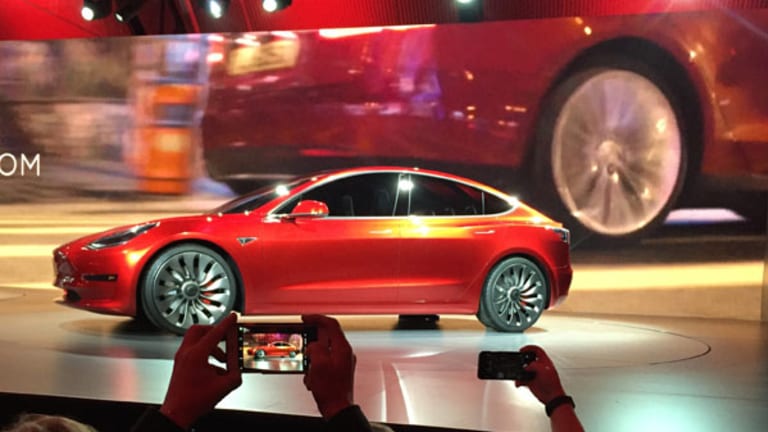 Tesla Produces Its First $35,000 Model 3 -- Here's the Color
Here comes Tesla's Model 3.
Tesla's (TSLA) - Get Tesla Inc Report Model 3 has been born. 
CEO Elon Musk tweeted photos of the first Model 3 ever produced, which appears to be black, in the evening on Saturday. The car is going straight to Musk's garage. "Ira Ehrenpreis had rights to 1st car as he was 1st to place a full deposit, but gave those rights to me as my 46th bday present. Tks Ira!," Musk said on Twitter
Musk has said that production should ramp up quickly with 100 Model 3s produced in August, followed by 1,500 produced in September and up to 20,000 produced per month starting this December. 
The electric car company first started accepting reservations for the Model 3 with a refundable $1,000 deposit in stores on March 31, 2016 and online on April 1, 2016. Tesla's first car, the Tesla Roadster, came out in July 2006 and was followed by the premium and highly customizable sedan Model S in June 2012 and the family-style SUV Model X in September 2015.
Visit here for the latest business headlines.
Watch Tesla news on TheStreet:
Volvo Slams Tesla With Its New 400 Horsepower Plug-In SUV