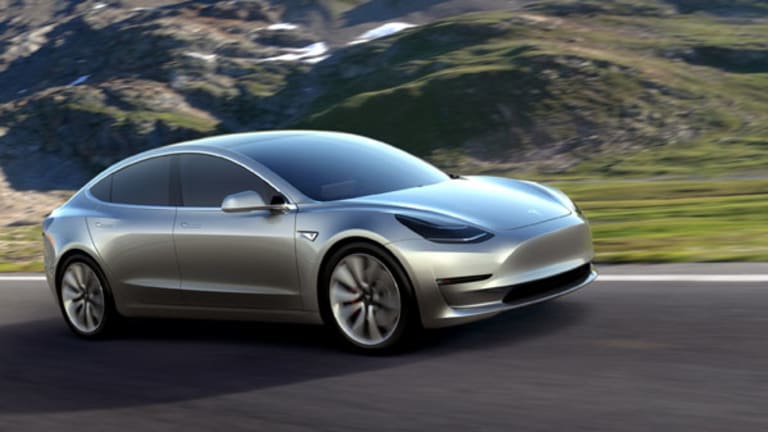 Tesla Plans Model 3 Test Build Kickoff Feb. 20, Plans July Production Start
The automaker hopes to begin manufacturing test vehicles this month, towards its goal of deliveries before year's end
Tesla (TSLA) - Get Tesla Inc Report reportedly hopes to begin initial builds of its Model 3 this month as the company races to meet its aggressive deadline to roll out the highly-anticipated sedan.
The automaker introduced the Model 3 last year, and as of May 2016, when it last updated the number, it had more than 370,000 customer deposits for the vehicle. Tesla has said it hopes to begin deliveries this year and produce 500,000 Model 3s and other vehicles by 2018, a massive increase over the 76,230 vehicles delivered in 2016.
The Model 3 is key to Tesla coming anywhere near that goal, and the company according to Reuters hopes to begin test builds on the sedan by Feb. 20. The company hopes to announce the milestone two days later during its fourth quarter earnings release, perhaps providing a shot in the arm in what is expected by analysts to be a tepid quarter regarding sales.
Tesla said Wednesday that it would shut down production at its northern California assembly plant for a week this month to prepare for the Model 3. The company said it does not expect the pause to impact first quarter production, as it had added production days to compensate for the downtime.
Automakers use so-called "development mules" to test vehicles and their components before finalizing production. Should production begin this month, the company would only have about four months to make refinements before its July 1 supplier deadline, an unusually short amount of time for a mass-market vehicle.
Tesla's existing vehicles at times have been criticized by Consumer Reports and elsewhere for their initial quality and reliability, and these challenges figure to only increase along with production volume. With unexpected challenges in mind, many analysts expect Tesla to fall well short of its lofty production goals, with Morgan Stanley's Adam Jonas, who has an "overweight" rating on the stock, saying he expects only a "soft launch" of the Model 3 in late 2017 and a gradual uptick in 2018.
Tesla CEO Elon Musk told shareholders last year that the Model 3 would be significantly easier to manufacture than the company's past offerings.
Investors are unlikely to care about a delay, as long as there are clear signs of progress. With a growing number of automakers preparing rival electric vehicles for the market, it is important that Tesla show progress towards delivering the Model 3.