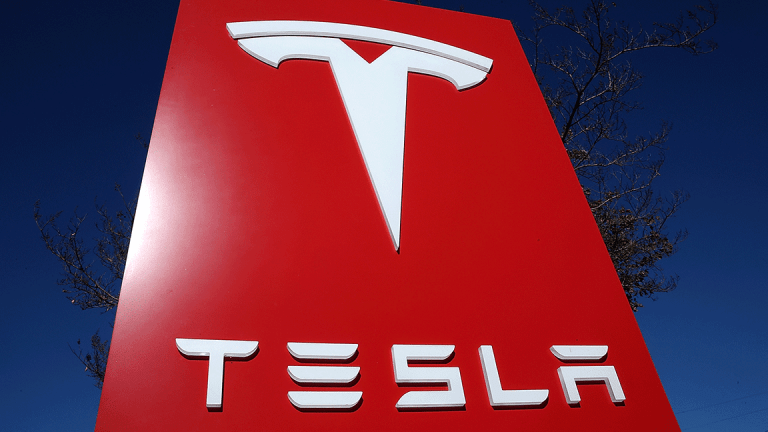 Tesla's Stock Now Looks Like a Show-Me Story
Following a tech selloff and a flurry of bad news, markets are less willing to give Elon Musk's company the benefit of the doubt.
Tesla (TSLA) - Get Tesla Inc Report has long been a company whose shares are prone to both spike higher on good news that buoys the hopes of bulls in with the company's groundbreaking products and feel it walks on water, and tumble on bad news that provides talking points for bears who insist the company is nothing but an overhyped, deadline-missing, debt-financed house of cards.
Since Tesla officially launched its relatively cheap Model 3 sedan last summer, this dynamic has yielded quite the tug-of-war between bulls and bears. Shares frequently rallied in response to good Model 3 news such as positive reviews or signs of improved availability, and sold off just as often in response to bad news related to the Model 3 manufacturing ramp, such as production target push-outs and reports of ongoing battery-assembly issues.
Bears have clearly gained the upper hand since mid-March, with Tesla shares diving to new 52-week lows amid a tech selloff and a flurry of negative headlines related to the Model 3 production ramp and other issues. They dropped 2.5 percent to $269.60 in after-hours trading on Thursday, after Tesla announced it's recalling 123,000 Model S sedans due to potential corrosion issues for power steering bolts. Share are now 33% below a September high of $389.61.
News of the recall arrived a couple days after the NHTSA disclosed it's probing a fatal California crash involving a Tesla Model X SUV. In a statement given on Friday night, Tesla affirmed that the Model X's Autopilot system was engaged at the time of the crash, while adding that the car's driver "had received several visual and one audible hands-on [warnings] earlier in the drive and the driver's hands were not detected on the wheel for six seconds prior to the collision." A local media report indicates the driver had previously complained about Autopilot working improperly on the stretch of road where the crash occurred.
Elon Musk's company is now trading at levels it first reached in late 2014, towards the end of a massive 2-year rally. And while it wouldn't exactly be shocking if Tesla quickly snapped back above $300, given the stock's history, it feels as if markets are now less willing to quickly forgive and forget the company's recent challenges, and that getting back on their good side will require Tesla to more emphatically put to rest execution and financial concerns.
Part of the reason for this is that -- as Facebook (FB) - Get Meta Platforms Inc. Class A Report , Micron (MU) - Get Micron Technology, Inc. Report and others can attest -- markets are now in a less forgiving mood about bad news delivered by tech companies in general. For Tesla, a company whose valuation and cash burn had caused a fair amount of second-guessing even when the Nasdaq was off to the races, that guaranteed shares would be hit hard during the second half of March in response to any negative news flow.
Another reason: After largely giving Tesla the benefit of the doubt in response to months of Model 3 production woes and target push-outs, confidence in the EV maker's ability to execute on what's easily its largest production ramp to date has been more seriously shaken. A recent internal e-mail picked up by Bloomberg indicated Model 3 production was merely over 200 units per day (1,400 per week), and that engineering chief Doug Field would consider it an "incredible victory" if production rose to over 300 units per day (2,100 per week).
That calls into question whether Tesla will achieve prior guidance -- issued in early January and reiterated a month later -- for Model 3 production to reach a level of 2,500 units per week by the end of Q1, and 5,000 units per week by the end of Q2. Meanwhile, Bloomberg's Model 3 production tracker, which relies on VIN number data, only estimates production to be at 1,076 units per week as of March 30, and that only 11,673 cars -- a tiny fraction of the 455,000-plus Model 3 net reservations Tesla has reported having -- have been produced to date.
As a reminder, prior to January, Tesla was forecasting it would reach a Model 3 production rate of 5,000 units per week by "late Q1." And before November, it was aiming to reach that level by the end of 2017. Many investors are clearly no longer willing to trust Tesla, which has blamed a lot of its Model 3 production woes on battery module assembly issues, to quickly puts its manufacturing issues to rest.
Naturally, the Model S recall doesn't do much to improve perceptions of Tesla's manufacturing ability. Neither does a harsh Bernstein report released on Wednesday that (citing academic research) argued Musk has "fallen in love with robots and automation" to the detriment of Tesla's manufacturing quality control and efficiency.
Musk has previously left the door open to one day stepping down as Tesla's CEO in order to focus on product development. The company's recent manufacturing issues might just amplify calls for Musk to do this and hand over CEO duties to an operations-focused exec. Notably, the potentially huge pay package for Musk that Tesla shareholders just approved remains in effect if Musk steps down as CEO but remains Tesla's chairman and chief product officer.
In addition to raising fears that many Model 3 reservations will be cancelled, Tesla's manufacturing issues have heightened cash flow and liquidity concerns for a company that burned through $3.5 billion last year and ended 2017 with $6.9 billion in net debt. On Tuesday, Moody's (citing Model 3 production issues) downgraded its corporate family rating on Tesla's debt to B3 (the lower end of its "highly speculative" ratings range) from B2, and declared the company will need to raise fresh funds in the near future.
For its part, research firm CFRA thinks Tesla, expected on average by analysts to burn $2.6 billion this year, will need to raise $2 billion to $3 billion to avoid a 2019 cash crunch. While odds remain good that Tesla will be able to raise additional cash -- the company's market cap, still above $40 billion, continues to give it a large equity cushion -- bond investors are signaling the terms won't be as friendly as those seen for recent capital raises. On Wednesday, Tesla bonds fell to a level of 86 cents on the dollar.
Following all of this, Tesla can't expect some upbeat press release or earnings call remarks to be enough to get its stock out of its recent funk. Substantial progress is going to be needed -- both towards ramping Model 3 output and paring a still-massive reservation backlog, as well as towards improving Tesla's cash-flow statement.
Much like Amazon.com (AMZN) - Get Amazon.com, Inc. Report and Netflix (NFLX) - Get Netflix, Inc. Report, a lack of meaningful near-term profits (in Tesla's case, a lack of any profits) may have actually worked to the advantage of Tesla's shares during a raging bull market, by making it easier for bulls to come up with wide-eyed projections about what the company may one day earn than it would be for firms that do have large profits to report. But Amazon and Netflix earned this kind of faith from equity markets in part via near-flawless execution that made it easy for investors to believe the very best about their long-term prospects.
Tesla's execution has produced more room for doubt, and that has served to quickly take the bloom off its rose as the Nasdaq has gone south. It's certainly possible that the company will return to Wall Street's good graces later this year, but it probably won't happen overnight.
Jim Cramer and the AAP team hold positions in Facebook and Amazon for their Action Alerts PLUS Charitable Trust Portfolio. Want to be alerted before Cramer buys or sells AAPL or GOOGL? Learn more now.