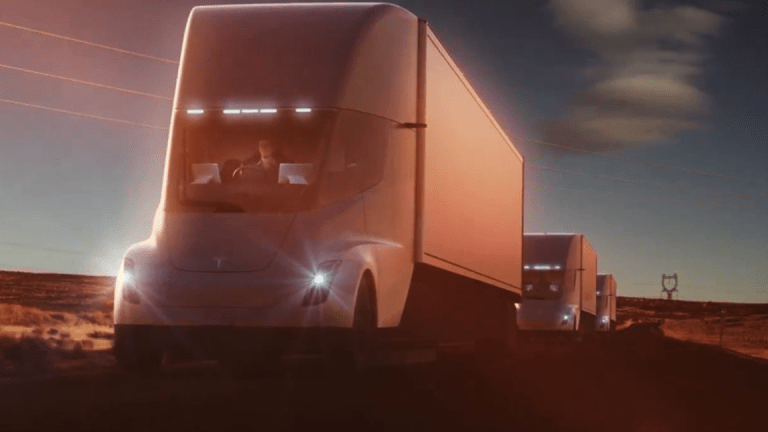 Tesla's Transformers-Like Semi Truck Must Terrify Billionaire Warren Buffett
Tesla is fresh off one of the biggest events in its short history. With a new semi-autonomous semi truck and a $250,000 sports car, Tesla has given the world a lot to consider.
Now I get Tesla: Forget costly debt raises, Tesla's (TSLA) - Get Tesla Inc Report resident showman (but not very good public speaker) Elon Musk wants YOU to fund his company's future. How so? By holding grand events like the 13-minute late-to-air spectacle around midnight on Thursday, that's how. The game plan is simple: hold these cheesy events, drive global hype and ask for deposits from rich tech execs on machines that won't be delivered until maybe beyond 2020. Hell, they don't need to drive their investment -- they have 10 other cars in the garage. For instance, Tesla is now taking deposits of $50,000 on its surprise $250,000 roadster. If Tesla sells out of the first 1,000 Founders Series models, that's a cash infusion of $50 million at no interest! Sorry Goldman Sachs, no fees for you. 
Staying on Tesla: It will be interesting to see how shares of red-hot Ferrari (RACE) - Get Ferrari NV Report trade on Friday in the wake of Tesla's Roaster news. The Roadster is an impressive specimen (if it ever arrives to market), an electric supercar that could rocket from 0 to 60 mph in under 2 seconds. That's insane. Something tells me that Ferrari CEO Sergio Marchionne is laughing at Musk's two-seater -- he was highly skeptical of Tesla when we asked him about Musk's creation.
And then there is Warren Buffett and Tesla: Musk made sure he pointed out at the event that when three of Tesla's semi trucks travel in convoy, the total operating cost per mile beats rail. I have no idea if that's true -- I am no legendary rail tycoon like Hunter Harrison over at CSX (CSX) - Get CSX Corporation Report . But Musk's comments did remind me of when Warren Buffett last year showed fear for autonomous trucks. "Autonomous vehicles would hurt us if they spread to trucks," Buffett told shareholders at Berkshire Hathaway's (BRK.A) - Get Berkshire Hathaway Inc. Class A Reportannual meeting in May. If self-driving trucks become predominant on the roads, it could steal business from Berkshire-owned railroad Burlington Northern, Buffett hinted. Buffett acknowledged that autonomous cars are "coming," and could also "hurt" Berkshire's insurance business Geico. After all, driving hands-free is much riskier than driving with two hands on the wheel.
What's HOT
TESLA, TESLA, TESLA!
Really giving Musk crazies a lot of things to slam on Friday. Here is one more: Why would anyone want a completely silent supercar? The whole point of driving a supercar -- like the new Roadster claims to be -- is the experience of hearing the engine and being connected to the road. I have driven electric cars and those two factors are definitely not in play. 
Watch above what a top Lamborghini executive told me earlier this year on whether the company want to sell electric cars.
As for the Markets
Gut instinct tells me this weekend's newspapers will be driving home analysis that the bull market in stocks has ended. It will be hard to argue with the notion from a short-term perspective. The once ultra-hot Shanghai Composite fell 1.5% on the week on concerns that higher global interest rates would lead to outflows. Apple (AAPL) - Get Apple Inc. Report is down 2% on the week on no real news. Seeing relative strength tumble in strong performing areas such as industrials and financials. The explosive Nvidia (NVDA) - Get NVIDIA Corporation Report has see a 2.4% pullback this week. 
Time to invest in a Tesla Roadster ...
Apple and Nvidia are holdings in Jim Cramer'sAction Alerts PLUS Charitable Trust Portfolio.Want to be alerted before Cramer buys or sells AAPL and NVDA? Learn more now.
To receive the FREE "Morning Jolt" daily newsletter, click here.
More of What's Trending on TheStreet: