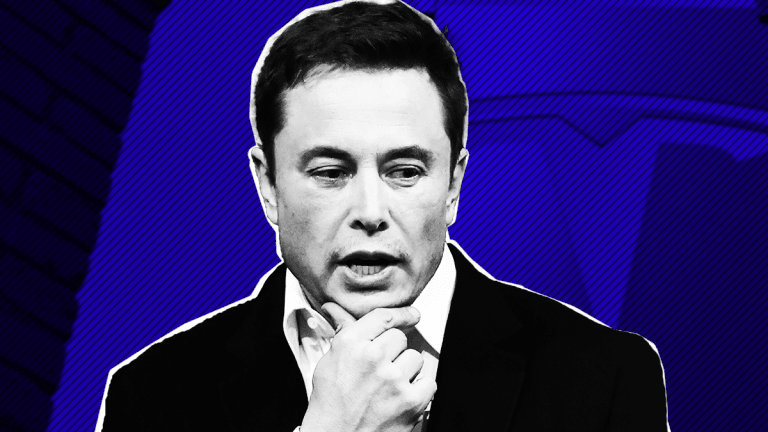 Tesla's Musk Is Getting Better With Predictions, Like It or Not
Tesla CEO Elon Musk is becoming more accurate with his outlooks, which may be a welcomed development for bulls.
Tesla (TSLA) - Get Tesla Inc Report CEO Elon Musk has been notorious for his ill-timed and miscalculated predictions in the past. Whether that was regarding output production estimates, factory build dates, vehicle ramps or capex costs. Musk was wrong, often, and he acknowledged as much at last year's shareholder meeting on June 5. At that event, though, he also seemed more reasonable and his predictions were starting to become more realistic.
Mind you, it's still mostly the same old Musk we always knew, like when he lost his executive chairman role for tweeting that he would take the company private at $420 per share. But credit must be given when it's due. Tesla's Musk deserves credit for his more realistic outlooks and forecasts and that's a good thing for investors.
It's hard to plunk down hard-earned money in a company that can't accurately paint a picture of what it's business will do in the future. The more accurate the picture is, the less uncertainty is involved -- and investors hate uncertainty.  
Tesla's Recent Announcements
Tesla has made some big announcements over the past few days and weeks. It introduced the $35,000 Model 3 and said it will unveil the Model Y on March 14 in Los Angeles. Some say Musk blindsided employees about the Model 3 announcement and made up for the public's less-than-enthusiastic response with a hurried Model Y unveiling.
But that's not exactly the case. While Musk may not have formally prepped his company for some of these announcements, they weren't exactly random Twitter thoughts, either.
For instance, on the Model Y, Musk said during the shareholder meeting in June 2018 that March 2019 was a likely introduction date for the new vehicle. In late-May, before the shareholder meeting, Musk tweeted that March 15 was a reasonable date for the Model Y unveil. While he did add a caveat that he wasn't all that serious, he reasoned that it would be an accurate prediction based on the event falling between "late this year [2018] to mid next year."
The Standard Range Model 3, which many critics were sure would never come, was slated for production in first-quarter 2019, according to Musk during the company's annual shareholder meeting in mid 2018. 
On that note, though, do keep in mind that Musk still toes the line often. The SEC recently sought a contempt charge on Musk for a tweet regarding production.
Bottom Line
So what does any of this really mean? I don't consider Musk a prophet and certainly not a perfect leader or CEO. But I do think he's taken the company's outlooks more seriously and while he's still far from perfect -- profitability continues to fluctuate, as does production -- he is getting better.
Maybe that gives credence to his prediction that, "the Tesla pickup truck, we might be ready to unveil that this summer." That was Musk speaking on the company's most recent earnings call on Jan. 27. Perhaps it gives some credibility to the rapid construction of the company's Gigafactory 3 in China.
On those notes, we'll just have to wait and see. But one thing is clear and that's that Musk is getting better at timelines. 
This article is commentary by an independent contributor. At the time of publication, the author had no positions in the stocks mentioned.