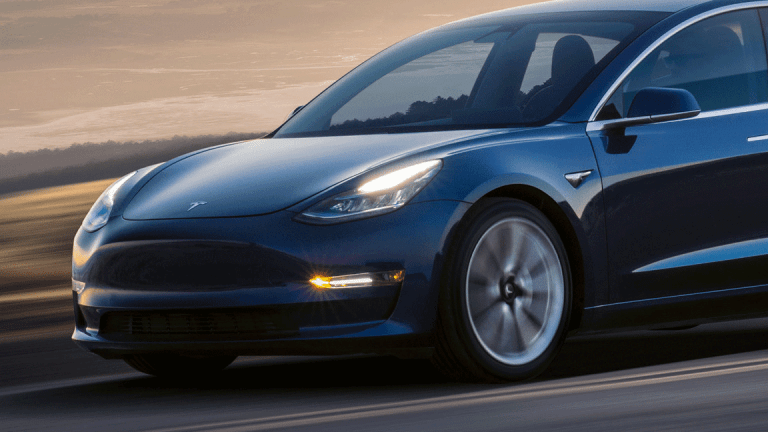 It's not exactly a bait and switch, but Tesla Inc.'s (TSLA) - Get Tesla Inc Report vaunted car for the "mass market" is anything but -- at least so far.
Back in March 2016, CEO Elon Musk unveiled the Model 3 to much fanfare, touting the $35,000 starting price that would supposedly bring electric cars to the mainstream. Prior to that, Tesla's cheapest model, the Model S sedan, started at around $70,000, while its previous Roadster sports car easily cost into the six figures.
Flash forward to now, though, and it's the $44,000 Range + with a longer-lasting battery that's being built in quantity first, while Musk just announced over the weekend that a dual-motor, all-wheel drive Model 3 will be available starting in July, ahead of the lowest-priced version. The starting cost of that souped-up model will be $78,000, more than twice as much as the touted price of the base Model 3. The latest estimates call for the cheapest Model 3 to begin shipping in "late 2018."
To be fair, the version and pricing progression has always been part of Musk's master plan of offering more expensive vehicle configurations at first, and then building progressively cheaper models them as economies of scale and production efficiencies are achieved. Indeed, Musk tweeted as much over the weekend, saying that shipping the $35,000 Model 3 right away would cause Tesla to lose too much money and "die."
He also indicated that it would take three to six months after the Tesla factory reaches a 5,000 vehicle/week production schedule, a target whose deadline has already been pushed off several times in the past, before Tesla could start shipping the lowest-priced version.
Emphasizing higher-priced versions of the Model 3 may also serve to allay some concerns about Tesla's massive cash burn and the company's need to raise additional capital, which would be expensive.
Still, despite the logic of what Musk is doing, to those thinking they could have an environmentally-friendly, high performance electric car for a reasonable price, the high starting price tag of the initial Model 3's that are shipping has got to be pretty disappointing.
For the week, Tesla's share price is down about 0.5% to $275.64, while over the past year it's down about 10%.