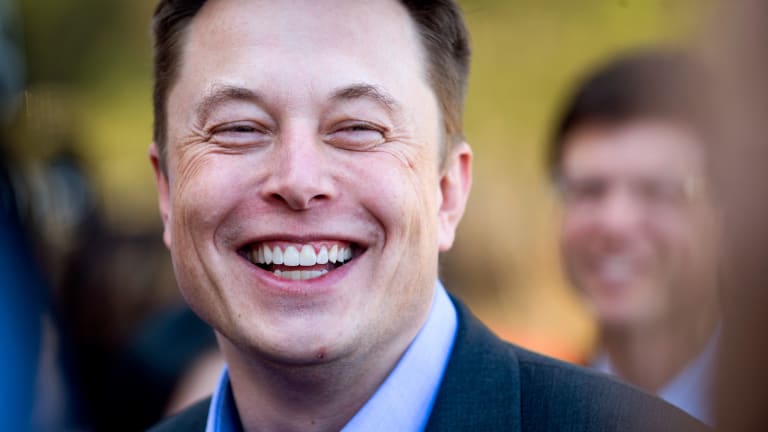 Tesla Whiffed on Production Goal but Elon Musk Should Be Happy About One Thing
The automaker blamed 'short-term production challenges' in the fourth quarter for falling short of its full-year delivery guidance. But not all was bad.
At least Tesla Motors (TSLA) - Get Tesla Inc Report CEO Elon Musk has one positive thing to hang his hat on to kick off the new year, even if Wall Street prefers to fixate on the negative. 
Tesla said after markets closed Tuesday that it delivered about 22,200 vehicles in the fourth quarter and 76,230 for the year, missing already-trimmed full-year estimates. The automaker delivered 12,700 Model S and 9,500 Model X sedans. It said it also had about 6,450 vehicles in transit to customers at the end of the quarter, which will count as first-quarter 2017 deliveries.
Tesla shares declined nearly 3% to $212.35 in premarket trading Wednesday after rising 1.5% on Tuesday. 
"Because of short-term production challenges starting at the end of October and lasting through early December," production was weighted towards late in the quarter, conceded Tesla. The company said that the delay stemmed from its transition to new Autopilot hardware.
Last February, Tesla provided guidance for deliveries of 80,000 to 90,000 vehicles in 2016, before later lowering the guidance to 79,000 deliveries. Tesla delivered 24,500 vehicles in the third quarter.
On the positive side, Tesla said that vehicle demand in the fourth quarter was strong, with net orders for its Models S and X up 52% compared to the same three months of the prior year.
Further, the company said the fourth quarter delivery figure "should be viewed as conservative" because it only counted vehicles that were delivered and had completed paperwork. As a result, the company said it did not count 2,750 vehicles as fourth-quarter deliveries because they were delayed in transport or because the customer was unable to take the delivery.
Tesla in September announced a revamp of its driving-assist offering, turning to radar and enhanced software to help it towards its goal of self-driving. The updated software was available via an online update, but the system also required a change in the hardware that comes standard in the vehicles.
However, the automaker reaffirmed its guidance for the year in mid-October.
The 76,230 deliveries for the full year far surpassed the 50,000 vehicles delivered in 2015. But the company's failure to reach its revised 2016 guidance is sure to raise fresh questions about CEO Elon Musk's goal to deliver 500,000 vehicles by 2018. Central to that plan is the forthcoming Model 3, a more affordable sedan, which Tesla unveiled in early 2015 and built an impressive waiting list for.
Musk has said he expects deliveries of the Model 3 to begin this year, but analysts have grown increasingly skeptical about that timeline. There is also some concern that management's attention could be distracted by Tesla's $2.6 billion purchase of SolarCity and plans to introduce a line of solar roofing panels.