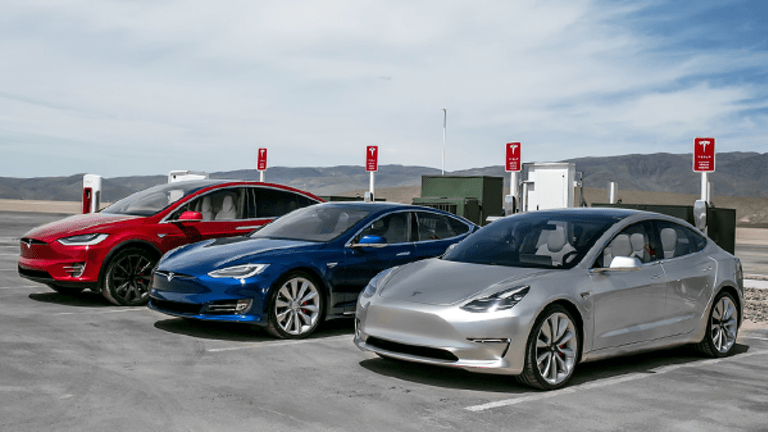 Tesla, Like Apple, Told Bulls What They Wanted to Hear About a Big New Product
A day after Apple calmed iPhone 8 production fears, Tesla shared encouraging numbers for its just-launched Model 3 sedan.
Financially and valuation-wise, there are some giant differences between Tesla Inc.  (TSLA) - Get Tesla Inc Report and Apple Inc. (AAPL) - Get Apple Inc. Report . But in areas such as product innovation, customer loyalty and a focus on creating a fine-tuned, end-to-end, customer experience, they certainly have some things in common.
And Elon Musk, of course, has drawn more than a few comparisons to Steve Jobs over the years.
Apple is a holding in Jim Cramer's Action Alerts PLUS Charitable Trust Portfolio. Want to be alerted before Cramer buys or sells GE? Learn more now.
This week, Tesla and Apple have had something else in common: They've each seen their shares surge after beating June quarter estimates and (more importantly) calming fears about pending production and sales ramps for a very important new product.
Tesla reported Q2 revenue of $2.79 billion (up 120% annually) and adjusted EPS of negative $1.33, beating consensus analyst estimates of $2.52 billion and negative $1.57. Though the company had announced its Q2 vehicle deliveries a month ago, revenue beat expectations thanks to the sale of $100 million in zero-emission vehicle (ZEV) credits, as well as an increase in the portion of car sales for which revenue was fully recognized up-front rather than subject to lease accounting. EPS benefited from the aforementioned factors, as well as slightly lower-than-expected operating expenses.
This Little Known Tech Company Could See Its Stock Soar on Apple iPhone 'Super Cycle' Mania
Apple CEO Tim Cook Says He Isn't Terrified of WeChat, but How Do You Explain the Drop in China Sales
Shares rose 6.7% in early afternoon trading on Thursday to $347.88. Short-covering could be helping with the gains: 28 million shares (23% of Tesla's float) were shorted as of July 14.
Notably, despite last week's remarks from Elon Musk about Tesla facing "manufacturing hell" as it ramps production of its Model 3 sedan, the company reiterated its prior production targets for the relatively cheaper sedan: It's still aiming to hit a 5,000 vehicle-per-week run rate by year's end, and a 10,000 vehicle-per-week run rate in late 2018. Tesla also forecast that the Model 3, despite its lower price, would achieve a 25% gross margin -- on par with what Tesla achieved on an adjusted basis for its Model S and X luxury cars in Q2 -- at some point next year, as lower manufacturing costs and greater volumes offset lower prices.
Watch: Highlights from Tesla's Model 3 Handover Party
The company added it has been averaging over 1,800 Model 3 net reservations since the car was unveiled on July 28 to generally-favorable reviews (Musk claims 80% of journalists test-driving the car said they wanted to buy it). And -- though cautioning that it's still early -- that orders for the Model S and X have actually grown since the event. That bolsters Tesla's confidence that Model S and X deliveries will rise in the second half of 2017 relative to a first-half level of 47,000, which was up from a year-ago level of 29,000.
Also of note: On the earnings call, Elon Musk put to rest lingering questions about the Model 3's net reservation count -- that is, the number of reservations that exist after backing out cancellations -- by stating there were 455,000 net reservations and 518,000 gross reservations going into the July 28 event. Musk said at the event that reservations had topped 500,000, but didn't specify whether he was providing a gross or net figure. Tesla added to its after-hours gains following the clarification.
The disclosures don't mean by a long shot that Tesla has removed all concerns about the giant production ramp facing the Model 3, nor about what long-term demand might look like. But just as Apple's September quarter sales guidance calmed fears about iPhone 8 production challenges and initial sales, Tesla's remarks signaled that things are going as planned for now, that net reservations are better than feared and that the consumer response to the Model 3's unveiling has been quite positive.
Tesla's energy generation and storage business, which covers its SolarCity unit and battery sales, performed more or less as expected in Q2. Revenue grew 34% sequentially to $286.8 million, with gross margin dropping fractionally to 28.9%. SolarCity's deployments fell 17% annually to 176MW, as Tesla works to improve the unit's finances by cutting sales spending and relying more on up-front system sales rather than leases.
Tesla added its conventional solar operations are now "generating significant positive cash flow," and that it has done the first installations for its solar roof solution at employee homes. As with the Model 3, Tesla cautions the solar roof's production ramp will take time.
Multiple analysts questioned the company about the growing cash burn caused by the Model 3 ramp and battery Gigafactory investments: Tesla's cash balance fell by roughly $1 billion sequentially to $3 billion, even as its accounts payable rose by $200 million to $2.4 billion, and the company has forecast capital spending will rise to $2 billion in the second half of 2017 relative to $1.5 billion in the first half. Musk says Tesla is mulling a fresh debt raise; the company's long-term debt and capital leases stood at $7.9 billion at the end of June.
In addition to capex, heavy operating expenses have weighed on Tesla's bottom line: GAAP R&D spending rose by 93% to $369.8 million, as the company invests heavily in both vehicle and Autopilot system R&D, and SG&A spend grew 67% to $537.8 million.
At the same time, opex did drop sequentially (better than guidance for it to be flat to slightly up) thanks to the lack of $67 million in one-time charges recorded in Q1, and is expected to be "essentially flat" in the second half of 2017 relative to the first half. On the call, IR chief Jeff Evanson noted efforts such as deploying mobile car-repair centers that service 80% of cars on the spot are keeping opex from growing further.
As usual, Musk made some big promises about Tesla's long-term roadmap. Among other things, he reiterated Tesla will triple its Supercharger count between now and the end of 2018 to address Model 3 needs -- the company is aiming to double its charger count this year to 10,000 -- and that it will up its Gigafactory count to 6 from 2 in time.
And in something of an about-face, Musk disclosed Tesla's upcoming Model Y crossover SUV -- it's tentatively due to arrive in late 2019 or 2020 -- will rely heavily on the Model 3's architecture to bring the car to market faster. "I'd like to thank my executive team for stopping me from being a fool," he said in reference to prior plans to use a brand-new low-cost architecture, while adding he's still open to developing it for a car further down the line.
With the company sporting a near-$58 billion valuation following its after-hours gains, Tesla still has a pretty small margin of error as it makes an all-out push to join the ranks of big-league automakers. Fortunately for the company, its latest shareholder letter did nothing to put it outside of that margin, and in some ways was clearly better than what many shorts were expecting.
"This is the best I've ever felt about Tesla's future," Musk proclaimed on the call. Considering the Tesla founder's penchant for hyperbole, anyone rolling their eyes at that remark can't be blamed. But given the numbers and commentary his firm just provided, just maybe the remark deserves to be taken at face value.
TheStreet's Eric Jhonsa previously covered Tesla's earnings report and conference call through a live blog.
Don't miss these top stories on TheStreet: