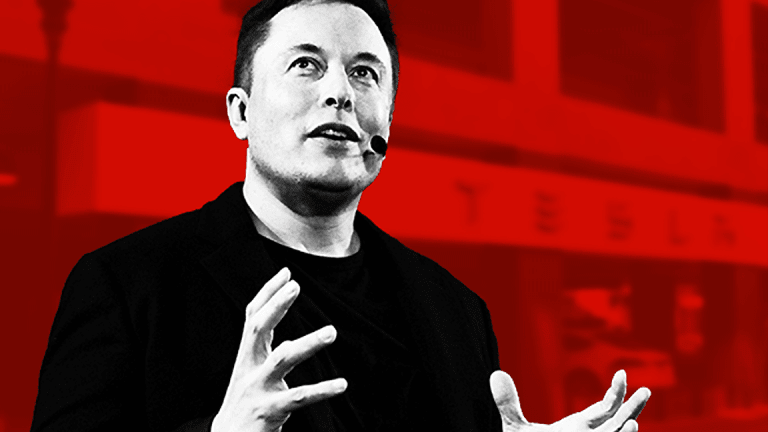 I'm Not Charged Up About the Leaked Elon Musk E-Mail That's Helping Tesla Stock
Reports that TSLA has more than 50,000 new orders this quarter have less to them than meets the eye.
Tesla (TSLA) - Get Tesla Inc Report is bouncing back from Thursday morning's 3.4% loss as I write this, rallying after a leaked internal e-mail from CEO Elon Musk said the company had received "over 50,000 net new orders" for the current quarter. He also wrote that the firm could break its previous quarterly record of 90,700 deliveries. However, I'm pretty skeptical.
Here are five reasons why I'm not impressed (although I'm admittedly shorting the stock):
You'd Expect Tesla's Recent Price Cuts to Boost Sales
TSLA has lowered its prices several times recently, so orders had better be a lot more than 50,000 as far as I'm concerned.
If fact, it's actually surprising to me that despite these price cuts, orders would only be 50,000.
We Already Knew Tesla Had at Least 10,000 Cars 'In Transit'
Consider that Tesla reported 10,000 cars "in transit" going into the second quarter, and that Musk's e-mail refers to more than 50,000 orders "for this quarter."
That seems to imply that the 10,000 in-transit cars are part of the "over 50,000 net new orders," making that number seem even less impressive.
'New Orders' Probably Don't Mean 'New Profits'
Whether Tesla sells more than its previous record of 90,700 cars or only sells the same 63,000 vehicles that it did last quarter, the company will almost certainly lose money this quarter.
Is Wall Street going to be in the mood to see Tesla recording increasing losses?
European Sales Look Soft
There's no sign from European countries where electric cars are hot that suggests that Tesla can even match its first-quarter sales there.
The Web site EU-EVs.com tracks daily European car-registration data, and the results don't look great for TSLA. (I wrote about this phenomenon more here.)
Chinese Car Buyers Are Unlikely to Buy American Right Now
Is this really the time when the Chinese consumer is going to spring for a high-profile "Made in America" car?
Look at this rundown of China's April electric-car sales. Tesla's Model 3 only ranks No. 15 on the list, while the Model S and Model X are nowhere to be found. Instead, domestic Chinese EV brands are in ascendancy.
Next, add Volkswagen (VWAGY) and to some extent Geely (GELYY) , whose holdings include the Volvo car brand. Volvo and its Polestar performance brand will be launching several electric cars in 2020 and 2021.
I suspect that if Chinese consumers want premium EV brands, they're a lot more likely to go with one of Geely's makes like Volvo or Polestar.
The Bottom Line
Add it all up and one conclusion is inescapable to me -- Tesla's position is weak and getting weaker.
Watch: Jim Cramer Explains What a Trade War With China Means for Tesla
At the time of submitting this article for publication, Wahlman was short TSLA and long FCAU. However, positions can change at any time. The author regularly attends press conferences, new vehicle launches and equivalent, hosted by most major automakers.