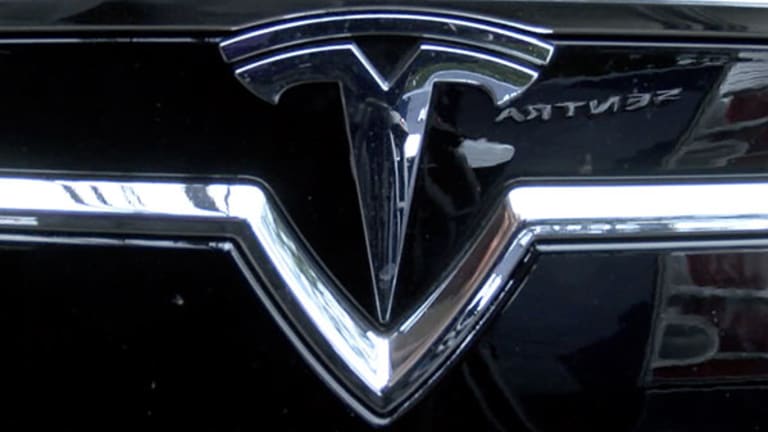 Tesla Jumps as Model S Gets Safest Car Approval
Tesla was soaring Tuesday as the National Highway Traffic Safety Administration reaffirmed its five-star crash-test rating for the automaker's Model S sedan.
PALO ALTO, CA. (TheStreet) -- Tesla (TSLA) - Get Tesla Inc Report shares are soaring Tuesday on the back of the government's reaffirmation of its five-star crash-test rating. The National Highway Traffic Safety Administration announced that Tesla's flagship Model S can keep its 5-star rating, easing concerns that safety questions might plague the automaker.
Tesla was jumping 6.5% in mid-day trading to extend its 2013 advance to an eye-popping 352%.
While this is not the final word, given a separate investigation into the three recent fires (that actually harmed no one), it likely provides understandable relief to Tesla CEO Elon Musk given the black-and-white controversy surrounding this stock.
It will likely take many years until we can be certain whether there was something the government's crash tests didn't "catch" the first time around, and therefore caused some form of calamity down the road, metaphorically speaking. 
In the meantime, though, determining the safety of a mass-produced car is a little bit like trying to figure out whether there is global warming or not: You have to trust what you see.
The fact is that there are over 20,000 Tesla Model S cars currently on the roads. These cars are being driven in extreme climates from Florida to Norway. Given the power of the car (over 400 horsepower, 0-60 MPH in 4.4 seconds), drivers are also likely to push it faster than almost all other vehicles on the market.
Tesla cars have been driven a cumulative well over 100 million miles by now. While that number pales compared to the Chevrolet Volt's 550 million miles, it's still a lot. If there were a serious problem with the Tesla, people would be dying and getting injured.
Clearly, at some point injury and fatality will be unavoidable, even in the Tesla. It happens to every car sooner or later.
In the meantime, however, there is zero statistical evidence to suggest Tesla isn't among the safest cars on the road. There have been zero serious injuries, let alone deaths. When in doubt, trust the simplest and most basic facts.
It is a little bit like global warming. Some lofty theory says we have a calamity on our hands because warmer weather is a huge problem, and that sea levels are rising rapidly. Well, when you're outside, is it getting warmer? If you think it's about as cold this year and last, as it was 10, 20, 30 or 40 years ago, perhaps you should trust your own observations.
Besides, where do you prefer to go when it's time for vacation -- to some nasty cold place, or somewhere nice and warm? Case closed.
Anyway, back to Tesla and its battery. The one thing that people in the auto industry have questioned in conversations with me is the Tesla battery's shape and placement. As far as electric car batteries go, Tesla's skews to the one extreme of the curve. It is very thin, flat and occupies the largest surface area of the car's underbody that I have seen in any electric car. It's basically a giant iPad/tablet residing like a square pancake between the four wheels.
In other words, the battery occupies the largest exposed surface area imaginable. It extends to a distance closer to the car's sides than, say, the battery in the Chevrolet Volt.
It is an inherent physical logic that this placement makes the Tesla battery more exposed to harm -- whether a rock on a country/forest "road" (where you probably shouldn't drive your Tesla in the first place) or something else hitting the car from down under. It also makes it likely to get damaged in a side impact, because it sits closer to the car's sides.
It doesn't take a rocket scientist to see that the battery in the Chevrolet Volt (and the similar Cadillac ELR) is a lot more protected from side impact as well as from something hitting the car from down under. Look at its battery; It's basic physics.
The best lecture on how this works was made in October 2010 by Chevrolet Volt chief engineer Andrew Farah. Please watch this YouTube video for an education in how to protect and build around the battery in an electric car: https://www.youtube.com/watch?v=KVOsCOW7IBI
You may remember how in late 2011 one Chevrolet Volt had some fumes emanating from it some three weeks after the conclusion of a government crash test. It caused panic among the Volt-haters, and they predicted calamity -- sort of like global warming, come to think of it.
After that time, we can now observe over 50,000 Volts having been driven 550 million miles, and as best as I know, no fatalities and no serious injuries either. And no battery fires.
The Tesla Model S looks like it, in theory, is more susceptible to some form of safety problem because of the shape and placement of the battery. Notice the words "in theory." In the real world, however, we have to trust what we actually see, and what we see is that at least thus far, the Tesla's safety record is impeccable: Zero deaths, zero serious injuries. It doesn't get any better than that.
Once the Tesla races to the Volt's 550 million miles driven to date, we will learn more, and perhaps something new. In the meantime, the people who think Tesla is going under because of a safety problem look about as foolish as the people who are telling me about global warming, while I put on a sweater and turn up the heat to fight the increasingly cold weather.
--By Anton Wahlman in Palo Alto.