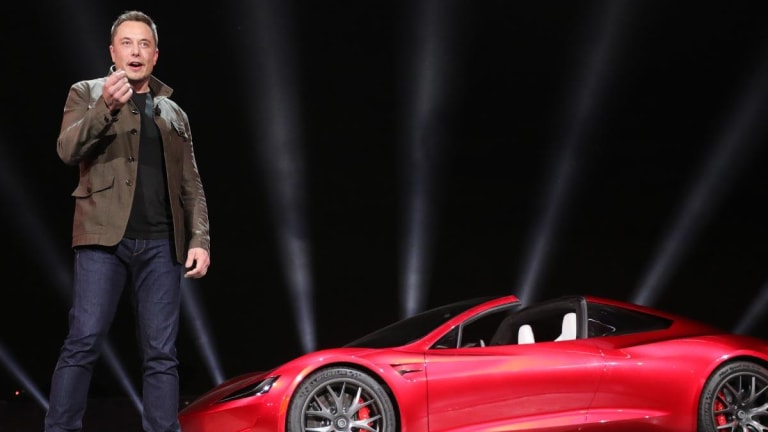 Tesla Is the Complete Opposite of Apple, Invest Accordingly
Apple earnings may not save the broader stock market, but they were great to look at. Here comes Tesla's earnings.
Apple's (AAPL) - Get Report  numbers were pretty sexy, no?
They will undoubtedly feed the appetite of everyone who has allegedly been bullish on Apple for the past 10 years, even through the dips. The services business was strong, as was widely expected. Tim Cook laughed in the face of those saying the smartphone market is dying. In fact, Cook thinks the market is "healthy" despite slowing growth rates (see Samsung). Cook seems to define the smartphone market's health by its installed base around the world more so than growth rates quarter to quarter. That's cool.
Meanwhile, Apple teased a new entertainment offering that may, or may not, seek to destroy Netflix (NFLX) - Get Report and whatever Disney (DIS) - Get Report is planning to do in streaming. Cook even tossed some shade on fellow Action Alerts PLUS holding PayPal (PYPL) - Get Report , mentioning on the earnings call that Apple Pay dwarfs PayPal's transaction processing power. It was odd to hear Cook take the shot at PayPal, but it makes sense given all the positive press on the former eBay (EBAY) - Get Report  payments business.
All in all, Apple crushed it and yet the broader stock market is under pressure Wednesday. As discussed on the 'Morning Jolt' webshow (hey, it's taped, hits our site at 8:00 a.m. daily) Tuesday morning, Apple's earnings are irrelevant to the narrative rattling high growth tech stocks like Twitter (TWTR) - Get Report and Netflix. Apple is a utility, not an Nvidia (NVDA) - Get Report or Facebook (FB) - Get Report blowing minds with quarterly revenue growth rates. A bet on Apple here may be a bet on slowing economic growth and a stock market downturn later this year. It's hard to imagine Apple's recurring revenues get hit too hard -- if at all -- in a growth environment that goes from 4% to 2% in the United States.
BTW, be on the lookout for higher priced iPhones. Apple's decision to release a $1,000 iPhone last season has paid off and underscores the pricing power inherent to the Apple ecosystem.
Your Deep Thought
If you believe in Apple's quarter and momentum, then the FANG stocks are now must buys after a vicious rout. Caterpillar's (CAT) - Get Report growth slowdown call-out on the earnings call is irrelevant and the stock will be 20% higher when third quarter results hit the wires in the fall. But folks, there is another U.S. economy out there starting to emerge, one that I discuss in a new piece on our sister publication Real Money today.
You know, the one that is being hit by tariffs from the Trump administration. The one where the sell-off in FANG stocks underscores the cooling mood in Silicon Valley. To that end, I was damn lucky to chat with scores of community bank CEOs at the annual KBW banking conference on Tuesday. Definitely, some interesting economic trends beginning to form that the elite on Wall Street aren't capturing.
Based on what I heard, investors could be in for a rude-awakening come later this year along with an economic growth hype artist in Treasury Secretary Steve Mnuchin. 
Around TheStreet
Bring on those Tesla (TSLA) - Get Report earnings (or massive loss per share report) today. If you are a fiery Tesla short seller or passionate Elon Musk fan (and there are plenty of you out there on both sides) we want to hear what you think will happen to the stock after earnings. Tweet @BrianSozzi and @TheStreet and please, don't hesitate to let it all out.
TheStreet takes a quick look at some awful Wall Street research on Tesla ahead of earnings. It's just awful. TheStreet's tech columnist @EricJhonsa says Model 3 profit margins are a must assess. If trading is your thing, @StephenGuilfoyle over on Real Money has a Tesla trade to put on into the earnings report. Good luck.
In non-Tesla land, First Data (FDC) - Get Report CEO Frank Bisignano sounds like a man poised to do another big deal. With debt coming down and the stock on fire, why not pull the trigger. Watch my full interview with Bisignano here.