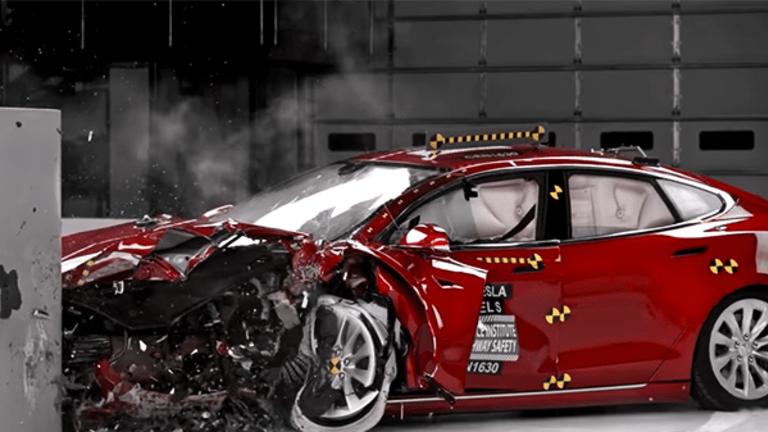 Tesla Is Quickly Running Out of Government Subsidies and It Could Present a Massive Challenge
Tesla could nearing a big test of its business model soon.
The short sellers have good reason to think they will be rewarded.
In April, Tesla saw a massive drop in sales of its electric vehicles in Hong Kong after Chinese officials slashed a tax credit that made it significantly cheaper to buy the company's cars. Without the tax break, the price of a Model S four-door sedan rose almost 60%, jumping to $130,000 from $75,000.
Tesla didn't sell a single car in Hong Kong in April after the tax cut was reduced, according to The Wall Street Journal. By comparison, there were 2,939 Tesla vehicles registered in Hong Kong in March.
The sales dip highlights just how reliant the company's business may be on tax credits. In securities filings, Tesla has warned investors that changes to incentive programs "could have some impact on demand for our products and services." And Hong Kong isn't the first place where it has felt the impact of reduced tax credits. Last year, Denmark began requiring electric car dealers to pay a 180% import tax on vehicles, which caused new electric vehicle registrations to fall 70% in 2016.
Tesla CEO Elon Musk: We Are Going to Be in Production Hell for 6 Months
The company doesn't disclose vehicle sales by country or region, but analysts say that it's a small portion of Tesla's overall business, accounting for nearly 6% of global sales of Model S sedans, Bloomberg noted. A Tesla spokesperson said the company welcomes government policies that make it easier for people to buy electric vehicles, but that its business doesn't rely on it, citing that it tripled its revenue in China between 2015 and 2016, "despite a massive tariff and no incentives."
"At the end of the day, when people love something, they buy it," the spokesperson told TheStreet. "Hong Kong remains a significant market for Tesla and we continue to sell cars there each quarter."
"When the Hong Kong government reduced the tax exemption for electric vehicles and increased the cost of our cars by nearly 100%, it's to be expected that demand will be impacted in the period immediately following the change, particularly because of the large number who bought just prior to the change being implemented," the Tesla spokesperson added.
Creative Strategies president Tim Bajarin agreed, saying that he expects sales in Hong Kong to resume, despite the recent slump. Many Chinese Tesla owners are wealthy enough that they'll buy one whether it's discounted or not, he noted.
"The only people buying them are the nouveau rich," Bajarin said. "If they want one, they're still going to buy it."
Tesla's next threat could come from within the U.S., where the federal tax credit is set to expire. Under the current incentive program, U.S. citizens can get as much as a $7,500 discount off the sticker price of a Tesla model. That's more than 20% off the cheaper Model 3 sedan's price of $35,000.
But the U.S. tax credit only applies to the first 200,000 cars sold by a manufacturer. Tesla delivered more than 100,000 vehicles in this year alone, and has received at least 200,000 orders for the Model 3, so it could approach the threshold soon. Edmunds estimates that Tesla only has 79,000 Federal tax rebates left.
"The uncertainty of tax rebates is still a big concern for Tesla reservation holders," says Edmunds executive director of industry analysis Jessica Caldwell. "It's still a big question whether the thousands of people in line to buy a Model 3 will be able to stomach the full price of the car without a hefty rebate."
Without a tax credit, Tesla's $70,000-plus models may begin to drive away consumers. One reprieve is that there are also state tax credits that can still be applied after the federal tax credit expires.
"It could have a similar impact on demand for those were factoring in a credit on the $70,000 model," said CFRA Research analyst Efraim Levy. "Some people might begin to back off the high-end model because the tax credit was $50,000. There's a big difference between that and $7,500 for the lower-end models."
You ready for this one Tesla bull?
Don't Miss These Weekend Reads on TheStreet:
How Birchbox Took on Macy's, J.C. Penney and the $500 Billion Beauty Counter