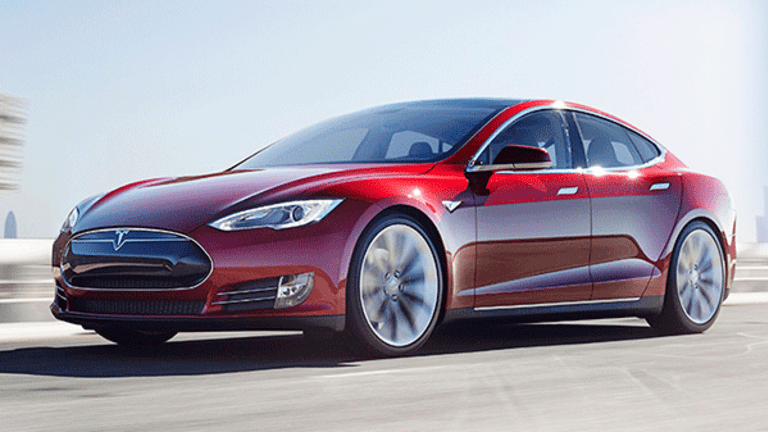 Tesla WAS More Valuable Than Ford and General Motors, But Here's What Ended Up Happening
Tesla is still flying high.
Tesla's (TSLA) - Get Free Report  takeover of the headlines in the auto industry continues. 
Shares of the electric car maker rose 3.3% to $312.39 on Monday, giving it a market cap of about $51 billion. Tesla was valued at nearly $1.7 billion more than General Motors (GM) - Get Free Report as of 9:35 a.m. in New York trading. But, Tesla's market cap finished the session relatively in line with GM's. 
The company recently blew past Ford's (F) - Get Free Report market cap, too. 
Tesla's stock has now skyrocketed nearly 47% this year. The bullish run in Tesla's stock comes on the heels of several big developments. 
The company said that global sales rose 69% in the first quarter, its strongest quarter of sales yet. Importantly, Tesla delivered 25,000 vehicles during the quarter, up 69% from the prior year. The result puts Tesla on pace to achieve its goal of 50,000 deliveries in the first half of the year.
Meanwhile Tencent, Asia's second highest valued tech firm, is fresh off spending $1.7 billion to acquire a 5 percent stake in Tesla. The news was seen as a huge vote of confidence in Tesla's future. 
While some may say this start to the year inspires confidence in the cash-burning company and justifies the stock's surge, it may be worthwhile to remain skeptical. It's vital to keep something in mind with Tesla: shares have exploded not on the company simply matching its delivery estimates this year, but because it could blow past them now and in the future.
By 2018, Tesla has said it plans to build 500,000 cars a year and by 2020, 1.0 million. A good chunk of that is predicated on the success of the upcoming Model 3, which may be dealing with some issues around design, as Goldman Sachs recently noted. In turn, that could lead to a more subdued launch than many on Wall Street expect.
Points out Barclay's analyst Brian Johnson, "Tesla's stock is disconnected from fundamentals, it is more driven by momentum."
This brings up point number two: making electric cars isn't easy. Tesla will likely need another cash raise (like the one seen from China's Tencent, or more debt) to get the human and fixed capital it needs to try and reach Elon Musk's ambitious goal. Factor in an anticipated surge in electric a cars over the next five years from BMW, Ford (F) - Get Free Report and General Motors (GM) - Get Free Report , as TheStreetreports, and the market may be getting ahead of itself on Tesla.
How ironic that Tesla is the mostly valuable automaker ahead of the New York Auto Show, a spectacle for the industry's heavyweights that it won't be attending. 
Updated from April 4 with new details. 
More from TheStreet:
Cramer: Americans Would Snap Up 'Make America Great Again' Bonds
Trading Strategies: 8 Stocks to Buy If the Fed Keeps Raising Rates
This Is Jim Cramer's Second Quarter Playbook
Focus on Earnings in the Second Quarter, Not Donald Trump's Policies
What will move markets this quarter and how should investors position themselves ahead of time? Jim Cramer sat down with four of TheStreet's top columnists recently to get their views. Click here to listen to his latest Trading Strategies roundtable with them and read their advice for stocks, bonds, forex, tax reform and gold.