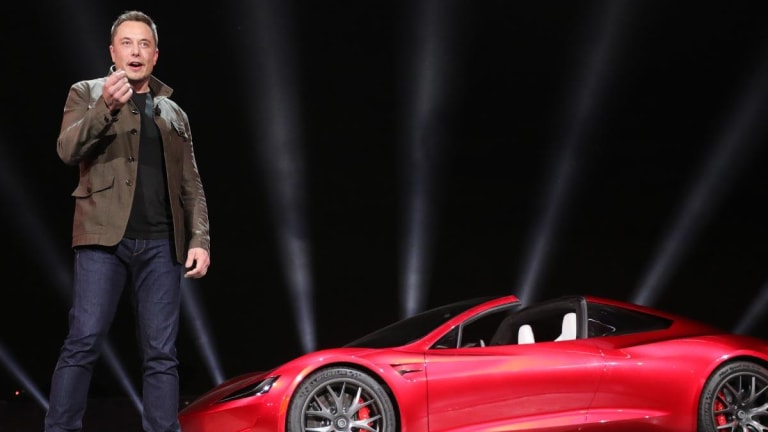 Tesla Is Already Getting to Work on Its China Factory
Tesla is hiring in Shanghai, showing that the automaker is taking steps to begin its Gigafactory 3 project.
Reports are beginning to circulate that Tesla Inc.  (TSLA) - Get Report is hiring for its factory in Shanghai.
Tesla's Shanghai factory, known as Gigafactory 3, will produce both vehicles and batteries. As a result, thousands of workers will be there daily, provided the project ultimately comes to fruition. Right now, though, Tesla is only trying to hire a handful of upper level employees. Specifically, Tesla is looking to fill 14 senior roles, including that of a senior finance manager and architectural designer.
The hiring doesn't mean Tesla's cash burn with accelerate significantly or that cars are about to roll off the line any day now. In fact, Tesla hiring in Shanghai isn't that much different than Ford Motor (F) - Get Report hiring in Dearborn, MI. or General Motors (GM) - Get Report hiring in Detroit.
But the fact that Tesla is beginning to hire shows the automaker is taking steps to begin its Gigafactory 3 project.
Last month TheStreet took a look at whether Tesla would have to raise capital. After going from $3.5 billion in cash to $2.8 billion from Q4 to Q1, an eventual raise seemed likely, given its upcoming expenses. Worth noting is that cash balance fell to $2.2 billion in Q2.
Not only does Tesla need to build its factory in China, but also deploy significant capex to the Model Y in 2019, if it plans on beginning production in 2020. There's also the Roadster, Semi and apparently a pickup that's at least in the discussion. Management is also talking about a large factory in Europe.
Spending money to accelerate growth is great, but spending it to stay alive isn't. This sentiment could be a big factor in what happens to Tesla's stock if and when it raises capital in the future. 
For now, the latter seems off the table. On the latest conference call, CEO Elon Musk stuck to his prior outlook, calling for GAAP profitability and positive cash flow (inclusive of capex) in both Q3 and Q4. He maintained his stance on not wanting to raise capital, and he upped the ante a bit by saying that, short of one-off events, Tesla should remain profitable going forward. It's time to be self-funding, he reasoned. 
For China, he also provided some more details. Rather than raising capital via debt or equity, the automaker more than likely will borrow money from local Chinese banks to fund the project.
Given the costs of Gigafactory 1 in Nevada, many have modeled for the project to cost $5 billion or more. However, Musk doesn't think it will cost as much. On the call he said, "we're confident that we can do the Gigafactory in China for a lot less," saying that his "guess" was closer to $2 billion. That's to get up and running for a production rate of 250,000 cars per year. The goal is for Giga 3 to eventually produce half a million vehicles annually.
Still, 60% cheaper than Tesla's initial thoughts on Giga 1, which then ran over budget? Seems like a stretch.
Admittedly Tesla has learned a thing or two about its Giga 1 and Fremont factories. If it comes in under $2.5 billion, investors will likely cheer management's ability to keep costs down. While Tesla slashing its capex guidance to sub-$3 billion in Q1 and down to sub-$2.5 billion in Q2 shows more financial discipline, the company has historically struggled with costs.
Either way, we have more clarity on Gigafactory 3, which helps both bulls and bears figure out their scope on Tesla. Management previously estimated that auto production could begin roughly two years after construction begins.
This article is commentary by an independent contributor. At the time of publication, the author had no positions in the stocks mentioned.