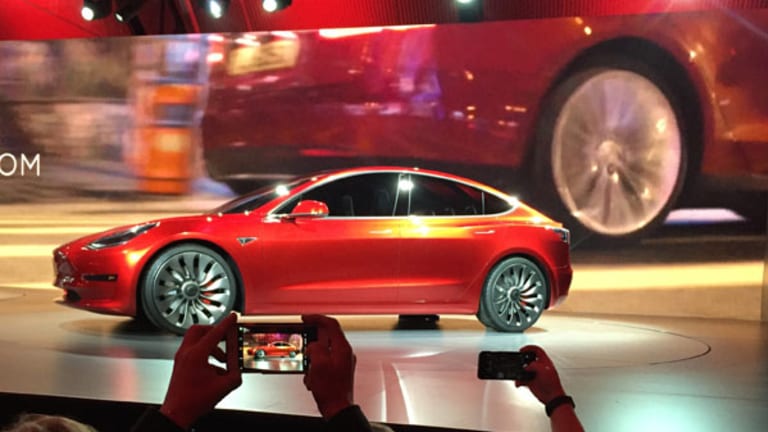 Tesla Is a Top Pick for 2017 on New Model, Baird Analyst Says
The bank says potential upside to the company's energy storage business and Model 3 production could boost the stock. Other analysts are skeptical either will impact results in 2017.
2017 figures to be a pivotal year in the history of Tesla Motors (TSLA) - Get Report . Baird analyst Ben Kallo believes it will be a lucrative one.
Kallo in a research note published Friday named Tesla as a best pick for the new year, predicting that the company's forthcoming Model 3 and its under-the-radar energy storage business will both outperform in 2017. Baird rates Tesla "outperform," with a $338 price target. Shares of Tesla traded Friday afternoon at about $213.
"We think the ramp of Tesla Energy and Model 3 production could exceed expectations during 2017, and believe the opportunity is not currently reflected in share price," Kallo wrote. "We believe Tesla battery sales are accelerating, and we should see additional benefits from the battery production ramp coinciding with the launch of the Model 3."
Tesla had a tumultuous year, with highs including better-than-expected reservation figures for the Model 3, a $2.6 billion purchase of SolarCity and a successful $2 billion secondary offering and lows including questions about the safety of its Autopilot systems and a feud with journalists over the company's disclosures.
The company's shares look set to close down about 11% for the year, compared to a 9.7% gain in the S&P 500, but more than 40% above February lows.
Kallo is hardly alone in his optimism about Tesla, but there is reason for skepticism about his targets. As the analyst notes fourth quarter automotive deliveries "could cause near-term volatility," with bears warning that an aggressive campaign to boost sales figures in the third quarter could eat into fourth quarter deliveries.
Many also expect another equity offering by Tesla early in 2017, with Oppenheimer analysts in October estimating the company would need $12.5 billion in fresh capital in the years to come to finance its ambitious expansion plan. A large offering could dilute the share price even if the company is able to meet Kallo's targets.
Tesla's energy storage business to date has been a cash drain, which is likely why it is not priced into the stock. As Kallo notes that could change as Tesla works on its Gigafactory battery production plant and rolls out a denser version of its Powerwall, but to date the Powerwall product has been an afterthought that has not made its way onto the company's income statement.
As for the Model 3, while Tesla still predicts deliveries will begin in 2017, many on Wall Street are beginning to question that prediction, so that any production could be viewed as a benefit to expectations. Morgan Stanley's Adam Jonas, for years one of the most optimistic analysts covering Tesla, now predicts a late-2018 launch in his base case for the stock.
Jonas earlier this month noted that despite Tesla's quest for vertical integration, the Model 3 is likely to rely even more extensively on third party suppliers than the Model S, its predecessor. That could increase the scope of supply-related factors outside of Tesla's control, making it more difficult for the company to make an expedited timeline.