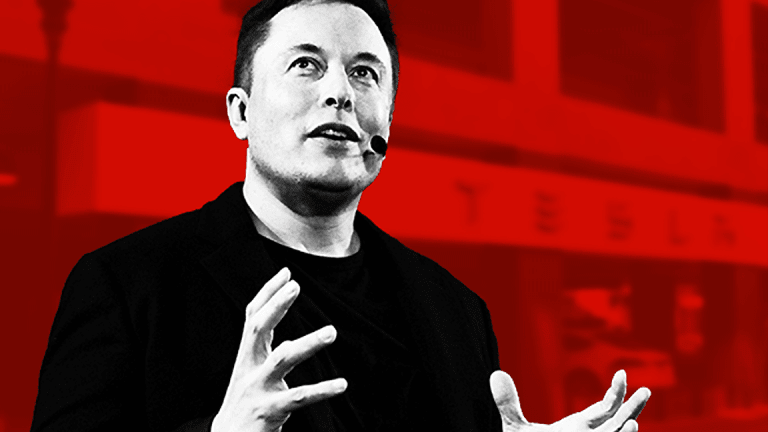 Publish date:
Tesla Investor Ross Gerber: 'It's A Very Nervous Time for Tesla'
So far, many of CEO Elon Musk's stated goals have proved 'impossible to achieve,' says Ross Gerber of Gerber Kawasaki.
So far, many of CEO Elon Musk's stated goals have proved 'impossible to achieve,' says Ross Gerber of Gerber Kawasaki.
Tesla Inc.'s (TSLA) - Get Tesla Inc Report lofty production goals for its long-awaited Model 3 sedan are making at least one high-profileinvestor anxious about whether the electric car maker will be able to deliver.  
"It's a very nervous time for Tesla," said Ross Gerber, CEO of Gerber Kawasaki Wealth & Investment Management, which manages $650 million in assets, according to the company's website. Gerber first invested in Tesla about five years ago and owns roughly 28,000 shares of the stock. "Wall Street just wants to know how many cars they're making a week and I don't think they're wrong for wanting those numbers. I want them, too."
CEO Elon Musk has projected that Tesla will produce as many as 20,000 Model 3 units by December, but the company only produced 260 sedans in the fiscal third quarter, well shy of Musk's goal. Musk said during the company's third quarter earnings call the company's Model 3 ramp was being slowed down by "production bottlenecks" tied to battery module assembly. 
Still, Tesla expects to produce 5,000 Model 3 units a week by December, with that number ramping up to 10,000 units per week by the end of 2018. The company has been gradually increasing its production goals as it works to meet demand. In August, Tesla said it had 455,000 reservations for the $35,000 Model 3 sedan. 
Gerber said he often speaks with Tesla employees and that he's confident that the company has resolved many of its battery production issues. Tesla has a very thin margin for error, however, before some investors may begin to lose confidence. 
Tesla shares were rising 1.4% to $308.06 on Wednesday mid-day and are up 44% so far this year, compared to the Nasdaq's 26% rise.
"By January, If I'm still not seeing a lot of Model 3s, I'm going to be concerned," Gerber said in a phone interview. "We've lowered our estimates for next year for Model 3 deliveries, but it's too hard to call at this point." 
Gerber noted that Musk has become notorious for "setting goals that are impossible to achieve." This makes him nervous, but Gerber also believes that it's part of what comes with investing in a high risk/high-reward company. 
"Why invest with a CEO that has fantastical visions and sets overaggressive targets? Because that's what we want in a CEO," Gerber said. "It's the same thinking that Jeff Bezos [CEO of Amazon.com Inc. (AMZN) - Get Amazon.com, Inc. Report ] had. I would say that about almost every transformative company -- that most people at the time don't actually believe in it." 
Gerber added that he remains bullish on Tesla because of the possibility of future product innovation. Musk's visionary personality has also led to some criticism, particularly from those who believe he's working on too many projects at once. In addition to serving as Tesla's chief, he also founded infrastructure and tunnel construction company The Boring Company, is CEO of neurotechnology company Neuralink and serves as the CEO of aerospace company SpaceX. 
On Tuesday, Morgan Stanley analysts called for Musk to merge SpaceX and Tesla, saying the CEO is likely to spend more and more of his time running the rocket-launching business. Bringing together the two companies could also be an effective way of holding off competition, the firm added. 
Gerber said a Tesla-SpaceX merger is unlikely to happen anytime soon, however. For starters, there are few synergies between SpaceX and Tesla. The closest the two companies have gotten to each other is that Musk plans to launch a Tesla Roadster to Mars, attached to one of SpaceX's Falcon Heavy rockets. 
And ultimately, Gerber expects that Musk will probably be wedded to Tesla for a long time. 
"[A merger] would never happen," Gerber said. "Tesla is like [Musk's] Amazon."
More of What's Trending on TheStreet:
Alibaba Just Found a Novel Way to Use Your Face