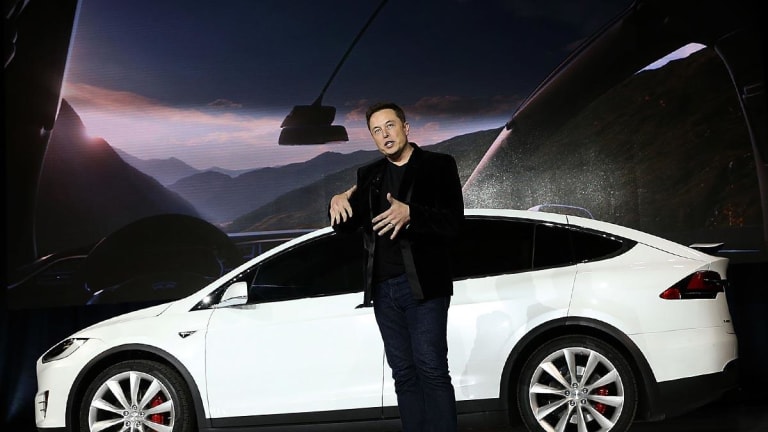 Tesla Could Be Hiding Why It Won't Raise Capital
Could there be something preventing Tesla from raising capital aside from wanting to bolster its financial footing on its own first?
When it comes to Tesla Inc.  (TSLA) , the company's health depends on who you talk to. 
Some will say the automaker is garnering huge margins on its Model 3 and will completely revolutionize the auto industry. It just needs to get through a few more tough quarters. Others will say the automaker is circling the drain and its leader is a fraud.
Both takes appear extreme.
But one thing both sides can agree on: Tesla would function much more smoothly with a capital infusion.
The latest news reports for the company haven't been great. Although Tesla clarified its situation regarding its suppliers and asking for money, it still suggests that cash is tight. This is the takeaway after talking with auto industry expert Doug Mehl, a partner at consulting firm A.T. Kearney.
TheStreet was also able to touch base with Gordon Johnson, the managing director of Vertical Group. For the record, he has a sell rating and sub-$100 price target on Tesla. But his capital analysis of Tesla paints a worrisome picture for the automaker.
It brings up the question: Can Tesla raise capital but won't, or is Tesla in a position where it can't raise capital at all?
Johnson picks at the idea that it may be the latter that's putting a squeeze on Tesla's bank account. His analysis suggests that Tesla will exit the second quarter with less than $1 billion in cash.
What? Last quarter there was over $2.7 billion in cash. How can this be?
Significantly ramping up Model 3 production surely pushed Tesla to burn through capital, while rising input costs and tariffs may not help either, as we saw for companies like General Motors (GM) . But Johnson suggests there is even less access to cash than what would appear.
Given the increase in accounts payable and the reduction in money market funds at the end the first quarter, Tesla could be sitting in a tight spot financially speaking. Throw in its cash held overseas and access becomes even more difficult. If the suppliers don't retroactively help Tesla out, there could be a "cash event" in the future.
So that begs the question, why doesn't Tesla simply raise capital?
CEO Elon Musk has been adamant about not raising capital in 2018. It's a forgone conclusion by most investors that the company will eventually raise additional funds to build out new projects, including the Model Y and Gigafactory 3 in China.
However, there's a big difference between raising capital to fuel growth and raising capital to stay alive. While the current situation seems like Tesla is waiting to raise capital because it wants to show investors its GAAP profitable and cash flow positive, could it be that it can't raise capital because of something else?
This is especially perplexing given that the stock price -- until recently -- had been hovering in the mid-$300s. It's not like Tesla would be trying to raise capital after a 50% decline.
Enter the rumors and speculation: Could it be a Wells Notice, as one analyst ponders? A Wells Notice is a notification the SEC sends to a company (or person) when it intends to proceed with some type of enforcement or action against them. If Tesla has received a Wells Notice, it cannot raise capital until it is disclosed. Once disclosed, the company can again raise capital, but it will likely be harder to do so.
Of course, it is not fact that Tesla has received this notice, but Johnson does cite it as one possible explanation for why Tesla has not yet raised capital.
It could in fact really be due to Musk's determination to be GAAP profitable before tapping into additional funds. 
When Tesla reports earnings on Aug. 1st, investors will need to see that operations are drastically improving. They'll need to see that margins are on the rise (and they should be) and that cash flows are turning positive. Otherwise, a severe drain on cash could have a number of investors concerned about liquidity. 
This article is commentary by an independent contributor. At the time of publication, the author had no positions in the stocks mentioned.