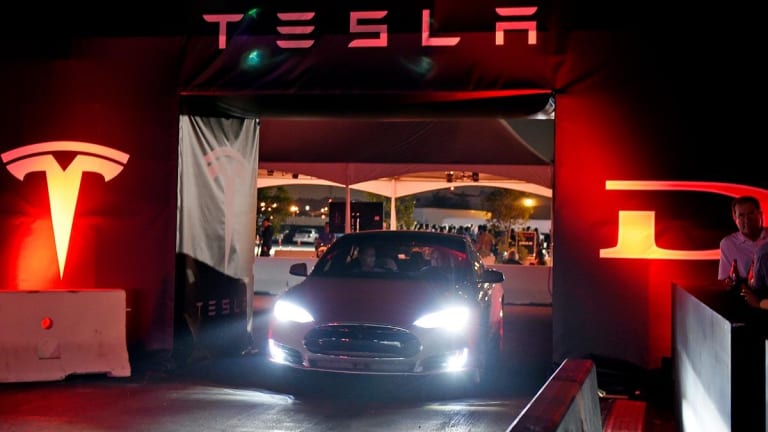 Tesla Has to Give Investors a Reason to Buy Its Beaten Up Stock
Tesla stock could depend on what management has to say about current production.
Tesla Inc.  (TSLA) - Get Report will report earnings after the close on Wednesday. So, should investors load up on the innovative automaker ahead of the results?
If Tesla stock dumped hard, then perhaps it would have set up as a candidate to squeeze higher on the report. If shares rallied into the print, Tesla stock very well could find itself hitting resistance before releasing its results, setting up a "sell the news" event.
But short of a big move Wednesday afternoon, Tesla stock didn't give us many clues this week. It certainly didn't give us the dump ahead or "sell the news" event we were looking for. After stumbling on Friday and Monday along with the rest of tech, shares have recovered to about $300 over the last two days. That leaves traders largely guessing after several days of chop. 
Stephen "Sarge" Guilfoyle had two ways to trade Tesla earlier this week, for those interested.
But zooming out a bit from the focus on this earnings report, how is the bigger picture shaping up now?
The automaker, no doubt, burned through a ton of capital during the latest quarter. It already burned through about $700 million in the first quarter. On the one hand, Tesla was desperately trying to sort out its Model 3 production issues. Because expenses were high and production was low, the burn was bad.
Will it be worse in the second quarter though? Like the first quarter, Tesla was still trying to figure out how to ramp production. Although at least in the first quarter, the automaker did figure it out. While production appears to have dipped a bit since, it was able to produce 5,000 Model 3 units in the last week of June.
More on Tesla's Future From TheStreet
That's good for cash flow, although it's not clear whether that will fall into the second quarter. More than likely, it won't. While Tesla produced plenty of vehicles during those last few weeks, not that many were delivered, meaning the company did not receive the full sale from its customers. Morgan Stanley Adam Jonas emphasized such a point last week, saying that Tesla may have faced a larger outflow in free cash flow, given that it produced about 53,000 cars in the second quarter while delivering less than 41,000.
So on the surface, the headline numbers should be ugly. Consensus expectations call for a 42% year-over-year increase in sales to $3.97 billion and a loss of $2.81 per share, more than double its $1.33 per share loss in the period a year ago. Will it be worse?
We don't know. The one thing about Tesla is that it's a tough act to predict. I'd expect CEO Elon Musk to be more patient on the conference call than last quarter, given the magnitude of the situation.
But that won't help its cash flow numbers. The biggest takeaway will likely be how good of a picture Musk paints for the third and fourth quarters. He has said multiple times now this year that he expects Tesla to be GAAP profitable and cash flow positive in the second half of fiscal 2018.
So while this quarter's numbers might be ugly and the stock may react to those numbers initially, the commentary, outlook and current production update will be important. We should also get a look at how July shaped up for Tesla. 
If the cash burn was particularly bad, meaning there's a huge draw on cash and a build up in accounts payable and/or debt, it could cause some alarm. There's already growing concern about Tesla's capital situation and whether it will face a liquidity problem in the future. Again, this is why the commentary from management will be so important and for Musk & Co. to convince Wall Street that its current operations will be more than enough to get it through this quarter and the next. 
This article is commentary by an independent contributor. At the time of publication, the author had no positions in the stocks mentioned.