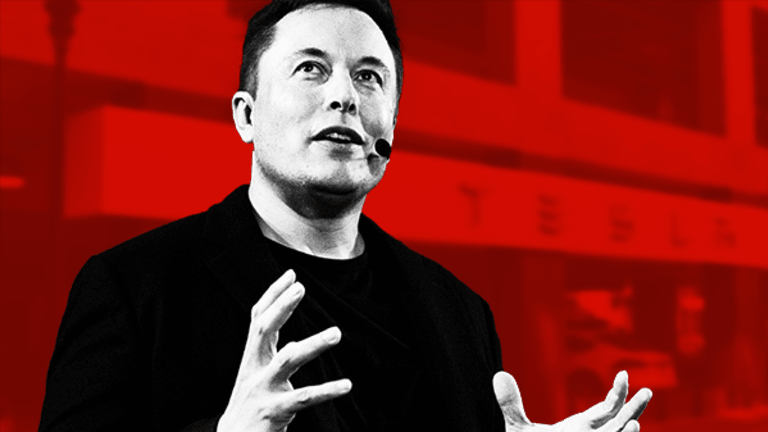 Tesla Has More Runway Before It Has to Raise Additional Cash
The electric car maker's cash position is better than expected, Goldman, Sachs suggests.
The electric car maker's cash position is better than expected, Goldman, Sachs suggests.
While Tesla's (TSLA) - Get Report cash burn has been a lingering issue for investors, Goldman, Sachs & Co. suggests that Elon Musk won't have to worry about money until the latter half of next year -- right before competition in electric vehicles is likely to intensify. 
Telsa sold $1.8 billion in notes in August, $300 million more than it initially planned to offer. Goldman analyst David Tamberrino wrote that the company will have "a healthy cash balance through the middle of 2018" and pushed out his target for Tesla's next fundraising from the first quarter of 2018 to the third quarter. 
"The company believes that it could be free cash flow positive in 2018 -- given its expectations for the production ramp of the Model 3, achievement of margin targets, and a plateauing of operating expenses," Tamberrino wrote. The analyst expects Tesla to burn $1.4 billion in cash flow from operations this year, while reporting nearly $320 million in positive cash from operations next year.
Shares of Tesla dropped 0.9% to $344.90 on Monday, though the stock is still up more than 61% this year.
Tesla is ramping up production of the Model 3 mass market car, and expects to hit a rate of 500,000 total cars produced per year by late next 2018.
Musk has a commanding lead in the electric car market. Moody's Investors Service estimates that through the first half of the year, Tesla's Model S and Model X accounted for 45% of sales of electric vehicles. The next largest competitor, General Motors Co.'s (GM) - Get Report Chevy Volt, had 16% of the market and Nissan Motor Co. Ltd's (NSANY) had a 15% market share.
More of What's Trending on TheStreet:
Challenges could mount, however, as tax credits to Model 3 buyers wane and competition increases.
The government offers $7,500 tax breaks to people who buy electric vehicles. Two quarters after a company sells 200,000 electric models, however, the tax credits begin to phase out.
Based on sales of Tesla's Model 3 mass-market vehicle, Tamberrino suggests that Tesla will cross 200,000 sales in the third-quarter of 2018. The tax benefits -- which represent 21% of the Model 3's starting price -- would then begin to phase out in the first quarter of 2019.
Around the same time, companies like Volvo AB and BMW AG will ramp up competition against Tesla. 
"For example, Volvo recently announced its intention to start phasing out pure gasoline and diesel vehicles starting in 2019," Tamberrino wrote. "Further, BMW is planning to introduce a fully electric 3-Series sedan model at the Frankfurt Motor Show in September, which would likely directly compete with Tesla models."
As the competition mounts, Tesla says its economics are improving. Suppliers have agreed to give it longer terms before payments are due. Musk says that the company is also speeding up production. In his car-making "nirvana" scenario, Musk told investors in August, the company will be able to collect payment from customers before it has to pay suppliers, lessening the company's capital needs.
If Tesla can reach turn cash flow positive in 2018 before the competition intensifies, it would make Musk's next trip to the capital markets a little easier.