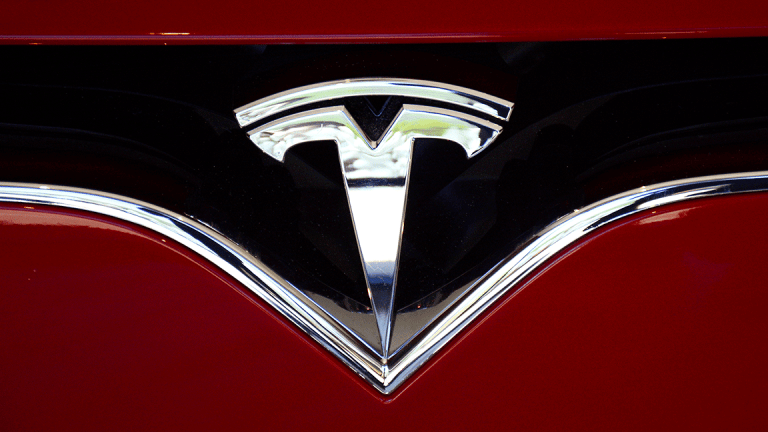 Is Tesla Gearing Up for Its Next Run or Falling Back to $300?
Tesla stock could either fall to $300 or rally back to its highs and one level will likely determine its fate.
Tesla stock could either fall to $300 or rally back to its highs and one level will likely determine its fate.
Tesla Inc.  (TSLA) - Get Report has been on a tear. Everyone with a half-baked interest in finance knows that.
The automaker is filling headlines all across the internet, although most recently that's due to the company's "saboteur" storylines.
With Tesla, it's always something.
So while all of this is playing out, what's the stock doing? Tesla first found its stock higher on the open Friday -- likely on the overall market's rebound and news that it's shuttering a dozen solar residential installation facilities -- but quickly turned lower.
Now down 3.9% on the day, shares are changing hands just below $335 about an hour into the trading session. It's now also finding itself perched on a rather precarious, if not obvious technical level.
On the chart below, you'll notice Tesla's explosive move over the past month. Late-May shares were near $275 as short-sellers were on the verge of plowing Tesla stock back down to its April lows near $250. Then, the stock went through a sudden reversal, scorching higher by $100 per share within just a few weeks.
Helping the move was undoubtedly a short squeeze, where bears were forced to cover their positions as unrealized losses were piling up. Now, though, shares are some $35 off the June highs. Are bulls conceding control back to the bears?
That could happen if one key level is broken. That level is between $330 and $340, depending on how one draws their trend-lines. It can be seen (in black) on the chart above. So long as Tesla stays above this level, bulls remain in control. If it holds, a rally back to the recent highs and possibly to its all-time near $390 is in the cards.
Should it break, the $300 to $310 area becomes an important level for bulls to hold. Helping them in the battle will be Tesla's three major moving averages, which sit between $304 and $323. Worth mentioning is the fact that, at last glance, Tesla's short interest is still near 30%, a rather high figure. So if bulls can force a rally, it could put an even tighter squeeze on the shorts.
A key figure to watch is how many Model 3s will Tesla be producing per week by early July.
CEO Elon Musk has stood by his estimate of 5,000 units per week for some time now. The company fell short of its first goal, which was 2,500 units per week by the end of the first quarter. Tesla came in at just over 2,000 -- about 20% short its goal.
Should they hit the 5,000 mark, it could give bulls the confidence they need to take Tesla higher. Conversely, if Tesla misses the mark, their confidence may wane.
This article is commentary by an independent contributor. At the time of publication, the author had no positions in the stocks mentioned.