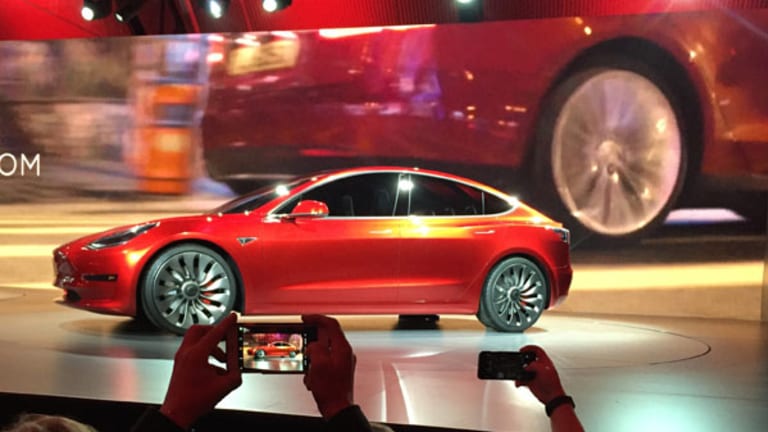 Tesla Shares May Now Be Unstoppable
At least according to one Wall Street veteran.
Morgan Stanley's Adam Jonas, who in recent years has been one of Wall Street's biggest Tesla Motors (TSLA) - Get Free Report fans, on Thursday restored his "overweight" rating on the company and raised his price target by 26%, to $305.
Tesla shares jumped more than 3% soon after the upgrade, giving up some of that gain in the afternoon but still trading up more than 1.5%.
Jonas in a note justified his upgrade on his expectations Tesla's Model 3 sedan will arrive in volume by 2018, growing market acceptance of electric vehicles, reduced efforts from the likes of Alphabet (GOOGL) - Get Free Report and Appleundefined to build Tesla rivals and what he sees as "a surprisingly supportive political environment" for the company.
Apple and Alphabet are holdings inJim Cramer's Action Alerts PLUS Charitable Trust Portfolio. See how Cramerrates the stock here. Want to be alerted before Cramer buys or sellsGOOGL or AAPL?Learn more now.
Jonas turned heads last year when he predicted the Model 3 would not launch into 2018, putting him well behind Tesla CEO Elon Musk's announced timeline. The analyst now sees a "soft" launch by the end of 2017 and a volume increase to 183,000 units in 2018.
His forecast remains more conservative than Tesla's official goal of producing 400,000 Model 3s and a total of 500,000 vehicles in 2018, compared to about 83,000 in 2016. While bears are sure to point out the discrepancy between Jonas' target and the company's goals, a strong argument can be made that if Tesla is on track to expand production to the levels that Jonas predicts missing its aggressive internal forecast is unlikely to derail the stock.
Jonas' political forecast is also an outlier, as most have predicted that the incoming Trump Administration's focus on restoring coal and deemphasizing renewables would mean an end to subsidies for electric vehicles and solar panels. But as Jonas notes "Tesla stands at the epicenter of US high tech manufacturing job creation," and says Musk's role as a strategic adviser to the President-elect could mean a more favorable Washington environment for Tesla than expected.
Of note Jonas' $305 per share base case assigns no value to SolarCity, the Musk-controlled solar panel maker that Tesla acquired for $2.6 billion last Fall, and no value to its nascent Tesla Energy business.
The upgrade comes on the same day that the U.S. National Highway Traffic Safety Administrationreleased a final report into last year's fatal crash involving a driver using Tesla's Autopilot feature without issuing any recalls. The regulator also said that accident rates involving Tesla vehicles have dropped by nearly 40% since the auto-steer option was introduced, but offered no commentary on whether the system was marketed correctly.
The company has since added protections to its software that disengages Autopilot if it detects that a driver is not paying attention to the road, potentially easing some of its critics' concerns.