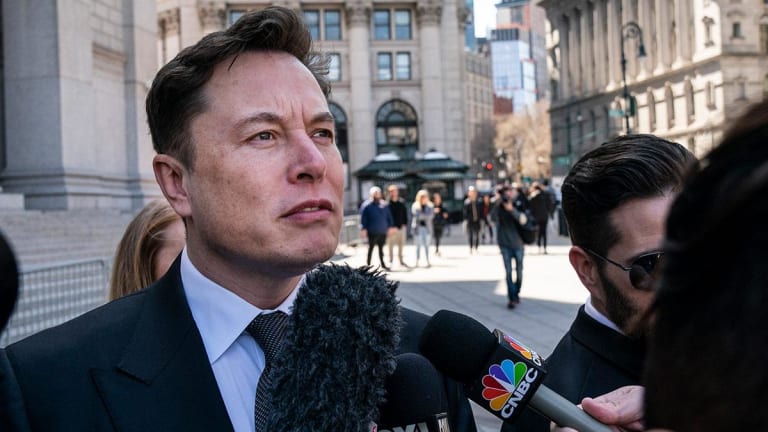 The Tesla Equity Raise: Fool Us Again, Elon!
Tesla's CEO says the capital raise is all about its autonomous robotaxi fleet, but the prospectus doesn't mention a word about it.
One really has to wonder about the gullible state of the American investor -- retail as well as institutional -- these days. With competition from Uber and Lyft (LYFT) , the bar was already very low, but here comes Tesla yet again  (TSLA)  to trump them both in terms of an unbelievable proposition for investing in a never-to-be future technology that is losing ever-more money.
(Full disclosure: I'm short TSLA stock.)
Tesla is launching its combined equity and convertible debt offering today, which would bring in $2.3 billion with the shoe, assuming no upsizing from here. You can read the prospectus filed with the SEC here: To humor yourself, search for the word "autonomous." The result is... zero. Surely that is a major mistake, right? Try the word "robotaxi" instead. Same result.
Basically, per the prospectus, Tesla is not in the business of having anything to do with "autonomous" or "robotaxi." This clearly can't be part of the company's current or anticipated future business, right?
On the call about the deal, which took place a few short hours after the prospectus was filed with the SEC on May 2, the tune was completely different. CEO Elon Musk told investors to practically forget about the rest of Tesla's business, which he called "small potatoes" in comparison.
One hundred percent of the selling point on this conference call was Tesla's promise that it will have approximately one million robotaxis on the road by the end of 2020, and that this functionality will be in place well before then. The only thing holding things up for service to commence would be government regulators.
About those government regulators, by the way: At no point did Musk or Tesla specify what kind of U.S. federal legislation stands in its way for it to launch service, right now, today. Which law is it? Shouldn't this be spelled out immediately? It should be easy to name, no? 
In any case, the U.S. Congress could, of course, dream up such a law between now and the end of 2020. I'm sure this will be the only item passing through Congress between now and the end of 2020. That's sarcasm, in case you didn't catch the drift.
The reality is that no company, Tesla or otherwise, will have a robotaxi-anything working the way Elon Musk defined the matter on his Autonomy Investor Day on April 22 -- or for that matter in his October 16, 2016, press conference when he said the same thing. He defined it as "Level 5" which is the highest degree of autonomy -- or what most normal people would view as the only relevant level of self-driving. That's the one where there is no driver inside the car, and the car can go anyplace in the country, in any weather.
Who will Tesla blame if it cannot get there by the end 2020 -- the government? What recourse do investors have against Tesla's autonomous robotaxi promise?
Musk also said on the conference call that Teslas will have a $150,000 (or higher) residual value as soon as Tesla's robotaxi fleet opens for business. If he really believes that, he should immediately stop selling or leasing cars -- and just keep them right now. Why let someone drive them three years on a lease first? The robotaxi service should start well before three years from now, he says.
Simply stop selling all of these cars, and keep these appreciating (from $40,000 to $150,000+) assets for yourself. If they're going to be worth $150,000 in 18 months from now, whatever you do, don't sell them for anywhere near $40,000 right now!
You can set the clock right now, as to the time when we will hear all the excuses for how the robotaxi fleet never happened in 2020 after all. I'm sure Tesla will blame the government, but the product will not be anywhere near ready for prime time, either. 
At the time of submitting this article for publication, the author was short TSLA. However, positions can change at any time. The author regularly attends press conferences, new vehicle launches and equivalent, hosted by most major automakers.