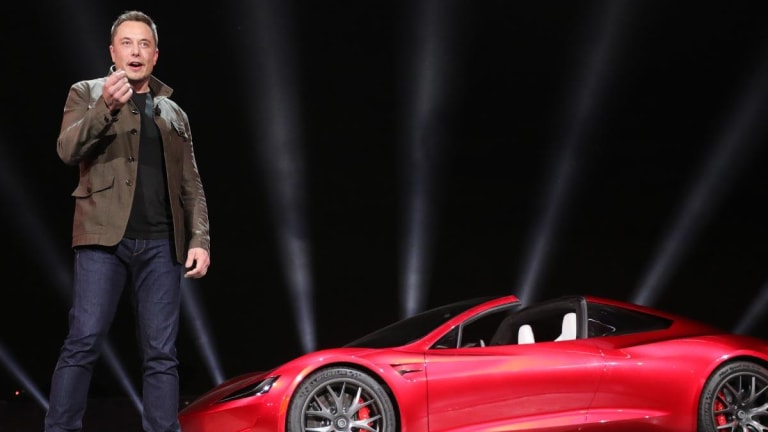 Tesla's Elon Musk, the Greatest Showman, Is Back. But Is That a Good Thing?
The Tesla CEO's talent for capturing attention has historically been a double-edged sword.
Old Elon is back.
After a period of relative restraint, the Tesla CEO appears to be reviving the brash showmanship that made his company the most talked-about automaker in the world, and its stock among the most controversial. Tesla (TSLA) - Get Report shares were down 2.3% on Tuesday to $328.53.
The latest instance centers around Tesla's recently revealed Cybertruck, the Blade Runner-looking pickup truck set to roll out sometime in 2022. The truck's unveiling captured far more attention than the average vehicle demo, not all of it positive. The truck's widely-panned design raised questions about its potential for mainstream appeal in the pickup market, and a demo of the Cybertruck's purportedly bulletproof glass resulted in a shattered window. Tesla shares are down 6.8% overall since the Cybertruck reveal.
"The episode captures an important piece of Tesla's culture: a willingness to take risks in order to change the status quo -- and consistently falling short on preparation," wrote Loup Ventures analyst Gene Munster in a recent note.
The Cybertruck has since captured headlines for days, spurred on by Musk's recent claim on Twitter that the Cybertruck had already garnered 200,000 reservations, as well as a challenge to Musk by Ford X vice president Sundeep Madra to put up the Cybertruck against Ford's (F) - Get Report F-150 in an "apples to apples" tug-of-war test. The Cybertruck reveal also featured a demo video appearing to show Tesla's version besting the F-150 in such a test.
Musk's response was typically brash:
Hogging attention is something that Musk does unusually well, compared to your average CEO -- but history shows that this skill serves as a double-edged sword, both for Musk personally and for the company's shareholders.
Particularly in 2018, Musk's bombastic tweets, erratic behavior and tendency to overpromise routinely landed the company in hot water, culminating in an SEC case against Musk for claiming on Twitter in August that Tesla had "funding secured" for a go-private deal at $420 per share. That claim sent the stock price temporarily soaring -- but Musk ultimately walked back the claim, triggering both the SEC suit and an ongoing shareholder lawsuit that the tweet was fraudulent. 
Later, as part of a settlement with the SEC that also forced Musk to pay a $20 million fine and give up his chairmanship of the company for at least three years, Tesla was required to install an internal person to monitor Musk's tweets. Tesla did not immediately respond to an inquiry on Tuesday over whether Musk's Sunday tweet that Cybertruck had reached 200,000 reservations was reviewed. 
Even independent of Tesla, Musk's brash tweets have led to personal trouble for him -- and ongoing questions about his credibility. After Musk's 200K tweet, analysts expressed doubts that the 200,000 Cybertruck reservations Musk claimed were a genuine measure of demand. Meanwhile, a defamation trial, stemming from Musk's using his high-profile Twitter account to label a cave diver a "pedo guy," is also scheduled to start on Dec. 3. 
Shares of Tesla slumped in the early months of 2019 after the company posted losses despite earlier promises by Musk in 2018 that Tesla would be profitable and cash-flow positive "in every quarter going forward." The stock recovered after Tesla posted a surprise profit in the third quarter, and shares are down about 1.5% overall this year, significantly below the S&P 500's 25% gain in 2019.
As the Cybertruck's 2021 production kickoff draws near, the product will likely remain divisive for investors. But at least one skeptic has warmed up to Tesla a bit -- TheStreet's own Jim Cramer said this week that he and his wife will be buying a Model X, posting on Twitter that a recent test run was a "fantastic ride."