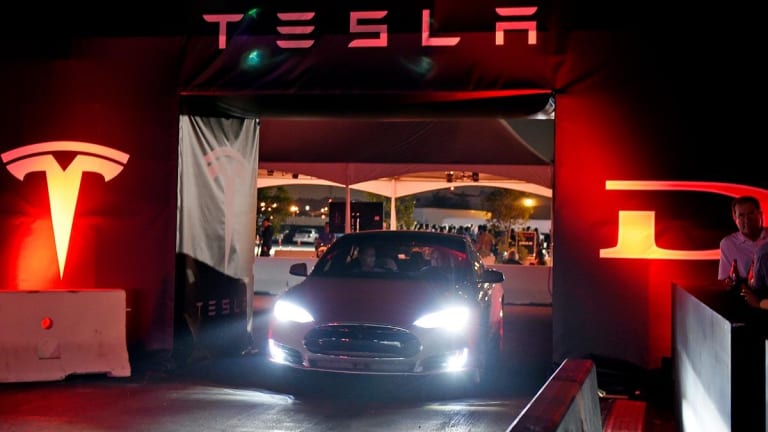 Tesla Earnings: This Is a Hypergrowth Company?
Management is admitting that 2019 unit sales will only rise about 11% at best.
Management is admitting that 2019 unit sales will only rise about 11% at best.
Tesla (TSLA) - Get Report didn't provide first-quarter guidance on specific car-model unit sales when it released fourth-quarter results on Wednesday. But it did say that sales of both the Model S and Model X will be down, and that there will be 10,000 units in total on boats on their way overseas. To me, that means that first-quarter sales will be down, but that they're not 'fessing up to a number.
For 2019 as a whole, the company guided to 360,000 to 400,000 unit sales. I thought they were going to guide higher, and I'm surprised Tesla shares - which are off about 0.7% in after-hours trading as I write this - aren't down more on that.
After all, that's below the street's consensus of something like 420,000 units and will govern most of how TSLA performs as we move throughout 2019. (Full disclosure: I'm short TSLA.)
I think the stock is essentially flat despite the bad first quarter ahead and tepid full-year 2019 guidance because of relief over the company's cash levels and overall balance sheet. Tesla reassured investors Wednesday that there are no worries about $920 million in debt that's due in March.
I think that's a big relief for some. Additionally, the company's fourth-quarter gross margin wasn't down nearly as much as I and others had feared it would be.
But let's see what gremlins hide in there when we get Tesla's 10-K, which should arrive any day now. Remember, we've found several items in the 10-K a few days after the earnings report in each of the past few quarters that showed Tesla's initially reported gross margins were inflated by several percentage points. I suppose that will be true this time as well.
My other takeaways from Wednesday's earning report:
There Was No News on Any Financing.I guess the balance-sheet performance has purchased the company one more quarter.
The Future. I believe that the next leg down for TSLA will be in late March, when we see how poor the first-quarter unit deliveries will have been. I believe that the first quarter will be very weak for the company, as has been obvious for several months already given that the U.S. federal tax subsidies on Tesla's electric cars got cut in half on Jan. 1. (Sadly, California state-tax subsidies remain in place.)
A Surprisingly Small After-Hours Move. In eight years of covering this company, I've never seen such a tiny after-hours movement in the stock -- plus or minus about 2% only -- following an earnings release. In the past, TSLA has always been up or down around 10% or so.
Sales Growth is Running at 10% (or Less). Per the TSLA shareholder letter released Wednesday, the company just delivered around 90,000 cars in both the third and fourth quarters, which equates to about 360,000 cars per year. However, the low end of the company's 2019 guidance is - you guessed it --360,000 cars. That means 2019 sales will be flat. No growth. Zero. Even at the high end of the 2019 guidance -- 400,000 units -- that's only about 11% growth.
Top line-growth of 11% is management's very best-case scenario for a hypergrowth company? What?
At the time of publication, Wahlman was short TSLA, although positions may change at any time.