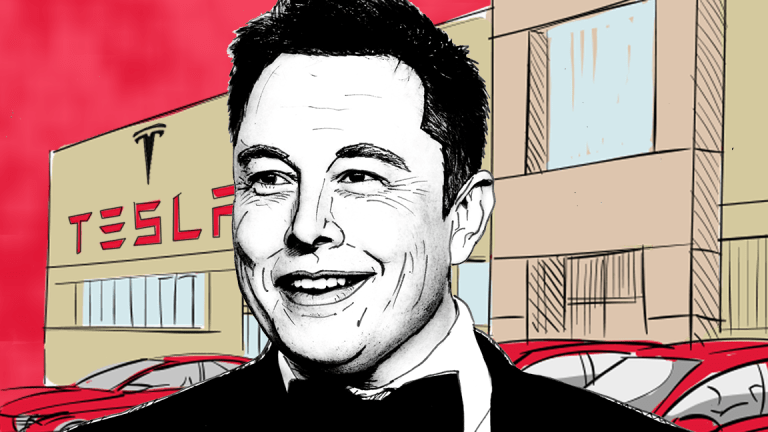 6 Key Takeaways From Tesla's Better Than Expected Fourth Quarter
The electric car maker's stock was essentially flat in after-hours trading following the release of its fourth-quarter report.
Tesla (TSLA) - Get Free Report shares were flat after hours after the electric car maker reported a better-than-expected quarterly earnings per share loss of $3.04 for the fourth quarter, versus analyst estimates of a loss of $3.11.
Tesla notably stuck with its previously noted targets of 2,500 Model 3 units produced per week by the end of Q1, and 5,000 a week by the end of Q2.  
The Street is live blogging Tesla's fourth quarter earnings report and call. Please join us!
Here are some of the top takeaways from Tesla's earnings report.
The Model 3 commentary could be putting some investors' fears to rest. In particular, the disclosure that net reservations were flat in Q4 and have risen since. Since Tesla had just recently reiterated its near-term Model 3 production targets, it's not too surprising that they were reiterated once more.
On the other hand, there could be a little disappointment over the fact that Tesla only guided for 100,000 Model S and X deliveries in 2018. The company delivered 101,000 Model S and X units in 2017, and the consensus was for 102,000 2018 deliveries.
While 2017 capital expenditures of $3.4 billion was a little less than expected, Tesla's guidance for capex to be up slightly in 2018 implies it will be above a $3.3 billion consensus. Therefore, a fresh capital raise appears to be just a matter of time.
Operating expenses grew a steep 48% annually in Q4 to $1.04 billion on a GAAP basis, with large increases seen in both SG&A and R&D spend. Tesla insists it will keep "tight control" on operating expenses in 2018, but hasn't provided any specific numbers.
With its Q4 automotive gross margin only coming in at 13.8% (below expectations), Tesla still has a lot of work ahead of it when it comes to improving Model 3 margins. Nonetheless, the company insists the Model 3's gross margin will reach 25% once it hits a 5,000-unit weekly production run rate.
The SolarCity unit continues to be pressured by Tesla's attempts to cut down on lower-margin sales: Its deployments fell another 20% sequentially. On the bright side, Tesla's energy storage business continues seeing healthy growth, and the company forecasts its sales will at least triple in 2018.