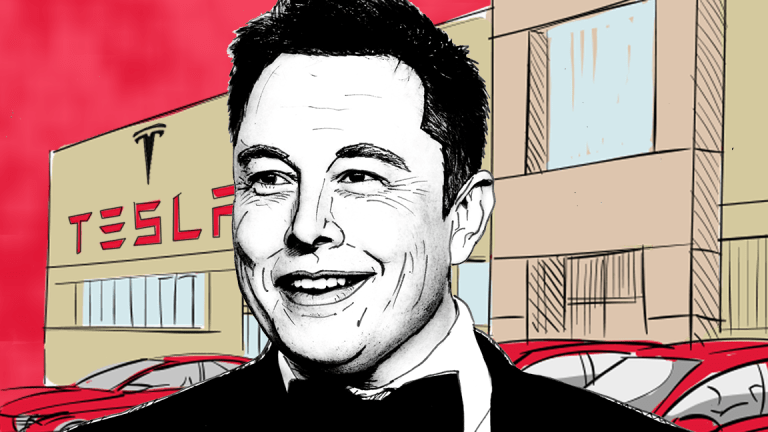 Tesla Could Need $2 Billion to $3 Billion in Cash by Early 2019
With debt maturities looming and substantial cash burn, Elon Musk could have to hit the capital markets soon, a CFRA Research analyst says.
With Tesla Inc. (TSLA) - Get Tesla Inc Report facing upcoming debt maturities and questions about the pace of production, Elon Musk could have to tap the capital markets in the near future. Based on cash burn and the amount coming due, Efraim Levy of CFRA Research suggested Musk could need to raise $2 billion to $3 billion.
Shares of Tesla were up 3.2% to $266.13 on Thursday, March 29, following losses earlier in the week following the announcement of a federal safety review of a fatal crash and a ratings drop by Moody's Investors Service Inc.
Tesla had about $3.5 billion in cash at the end of 2017, Levy observed.
A $230 million convertible bond maturity comes in November, and another $920 million comes due in March 2019. Cash burn should come to about $3.35 billion in 2018 and 2019, CFRA estimated.
If Tesla does nothing, it will be short by $1 billion or so next year.
If Musk wants to keep $1 billion to $2 billion on its books, Levy said, Tesla would have to raise $2 billion to $3 billion in cash by early 2019 if not sooner.
Tesla has "flexibility to go multiple ways" when it goes to the capital markets, the analyst suggested. While debt would be possible, Levy is "leaning" towards an equity raise.
At its current prices, if Tesla raised the entire $2 billion to $3 billion in equity, Levy suggested it would dilute the stock by 5% to 7%.
Moody's dropped Tesla's rating a full notch from B2 to B3 on Tuesday, which would make a debt raise more expensive for Tesla. The ratings agency cited the maturities and issues with the Model 3. Tesla's fourth-quarter production of 2,425 Model 3s is well below its prior target of 5,000 per week.