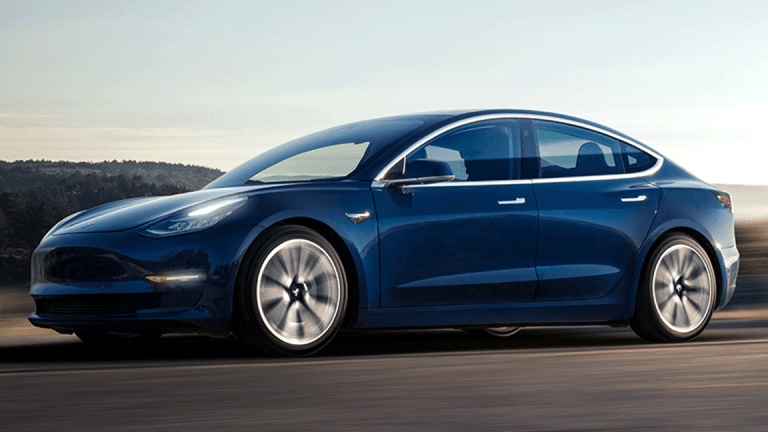 Tesla Could Miss Model 3 Target Again but Here's Why That May Not Matter
Goldman Sachs believes that Tesla will miss its delivery target for the quarter. The company will provide an update on Friday.
Death, taxes and Tesla Inc. (TSLA) - Get Tesla Inc Report missing Model 3 production targets may be the only certainties in life. 
Goldman Sachs Group Inc. said in note on Tuesday, June 26, that once again it expects Tesla to miss its delivery target of 28,000 vehicles for the quarter.
While the firm lowered its price target and maintained its "sell" rating based on the expected miss, Pierre Ferragu of New Street Research said he believes that Model 3 targets don't really amount to much in the big picture.
"You should not look at how many cars are produced," the Tesla super-bull told TheStreet. "Instead you should look at how much money each vehicle is bringing in, and as Tesla ramps production their free cash flow will improve dramatically."
Ferragu isn't as concerned with Tesla's short-term story as the market is because he sees a lofty future for the electric vehicle maker. 
"Tesla has the potential to gain a lot of share in the premium market. It has the potential to become BMW," Ferragu said. "The long-term, five- to seven-year trajectory is the real story of Tesla, though a near-term cash crunch could prove to be a problem."
Ferragu has a projection for the company to produce 10,000 Model 3s by the end of 2019 as a worst-case scenario. 
Tesla usually takes a slight hit after missing its targets, but the stock has also proven to be Teflon, climbing nearly 7% year to date (though it is down sharply from the year-to-date high that it reached last week).
Tesla shares were back in the green Tuesday afternoon after spending most of the day in negative territory. Shares were up 0.05% to $333. 
Editor's note: story has been updated to reflect Goldman's target is for deliveries, not production.